Can LeBron James carry the Heat to a championship? You might not like the answer
By: Kels Dayton
I'm not gonna lie. I hate LeBron James.
I hate him in Miami; hated him in Cleveland.
I've hated him since he was still in high school, when everyone in the sports media was treating him like the second coming not only of Michael Jordan but also of Jesus, Bo Jackson, and Fergie. (There will never be another Fergie).
But hate him or not, it's impossible to ignore the fact that this dude from Akron, this wunderkind who turned his back on his home, is the best basketball player on the planet.
That's just a fact. LeBron has won three MVPs in four years, and averaged 27.1 points, 7.9 rebounds, and 6.2 assists per game this season. He's never going to be the next MJ, but he can already be described as the modern-day Oscar Robertson–the surest bet in the league for a triple-double this side of Rajon Rondo. (The difference is, James scores 25-plus points and puts up double figures in rebounds and assists). He's going to be taking his talents to the Hall of Fame one day.
People like myself hate LeBron because he seems smug, disingenuous, and overpowering. He's A-Rod in basketball shorts and a headband, and it seems like every time he opens his mouth something careless and stupid spews out of it.
He is the definition of an overdog; winning the genetic lottery at birth, appearing on the cover of Sports Illustrated at 17, and signing a katrillion-dollar sneaker deal with Nike before those sneakers ever set foot on an NBA basketball court.
LeBron speaks in cliche-laced generalities, constantly droning on about what he was "able to accomplish" "defensively" and "offensively", "individually" or "as a team." He says all the right things because someone has told him to say all the right things since he could speak. There's a constantly-running filter inside his head that has become such a part of who he is that he doesn't even have to think about it anymore.
Ask LeBron about another team or player, and he'll undoubtedly have a stat for you on the tip of his tongue, as if it had been sitting there with its bags packed, waiting for a reporter's cue to jump into the ether.
It all seems so contrived; and you get the feeling that The Real LeBron is hidden somewhere deep inside there; permanently closed off to the public like a malfunctioning roller coaster.
But it's not.
LeBron is one of the most honest, shoot-from-the-hip athletes we have today. He means what he says, even if those words had been sitting in his mental kitchen like a leftover Big Mac.
"You want me to say something about Russell Westbrook? Ok, I think I have something for you back here…yup, that's a Number 4. Comes with his points per game average and how much he had against us the last time we played him. Would you like fries with that?"
You can blame LeBron for telling everyone what they want to hear, for being a prick, and for conforming to the standards his
P.R. team would like him to live up to. But you probably have no idea what it's like to be him. His opinion; his thoughts have mattered to the general public since he was a teenager. Say something stupid and get blasted by the national media. Think about how that would change your thought process at 17 years old.
I believe that LeBron left Cleveland for Miami because he wanted to win a championship. But I don't believe he wants to win a championship just to win a championship. He wants to win because people have told him he has to. He wants to win because it will help him reach his ultimate goal of becoming a worldwide icon.
Most of all, he wants to win because he knows it will change how people think of him. It will validate him as a basketball player and therefore as a human being. To whom much is given, much is expected. And this was always expected from LeBron, ever since he was being fought over by seedy AAU coaches as a middle schooler.
We all want LeBron to fail because of the way he went about chasing a championship. You just don't do what he did. You don't take shortcuts and join your other highly-successful, genetically gifted friend to help you accomplish what you were supposed to do on your own. Life doesn't work that way for most of us, and it shouldn't work that way in sports, either.
Everyone points to the way "The Decision" went down as the reason they hate LeBron, and for the most part…it's true. The television spectacle ESPN and his P.R. team made the whole thing into reached the highest form of absurdity. It was cosmically comical.
LeBron got so caught up in his own free agency hype that he completely forgot about any loyalty he might have owed the fans of Cleveland…or the entire state of Ohio, which treated him like their own prodigal son— a true King in every sense of the word.
In everyone's haste to vilify James, we have jumped all over the fact that Miami fell short in the NBA Finals last season, and that LeBron disappeared in the last two minutes of the fourth quarter in two of the biggest games of his career.
We've zeroed in on the fact that James still doesn't have a championship, and continue to beat that point into the ground like a bully picking on the nerdy kid for wearing glasses.
The problem is, everyone has conveniently overlooked the fact that he's already proven that James can get it done in the clutch, and that he's already authored one of the greatest fourth-quarter performances in the history of basketball.
ANYONE REMEMBER THIS??? ANYONE??
_________________________
LeBron scored 48 points in that Game 5, including 28 of his team's final 29 points and SINGLE-HANDEDLY carried the Cavaliers past the two-time Eastern Conference champion Pistons. That game, which took place when LeBron was just 21 years old, coupled with his performance in Games 4 through 6 in this year's Eastern semis against the Pacers, and LeBron's playoff meal ticket should already be punched.
James stepped up when his team desperately needed him against Indiana, going for an obscene 40 points 18 rebounds and 9 assists in a crucial Game 4 win, then averaging 29, 8 and 8 in Games 5 and 6 to close out the pesky Pacers.
LeBron (with a little help from Wade, although not much early in the series) snatched victory from the jaws of apocalyptic defeat, when you consider the ESPN-fueled media armageddon that would have gone down had the Heat lost this series.
He was as clutch as you can be…yet no one is going to remember that if the Heat fall short in the next two rounds of the playoffs.
Can LeBron single-handedly carry Miami to an NBA title? The answer, of course, is yes. We've already seen that he has the capability, whether we like it or not.
Will he do it this season? That remains to be seen, with the Spurs channeling 2003 all over again and Kevin Durant's playoff label turning from cold to super-cold in the clutch.
Either way, it's time for all of us LeBron haters to come to the realization that it's not that LeBron truly isn't capable of getting it done in the big spot.
It's just that we don't want him to.
Kels Dayton is the senior editor and writer of Roundball Daily.com. You can reach him at William.dayton@roundballdaily.com.
Related Articles: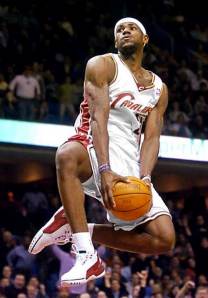 LeBron James says he won't rule out a return to Cleveland, though he should rule out talking for a while