2012-13 College Basketball Preview: 2. Indiana Hoosiers
Click to enlarge.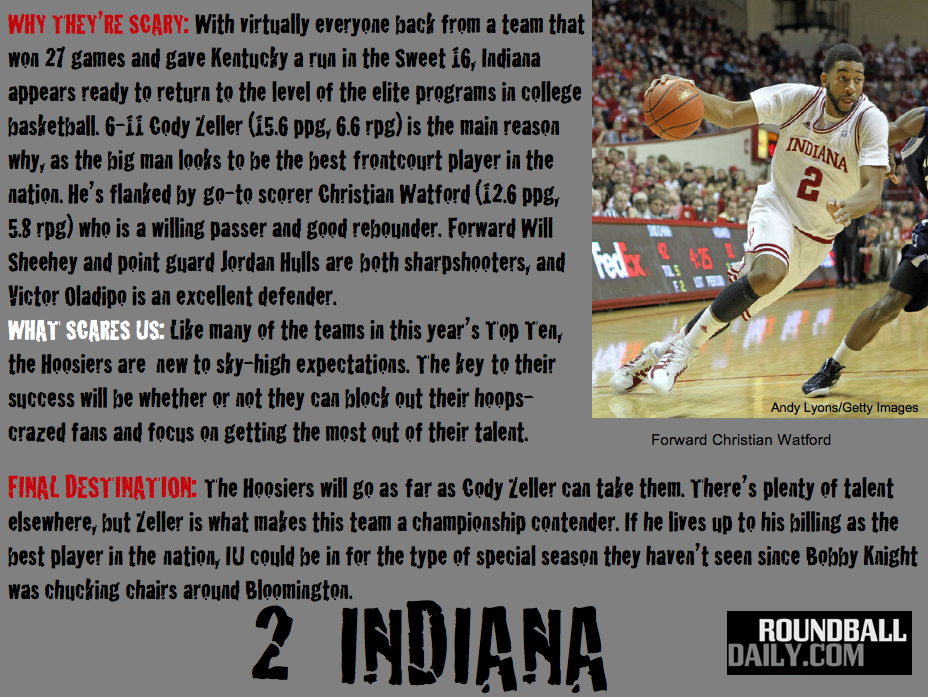 < 1. Louisville Cardinals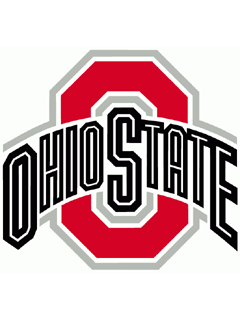 3. Ohio State Buckeyes >
2. Indiana Hoosiers
WHY THEY'RE SCARY: With virtually everyone back from a team that won 27 games and gave Kentucky a run in the Sweet 16, Indiana appears ready to return to the level of the elite programs in college basketball. 6-11 Cody Zeller (15.6 ppg, 6.6 rpg) is the main reason why, as the big man looks to be the best frontcourt player in the nation. He's flanked by go-to scorer Christian Watford (12.6 ppg, 5.8 rpg) who is a willing passer and good rebounder. Forward Will Sheehey and point guard Jordan Hulls are both sharpshooters, and Victor Oladipo is an excellent defender.
WHAT SCARES US: Like many of the teams in this year's Top Ten, the Hoosiers are  new to sky-high expectations. The key to their success will be whether or not they can block out their hoops-crazed fans and focus on getting the most out of their talent.
FINAL DESTINATION: The Hoosiers will go as far as Cody Zeller can take them. There's plenty of talent elsewhere, but Zeller is what makes this team a championship contender. If he lives up to his billing as the best player in the nation, IU could be in for the type of special season they haven't seen since Bobby Knight was chucking chairs around Bloomington.
Schedule: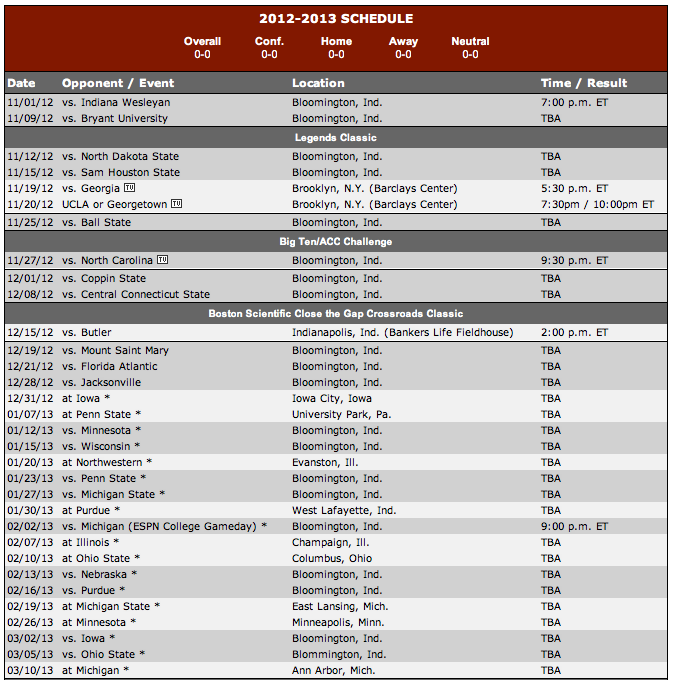 Roster:
2012-13 INDIANA HOOSIERS
NO
NAME
POS
HT
WT
CLASS
HOMETOWN
0
Will Sheehey
F
6-7
200
JR
Stuart, FL
1
Jordan Hulls
G
6-0
182
SR
Bloomington, IN
2
Christian Watford
F
6-9
232
SR
Birmingham, AL
3
Maurice Creek
G
6-5
194
JR
Oxon Hill, MD
4
Victor Oladipo
G
6-5
214
JR
Upper Marlboro, MD
11
Yogi Ferrell
G
6-0
178
FR
Indianapolis, IN
12
Hanner Mosquera-Perea
F
6-8
225
FR
LaPorte, IN
13
Austin Etherington
F
6-6
206
SO
Cicero, IN
15
Raphael Smith
G
6-3
172
SO
South Bend, IN
20
Taylor Wayer
G
5-11
172
JR
Indianapolis, IN
23
Remy Abell
G
6-4
201
SO
Louisville, KY
24
Jeff Howard
F
6-8
224
JR
Westfield, IN
32
Derek Elston
F
6-9
216
JR
Tipton, IN
33
Jeremy Hollowell
F
6-8
217
FR
Indianapolis, IN
40
Cody Zeller
F
7-0
240
SO
Washington, IN
42
Peter Jurkin
C
7-0
230
FR
Charlotte, NC