Where will UConn's DeAndre Daniels be drafted?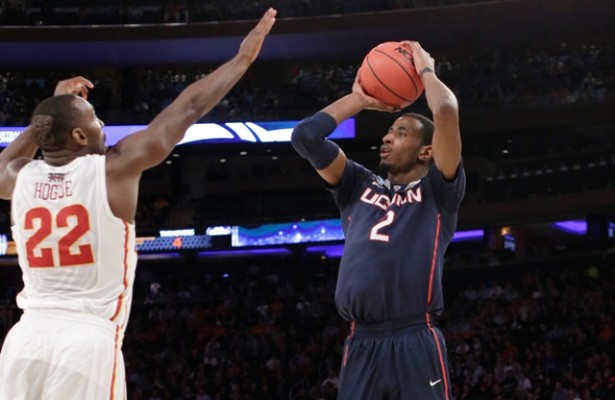 Tuesday on SportzEdge.com, we laid out the possible scenarios for where Shabazz Napier might end up in the NBA Draft.
On Wednesday, it came out that the Miami Heat covet Napier, and that they'd like to move up in the draft to get him. (Possibly to appease LeBron?)
Today, it's time to take a look at the Huskies' other NBA Draft hopeful, DeAndre Daniels. When the 6-8 small forward first declared for the draft, there were some rumors that he could end up being a first-rounder. Now, it looks like Daniels is going to be waiting a while to hear his name called.
But where would Daniels fit in best?
It's likely that DeAndre will be drafted somewhere between the 31st and 47th picks. So here is a look
32. 
Philadelphia–The Sixers like Daniels' length and versatility, and desperately need someone who can put the ball in the basket. DeAndre could see plenty of playing time in Philly as well, because as of right now, the Sixers roster is garbage. Of course, that will change depending on who Philadelphia selects with the No. 3 overall pick.
41.
 Denver–The Nuggets have a core of young players whom they have gotten the most out of in the past few years, especially under former coach George Karl. Projects like JaVale McGee, who was once the laughingstock of the league, and Quincy Miller, a wiry, relatively unknown 3, have turned into pretty good players in Denver.
Maybe the same could happen with DeAndre, who is still raw and could develop in a culture that allows for young players to grow. The Nuggets aren't landing big-time free agents, so they focus on improvement.
43.
Atlanta–The Hawks have a core of young players surrounding center Al Horford and point guard Jeff Teague, and are in need of a go-to guy at the small forward spot. They're incredibly thin at that position. If he's drafted here, Daniels would have a chance to contribute right away. Head coach Mike Budenholzer is also a disciple of Spurs head coach Gregg Popovich.
45. 
 Charlotte–There's been a little bit of buzz (mind the metaphor) about Daniels ending up here, as the Hornets were impressed with him in workouts. Teaming DeAndre up with Kemba Walker would be interesting for UConn fans, and it might work well on the court for Charlotte, which could use a scoring small forward. He'd be a good fit here.
50.
Phoenix– Daniels would probably fit in well in Phoenix, where head coach Jeff Hornacek did a masterful job of meshing a roster full of young players last season. Hornacek got the most out of point guard Goran Dragic (who won the Most Improved Player award), Markieff and Marcus Morris, . He took a roster that was expected to finish last in the West and nearly reached the playoffs.
PREDICTION: 
 Detroit (38th pick). Though they probably wouldn't be the best fit for him, the Pistons seem to have a thing for UConn players. Richard Hamilton, Ben Gordon, Charlie Villanueva and Andre Drummond all ended up in Detroit. We have a feeling that if Daniels is still on the board at pick No. 38, he won't get past the Pistons.