The Basketball Tournament: Semifinals Preview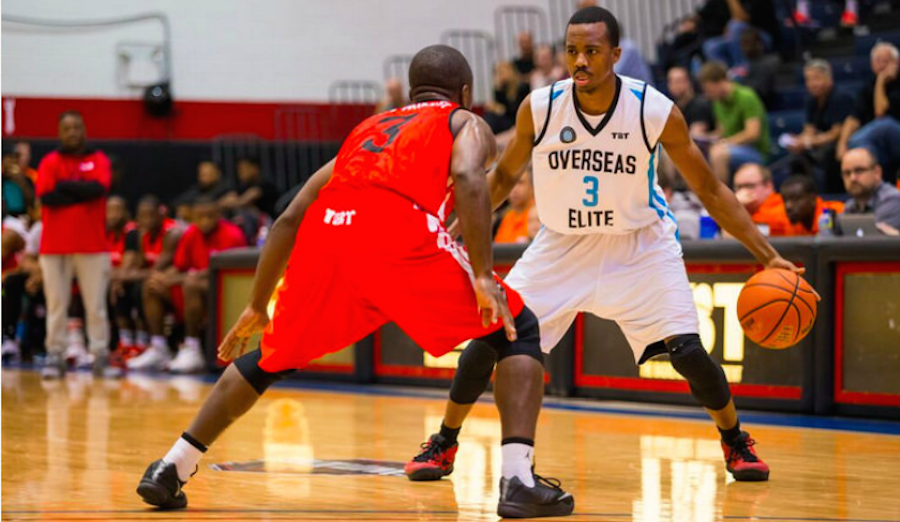 These days, basketball truly never stops.
Hoops fans have had a lot to keep them busy over the summer–from the draft to NBA Summer League (both of which were more enthralling than the Finals).
Now, just when your girlfriend thought she could take the TV back and start watching some dumb show about tiny homes, you can snatch the remote back, because there's still ball on, damn it.
"The Basketball Tournament" is an entertaining late-summer diversion filled with a lot of big names college hoops fans will remember.
Your boy here has kept an eye on the tournament since its inception, but really just had the chance to get into it this year, because he had some more free time.
Now, we can't wait for the semifinals, which take place on Tuesday in Baltimore. Carmelo Anthony is serving as the host, though we're not quite sure what that means.
What is it all about?
The Basketball Tournament, or TBT, is a 5-on-5, single elimination event for $2 million. Anyone can play, and teams are usually made up of former college players and guys currently playing overseas.

Semifinal Schedule:
Tuesday, August 1:
7 p.m. – #6 Team Challenge ALS vs. #2 Scarlet & Gray – LIVE on ESPN
9 p.m. – #3 Boeheim's Army vs. #1 Overseas Elite – LIVE on ESPN
Teams Still Remaining
Overseas Elite
Can we call them a dynasty? The two-time defending champs are like the Minneapolis Lakers of TBT, capturing the title in each of the first two years of its existence and finding every possible way to win along the way.
Overseas Elite knocked off a team full of former VCU stars (Ram Nation) in the quarterfinals, coming back from a double-digit deficit to do so.
This year's squad includes former Iowa State star DeAndre Kane, former Pitt and San Antonio Spurs big man Dejuan Blair, former Arizona guard Kyle Fogg, and former St. John's forward D.J. Kennedy. Overseas Elite is a No. 1 seed again, but a three-peat will be anything but easy considering the talent of the other teams in the field.
Boeheim's Army
Yup, this is a team full of Syracuse alumni, including Hakim Warrick, Eric Devendorf, Donte Green, CJ Fair and Scoop Jardine. Former Orange guard Ryan Blackwell does the coaching.
You can bet 'Melo will be glad to see some of his boys in Baltimore.
Team Challenge ALS
How can you not root for this group, which will use some of its winnings to help support Pete Frates, a former Boston College baseball player who was diagnosed with ALS in 2012?
Frates helped create the "Ice Bucket Challenge," which went viral on social media and helped raise over $115 million for ALS a few summers ago.
Sean Marshall, a Boston College basketball alumnus and Frates' former roommate, started this squad and recruited former Gonzaga star Austin Daye, Long Beach State legend Casper Ware, and former Mississippi State guard Dee Bost, among others, to join the cause.
If Challenge ALS wins TBT this year, Frates will take home $250,000 of the $2 million prize, most of which will go towards his medical expenses.
We know who we're rooting for in the Final Four.
Scarlet & Gray
This team is basically the 2012 Ohio State Buckeyes, with Jared Sullinger playing for another pro contract (and looking great in doing so), William Buford, Aaron Craft and David Lighty all on the squad.
They beat a team of Marquette alumni to reach Baltimore, and might just have the most talent of any team left in the field.
Here's hoping for a competitive semifinals, some more awareness and money towards a cure for ALS, and for Carmelo Anthony to get traded during the championship game (preferably before he hands out the trophy). That'd be entertaining.
At the very least, we've got some more ball to watch.