Columbia upsets Harvard, Princeton hangs on to edge Yale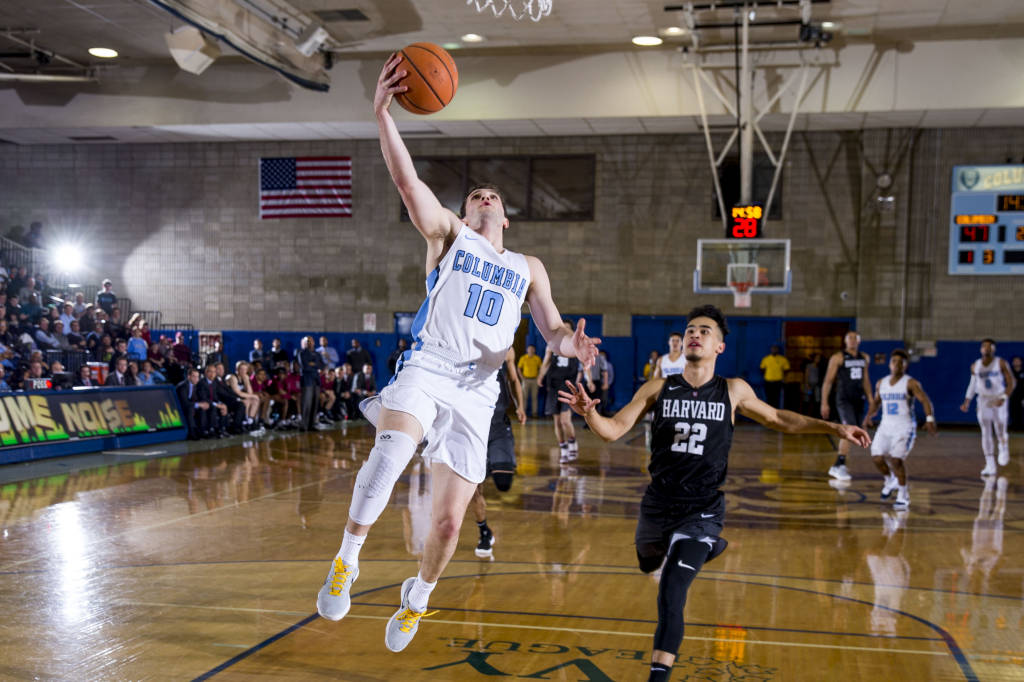 IVY LEAGUE ROUNDUP
(February 2, 2018)
By Joel Alderman
Two overtime games, with the home forces winning both, and a major upset over the only previously undefeated team featured the full slate of Ivy League contests Friday, Feb. 2nd.
Princeton 76 Yale 73 (overtime)
Yale came within one shot of an Ivy League upset, but fell in overtime, 76-73, at Princeton's Jadwin Gymnasium before 2,093.
Yale had possession in the closing seconds of regulation with the game tied. Trey Phills went for a 3-pointer that missed. Again tied with 36 seconds left on the clock in overtime, Princeton's Jerome Desrosiers connected from behind the line for the Tigers' victory.
The Bulldogs, fighting desperately to force another overtime, then missed three 3-point attempts at the end.
Myles Stephens scored 18 points and Devin Cannady and Amir Bell 16 each for the Tigers (1108, 3-1 Ivy). Bell had a career-high 11 rebounds for his first double-double.
Alex Copeland scored 18 points for Yale and Phills had his first career double-double (17 points and 14 rebounds). Blake Reynolds added 15 for Yale (9-12, 2-3 Ivy).
.
Columbia 83 Harvard 76
The first major upset of the young Ivy League season took place before 2,010 and a metropolitan TV audience (SNY) at Columbia's Levien Gymnasium where the Lions (5-13, 2-3 Ivy) came from 15 points behind to surprise previously undefeated Harvard (10-11, 4-1 Ivy) by an 83-76 margin. The loss dropped the Crimson out of first place behind Penn (4-0).
Harvard led most of the game until the Lions went on a 20-3 run to lead 58-49 with 12:26 left. Quinton Adlesh scored 17 of his 20 points, including four 3-pointers, in the second half.
Seth Townes had a career-high 31 for the Crimson, with six from behind the arc.
Penn 95 Brown 90 (overtime)
Surprising Brown carried Penn into overtime before losing to Penn 95-90 at the Palestra in Philadelphia before 2,394.
Tied 82-82 after regulation, Penn (14-6, 4-0 Ivy) won in the extra five minutes (13-8).
Brown's Desmond Chambers was the game's top scorer with 29 points. Penn's Antonio Woods' 21 topped his team. The Bears (9-9, 2-3 Ivy) are now tied with Yale, Columbia, and Cornell for fourth place, all with 2-3 league records.
Cornell 86 Dartmouth 85
Dartmouth, leading the league in heartbreaking losses, was victimized by a one-point decision at Cornell's Newman Arena in Bartels Hall, 86-85, before 1,149.
The Big Red had two players scoring in the 20s, Matt Morgan (28) and Stone Gettings (20). Taylor Johnson registered 25 for the visitors.
The Big Green remained the only all losing team in the Ivy League (4-14, 0-5 Ivy). Cornell (8-10, 2-3 Ivy) is now one of four teams tied for fourth place.
IVY LEAGUE HOOP STANDINGS
(through Feb.2, 2018)
Won – Lost
Penn (14-6) 4-0
Harvard (10-11) 4-1
Princeton (11-8) 3-1
Brown (9-9) 2-3
Yale (9-12) 2-3
Columbia (5-13) 2-3
Cornell (8-10) 2-3
Dartmouth (4-13) 0-5
Saturday, Feb. 3
Yale at Penn
Harvard at Cornell
Brown at Princeton
Dartmouth at Columbia