Obscure little Furman has crashed the Top 25, and they've got staying power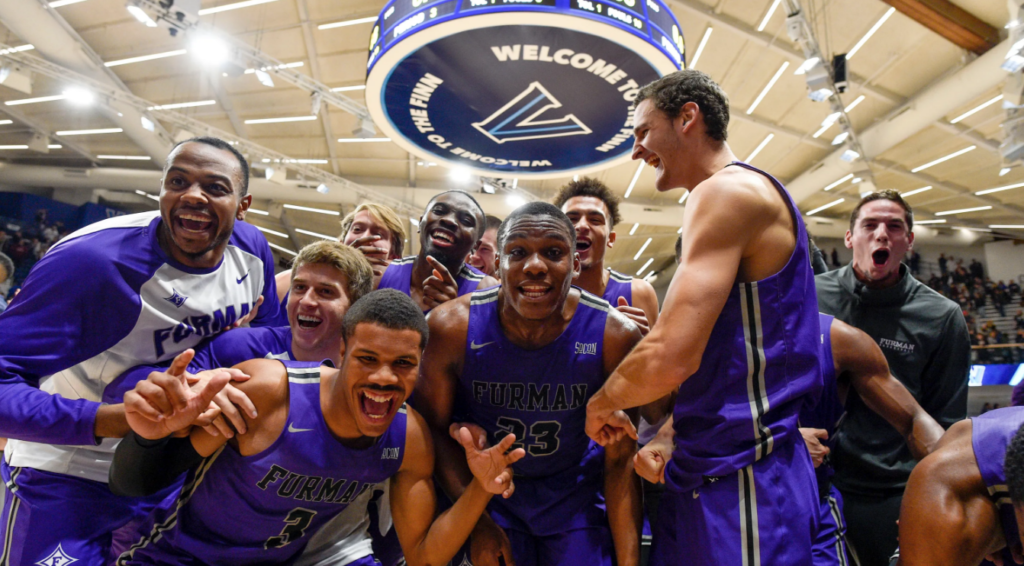 If you're just now checking in on this college basketball season, you might peruse the rankings real quick and end up looking like this guy:
There are some unfamiliar names in the Top 25, highlighted by No. 6 Nevada, No. 14 Buffalo, and most implausibly, No. 23 Furman.
The Paladins are ranked for the first time in school history, and you'd be forgiven if you had no idea that Furman's nickname was the Paladins, or even, what a Paladin is.
(Hang on, I'll Google it).
OK, interesting.
Even if you're a diehard college hoops fan, you probably haven't spent more than three minutes of your life thinking about Furman.
You probably had no idea that it's located in Greenville, S.C., or that its most famous alumnus is Clint Dempsey. (Don't worry, I just Googled that, too).
The Paladins are about as obscure as obscure gets in college hoops– a below-average Southern Conference program that rarely emerges above the bottom half of the standings and hasn't reached the NCAAs since 1980.
Yet here they are, forcing you to think about them after they stunned two of last year's Final Four teams on their home courts in the span of a week.
Furman edged Loyola-Chicago, 60-58, on a last-second dunk on Nov. 9, then Face with Raised Eyebrow'ed defending national champ Villanova, 76-68, in overtime on the 14th.
They're 10-0, and even though they don't own another notable win, their place in the rankings is deserved.
Head coach Bob Richey has done a commendable job in his two years at the helm, building on 18 and 21-win seasons under then-coach Niko Medved (now at Drake) in 2016 and '17, and winning a school-record 23 games in 2017-18.
Richey also led the Paladins to a share of the conference title for the first time in 21 years last season.
Furman retains a lot of experience from those years, led by senior forward Matt Rafferty (17.9 ppg, 9.1 rpg) and junior guard Jordan Lyons (20.2 ppg).
Rafferty was terrific against Villanova, going for 15 points and a game-changing 17 boards. Lyons has shown the ability to break out, including pouring in 29 in a double-overtime win over Western Carolina.
Despite their national ranking, there's no doubt that Furman won't be afforded many slip-ups by the selection committee.
The Paladins have one more shot at a major-conference school: December 21st at LSU, and they'll likely have to take down the talented Tigers, who are littered with high school All-Americans, to keep an at-large-worthy resume intact.
The rest of the schedule is, honestly, weak, although that's to be expected from a SoCon school. Not many of Furman's remaining opponents will finish in the Top 100 in any major rankings system, save for maybe the NCAA's absurd Net Rankings, which had Belmont in the Top 10 a couple of weeks ago. 
It goes without saying that Furman will also have to dominate the Southern Conference (one loss might be acceptable), and at least reach the semis of the conference tournament if they want to snag an at-large bid.
Such is the life of a low mid-major.
It won't even matter if they're ranked at the end of the season, because the committee has snubbed ranked teams before– see: Saint Mary's and Utah State.
Still, with its experience, high-major talent and astute coaching, Furman has what it takes to run through the tape and punch its ticket to the Dance.
You may not know much about the Paladins now, but we'd suggest you at least get a little familiar.
Your bracket this March may depend on it.
Also see: