Not just a football player, Hall of Famer Floyd Little also played on his high school basketball team
By Joel Alderman
It is little known, except in his home state of Connecticut, that Floyd Little, three-time All-America running back at Syracuse, member of the College Football and Pro Football Halls of Fame, and three-time Pro Bowl choice, who died on died Jan. 1st, was also talented on the basketball court.
The worlds of college and pro football are mourning his passing with tributes, recollections, and stories of his gridiron accomplishments. But since RoundballDaily.com exists to write about the court game, we shall complete the profile of this revered athlete and humanitarian by going back to when he played a season of hoops in 1960-61 for Coach Sam Bender at New Haven's Hillhouse High School. You probably won't read about this anywhere else, at least not until our story comes out.
As befitting this great American, Little was born on the fourth of July, but just where is not clear. Many media and wire service reports, including that of the New Haven Register, claim that Little was a New Haven native. But according to the Waterbury Republican American, The Hartford Courant, and The New York Times, he was born in Waterbury and lived on Blakeslee Circle there until the age of 13, when his family moved to the Elm City. He attended what was then known as Troup Junior High School, before entering Hillhouse H.S. his sophomore year.
That season of 1960-61 Hillhouse was a cut below Wilbur Cross as the city's basketball leader. The Academics were led by Mike Branch, who went on to star at Fairfield University. But Cross had Dave Hicks, future Harlem Globetrotter, and he was the big difference as the Governors took care of Hillhouse in both games that year.
Little started against city rival
In their second game against each other that season, Bender pulled out all stops and one of them was to insert Floyd Little, usually a sub, into the starting lineup and into the jump ball circle. However, Little, though full of energy and determination, still could not push his mates to overcome the Governors in that match up in the New Haven Arena, that this writer attended, Hicks and company were just too good. Although Branch scored 21 points, Hicks led the way with 27 and Cross won 68-55.
After that contest, Little was back to playing off the bench and scoring a few points a game, such as in the 60-46 win over Bridgeport Central (box score below). Basketball was not his claim to fame, but he was in there to help in any way he could.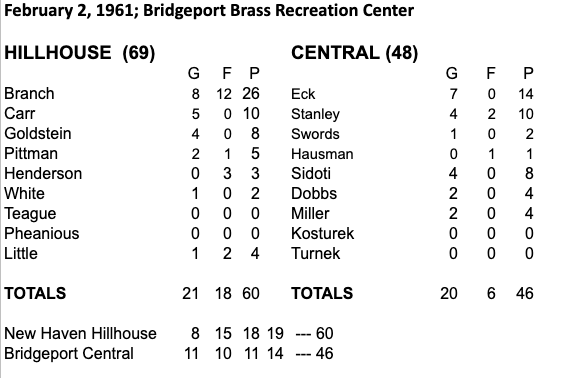 New Haven Athletic Center renamed
Fast forward to 2011 when the New Haven Athletic Center, a spacious basketball court and multi-sports complex was formally renamed in his honor. At the time it was billed as the largest scholastic athletics facility in New England and, to our knowledge it still is, only for the last ten years it is known as the Floyd Little Athletic Center.
Inside are four 6 by 8-foot murals picturing Floyd as a football player at Hillhouse, Bordentown Military Academy, Syracuse, and with the Denver Broncos. There are memorabilia such as a plaque, photos, and a display case full of some of his many trophies.
At the time of its renaming, he commented "how many people enshrined in Canton (Ohio) have a building with their name on it? That's something that perpetuates you. That's what makes me say, 'Wow.' And to have it in the place where it all started for me, that's what makes it more significant for me than being in the Hall of Fame."
A friend of two JBs- Jim Boeheim and Joe Biden
The basketball connection to this story came forward when one of the tributes was from Syracuse coach Jim Boeheim, who tweeted
@therealboeheim – Jan 2
I have lost a great friend and Syracuse University has lost one of it's all-time greatest ambassadors, Floyd Little brought a smile to the face of everyone he encountered. Juli and I send out condolences to DeBorah and Floyd's family.
The president-elect Joseph Biden was a law student at Syracuse while Little was there, and they got to know each other well. Biden issued a statement that said, in part "with everything else he did in life, Floyd lived to the very end with grit and heart, and love for his family and faith in God." . . I will miss my friend. He was a good man."
Back to Hillhouse
Little's high school football coach was Dan Casey, who also mentored New Haven's future major and college football official, the late John Daniels. In 1960, Hillhouse was 8-1, dropping only a disputed 18-16 game against Notre Dame-West Haven. Three weeks after that Little scored four touchdowns in a win over New Britain in its only loss of the year.
Speaking of Coach Casey, Little recalled "He pulled out all the stops and found a school in Bordentown that wanted to integrate. "They wanted a more mature person that could deal with hostility and anger and racism. I was the first African-American to go to Bordentown."
Floyd Little is now at rest. He gave of himself until there was no more to give.