Premier League Week 2 Takeaways: Forest's entertaining win, Leicester in trouble and poor Bournemouth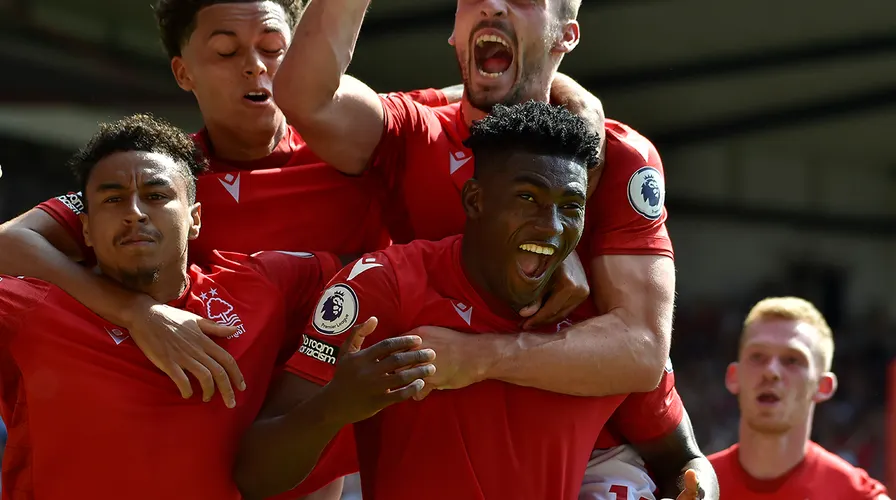 Week 2 of Premier League action is in the books, and what a week it was. From Manchester United's outright embarrassment to Tottenham's feisty theft of a point at Stamford Bridge, let's take a look at the most noteworthy nuggets from an enthralling set of games.
Nottingham Forest-West Ham was the best game of the weekend.
Forest is back in the big time for the first time since 1999, and they sure gave their home fans a show in Nottingham on Saturday. The Trees won a memorable game, 1-0, though it could have easily ended 4-3 given the number of quality chances both sides (but especially West Ham) had.
The Hammers had a goal by Said Benrahma chalked off after Michail Antonio shoved a Forest player, Benrahma also hit the woodwork twice, and Declan Rice had a penalty saved by former Manchester United goalie Dean Henderson.
Benrahma was terrific, as was West Ham for the most part, but it just wasn't their day. Steve Cooper set up Forest brilliantly for success, as he usually does, and despite working with basically an entirely new squad filled with players like Henderson and former West Ham standout Jesse Lingard (also then a Manchester United loanee), he's already got them meshing.
It's obviously still early, but if Forest can produce performances with as much continuity as this one, and their home fans bring the energy all year like they did last week (spoiler: they will), it's hard to imagine them going down.
Tottenham's draw at Chelsea shows the resolve of a title challenger
They may still not end up challenging for the title, but at the very least, Antonio Conte's Tottenham is proving that it has the kind of fight that Spurs haven't shown since the height of the magical Mauricio Pochettino days. For this club to go to Stamford Bridge, fall behind twice, and walk away with the point after a stoppage time header from Harry Kane– well, it's the antithesis of Spursy. Tottenham may just end up being the second-best team in the division this season, but even if they're not, coming away with a result in a game like this bodes well as the season progresses. Spurs supporters desperately want a trophy– any kind of trophy– to shut up the masses who have obsessed about their empty case for years. Under a feisty Antonio Conte, it seems like they're closer than ever to getting one.
Arsenal looks like the real deal
As a Tottenham fan, it pains your boy to write this, but for the first time in years, Arsenal actually looks like a legitimate force to be reckoned with. The Gunners are back to their old school runnin'-and-gunnin' scoring ways, and Jesus is a Revelation up front (see what we did there?). He looks like he's playing with far more confidence than he had when he was just trying to earn minutes on the pitch with Man City, and now that he's got a manager who trusts him to bang in the goals, he can relax and do just that. After starting his Arsenal career looking like an imbecile, Mikel Arteta now looks like a genius. His project is going swimmingly, and for the first time since the end of the Arsene Wegner days, Arsenal is a real threat to finish not only in a Champions League place, but to contend for a spot in the top three.
Leicester are in trouble
The Foxes are in freefall, and it's sad to watch. If any team needed an infusion of new blood this offseason, it was Leicester, but instead, they mostly stood pat, pinched pence, and hoped their dramatic drop-off after missing out on Champions League qualification in devastating fashion two years in a row would curtail. Instead, Leicester treated a two-goal lead like a late-season UCL place, blowing it to draw with Brentford in Week 1, and allowed Arsenal to run roughshod all over them in Week 2. The Foxes desperately need a victory over Southampton at home this week. If they don't get it, they could find themselves in (gulp) relegation form in early September after matches with Chelsea and Manchester United, who as we all know, will need the points.
Liverpool might have already blown the title race
With two draws at the hands of newly-promoted Fulham and then Crystal Palace at Anfield, Liverpool is off to an extremely wobbly start. The Reds aren't the efficient, morale-destroying machine they were a few seasons ago, and it's clear that they miss the dynamism and uniqueness of Sadio Mane, who peaced out to Bayern this offseason.
With the way Man City has been cruising– and especially after the addition of tour de force Erling Haaland– it might not be a stretch to suggest that the 'Pool is already out of the title race. Jurgen Klopp and Co. have Manchester United coming up next in what has hilariously become a battle of CRISIS CLUBS. It's hard to see them not walking away with three points there, but then again, this isn't your older brother's Liverpool.
This Is Manchester United
Speaking of CRISIS, I mean, seriously… what the hell was that?! Manchester United was waxed, 4-0, by Brentford in Week 2, and it wasn't even that close– the Bees had scored all four goals by the 36th minute. Two of the capitulations came on awful mistakes from David De Gea, but it'd be a gross misrepresentation to say that he deserves all of the blame for this embarrassing, era-defining loss. Manchester United are flat-out humiliating, and it's hilarious for everyone who isn't a fan of the Red Devils to watch. There's still plenty of time, and the club should have faith that Erik Ten Hag, who was nothing short of brilliant as Ajax manager, will turn things around. But it's going to be an entertaining, embarrassing, and hilarious road to get there first.
Poor Bournemouth
After earning a statement 2-0 win over Aston Villa in their return to the Premier League last Saturday, the Cherries had the drudge-worthy task of shuffling up to Manchester, only to be dutifully thumped 4-0 by soccer's version of the Monstars.
Bournemouth was cursed with a brutal start to the season. They'll now take on Arsenal at home before traveling to Anfield to face Liverpool. There's a bit of a respite after that, with Wolves, Forest and Brighton to follow, but for a newly-promoted club that had just earned a much-needed confidence-boosting win, the ensuing trio of top-six clubs in succession was a cruel quirk of the scheduling system.
The way Scott Parker's group looked in Week 1 against Aston Villa, there was belief that Bournemouth might have a real chance to stay up. They looked like the gambling, attacking force they were back in the Eddie Howe days. In many ways, they looked like a return to the club that many PL fans know they can be. Here's hoping the Cherries can recapture that momentum once the schedule lightens up a bit.