2012-13 Big East Basketball Season Preview
By: Kels Dayton
There 's one Don Henley lyric that comes to mind when thinking about the Big East basketball next season. "Let me take a long last look before we say goodbye…" The Big East won't be the same next season, or ever again, after Pittsburgh, Syracuse and Notre Dame bail for the ACC. (The Irish may have to wait 27 months to join the conference, as per a new Big East rule). It's a real shame, but at least the conference will have one more run in it. The Big East has a national championship contender in Louisville, a Final Four sleeper in Syracuse and a bunch of teams that are all about the same. Except for DePaul.
Here's how the Big East will wind up this year, from top to bottom: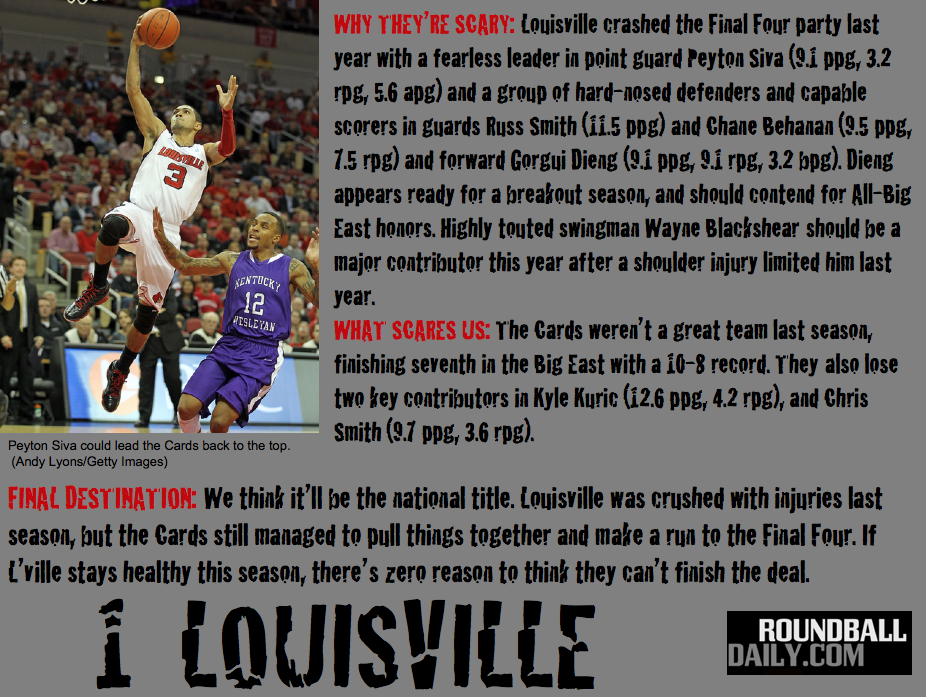 1. Louisville Cardinals
WHY THEY'RE SCARY: Louisville crashed the Final Four party last year with a fearless leader in point guard Peyton Siva (9.1 ppg, 3.2 rpg, 5.6 apg) and a group of hard-nosed defenders and capable scorers in guards Russ Smith (11.5 ppg) and Chane Behanan (9.5 ppg, 7.5 rpg) and forward Gorgui Dieng (9.1 ppg, 9.1 rpg, 3.2 bpg). Dieng appears ready for a breakout season, and should contend for All-Big East honors. Highly touted swingman Wayne Blackshear should be a major contributor this year after a shoulder injury limited him last year.
WHAT SCARES US: The Cards weren't a great team last season, finishing seventh in the Big East with a 10-8 record. They also lose two key contributors in Kyle Kuric (12.6 ppg, 4.2 rpg), and Chris Smith (9.7 ppg, 3.6 rpg).
BIG EAST PREDICTION: 17-1
KEY PLAYERS: 
G Peyton Siva (6-0, 180, Sr.)-Team's emotional and on-court leader who could be an All-American candidate
G Russ Smith (6-0, 160, Jr.)-Streaky scorer who, if he gets hot, could carry Cards back to Final Four
F Gorgui Dieng (6-11, 225, Jr.)-Could be the reason Louisville wins the national title. Big presence inside
G/F Wayne Blackshear (6-5, 205, So.)-Big-time recruit suffered injury-plagued season in '11
F Chane Behanan (6-6, 250, So.)-Another big-time recruit came on strong in NCAA Tournament last year
F Luke Hancock (6-6, 190, Jr.)- Transfer and star at George Mason, hit game-winner to lead Patriots to second round of 2011 NCAAs
FINAL DESTINATION: We think it'll be the national title. Louisville was crushed with injuries last season, but the Cards still managed to pull things together and make a run to the Final Four. If L'ville stays healthy this season, there's zero reason to think they can't finish the deal.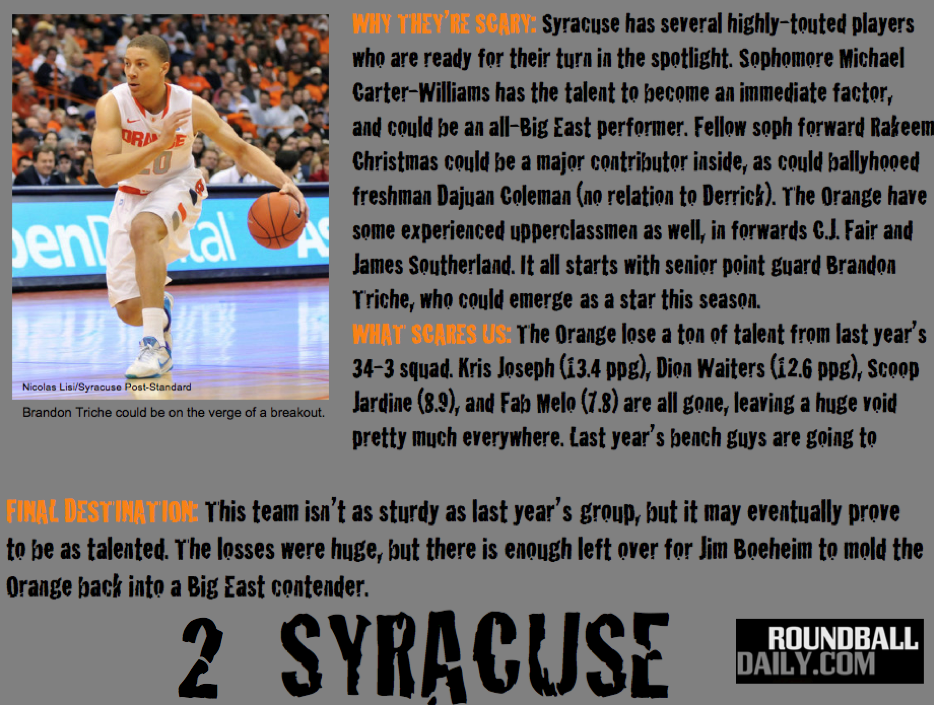 _________________________________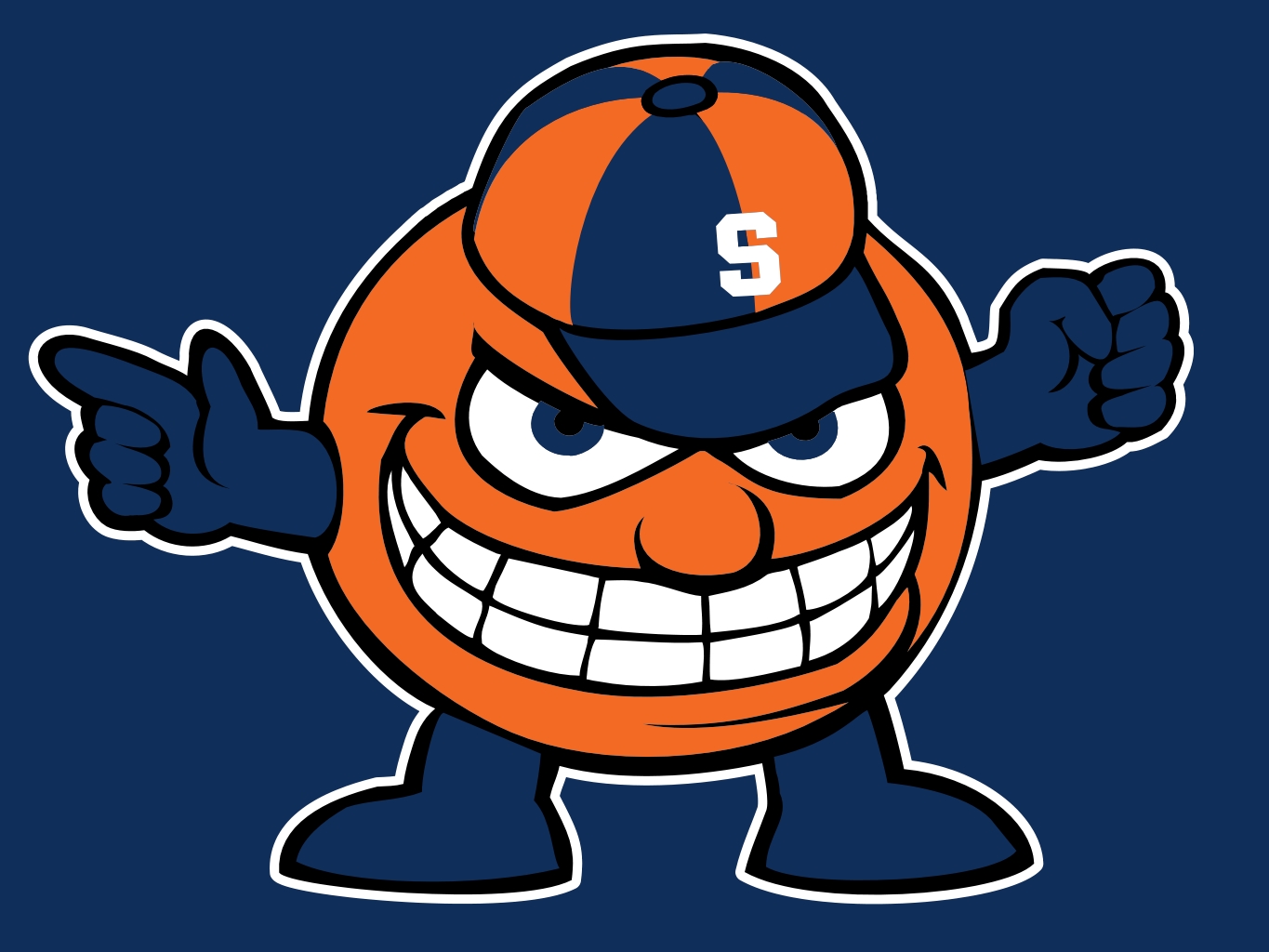 2. Syracuse Orange
 WHY THEY'RE SCARY: Syracuse has several highly-touted players who are ready for their turn in the spotlight. Sophomore Michael Carter-Williams has the talent to become an immediate factor, and could be an all-Big East performer. Fellow sophomore forward Rakeem Christmas could be a major contributor inside, as could ballyhooed freshman Dajuan Coleman (no relation to Derrick). The Orange have some experienced upperclassmen as well, in forwards C.J. Fair and James Southerland. It all starts with senior point guard Brandon Triche, who could emerge as a star this season.
WHAT SCARES US: The Orange lost a ton of talent from last year's 34-3 squad. Kris Joseph (13.4 ppg), Dion Waiters (12.6 ppg), Scoop Jardine (8.9 ppg) and Fab Melo (7.8 ppg) are all gone, leaving a huge void pretty much everywhere.
BIG EAST PREDICTION: 15-3
KEY PLAYERS:
G Brandon Triche (6-4, 205, Sr.)
G Michael Carter-Williams (6-5, 184, So.)
F James Southerland (6-8, 215, Sr.)
F C.J. Fair (6-8, 212, Jr.)
F Rakeem Christmas (6-9, 228, So.)
FINAL DESTINATION: This team isn't as sturdy as last year's group, but it may eventually prove to be more talented. The losses were huge, but there is enough left over for Jim Boeheim to mold this team into a contender.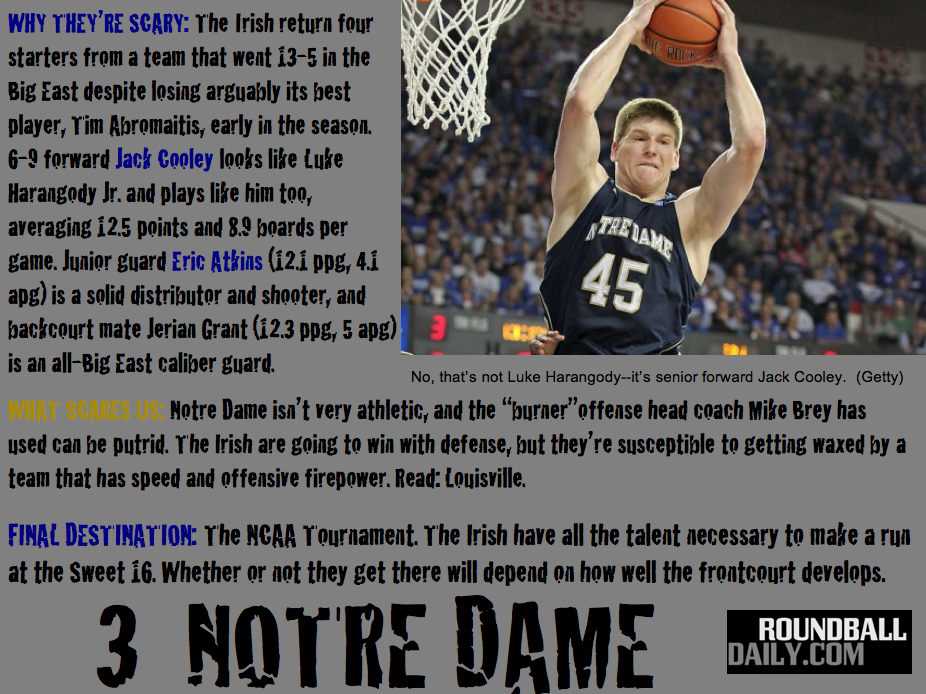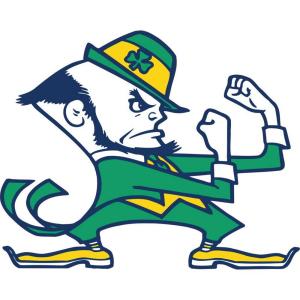 3. Notre Dame Fighting Irish
WHY THEY'RE SCARY: The Irish return four starters from a team that went 13-5 in the Big East despite losing arguably its best player, Tim Abromaitis, early in the season.  6-9 forward Jack Cooley looks like Luke Harangody Jr. and plays like him too, averaging 12.5 points and 8.9 boards per game. Junior guard Eric Atkins (12.1 ppg, 4.1 apg) is a solid distributor and shooter, and backcourt mate Jerian Grant (12.3 ppg, 5 apg) is an all-Big East caliber guard.
WHAT SCARES US: Notre Dame isn't very athletic, and the "burner"offense head coach Mike Brey has used can be putrid. The Irish are going to win with defense, but they're susceptible to getting waxed by a team that has speed and offensive firepower. Read: Louisville.
BIG EAST PREDICTION: 13-5
KEY PLAYERS:
G Eric Atkins (6-1, 173, Jr.)
G Jerian Grant (6-5, 185, Jr.)
G/F Pat Connaughton (6-5, 205, So.)
G/F Scott Martin (6-8, 222, Sr.)
F Jack Cooley (6-9, 244, Sr.)
FINAL DESTINATION: The NCAA Tournament. The Irish have all the talent necessary to make a run at the Sweet 16. Whether or not they get there will depend on how well the frontcourt develops.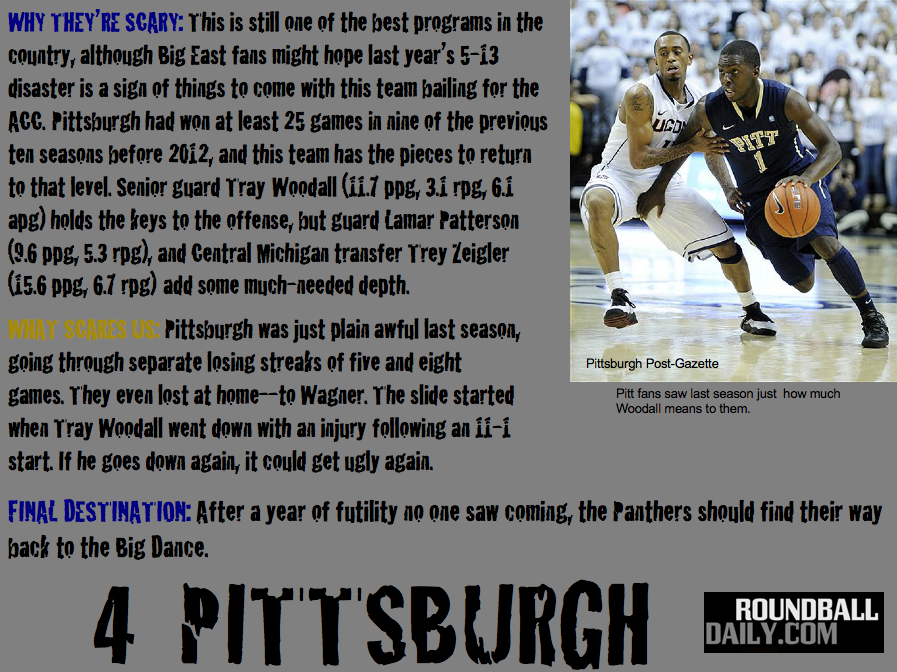 4. Pittsburgh Panthers
WHY THEY'RE SCARY: This is still one of the best programs in the country, although Big East fans might hope last year's 5-13 disaster is a sign of things to come with this team bailing for the ACC. Pittsburgh had won at least 25 games in nine of the previous ten seasons before 2012, and this team has the pieces to return to that level. Senior guard Tray Woodall (11.7 ppg, 3.1 rpg, 6.1 apg) holds the keys to the offense, but guard Lamar Patterson (9.6 ppg, 5.3 rpg), and Central Michigan transfer Trey Zeigler (15.6 ppg, 6.7 rpg) add some much-needed depth.
WHAT SCARES US: Pittsburgh was just plain awful last season, going through separate losing streaks of five and eight games. They even lost at home–to Wagner. The slide started when Tray Woodall went down with an injury following an 11-1 start. If he goes down again, it could get ugly again.
BIG EAST PREDICTION: 12-6
KEY PLAYERS:
G Tray Woodall (5-11, 190, Sr.)
G/F Trey Zeigler (6-5, 203, Jr.)
G/F Lamar Patterson (6-5, 221, Jr.)
G James Robinson (6-3, 190, Fr.)
C Malcolm Gilbert (6-11, C, So.)
FINAL DESTINATION: After a year of futility no one saw coming, the Panthers should find their way back to the Big Dance.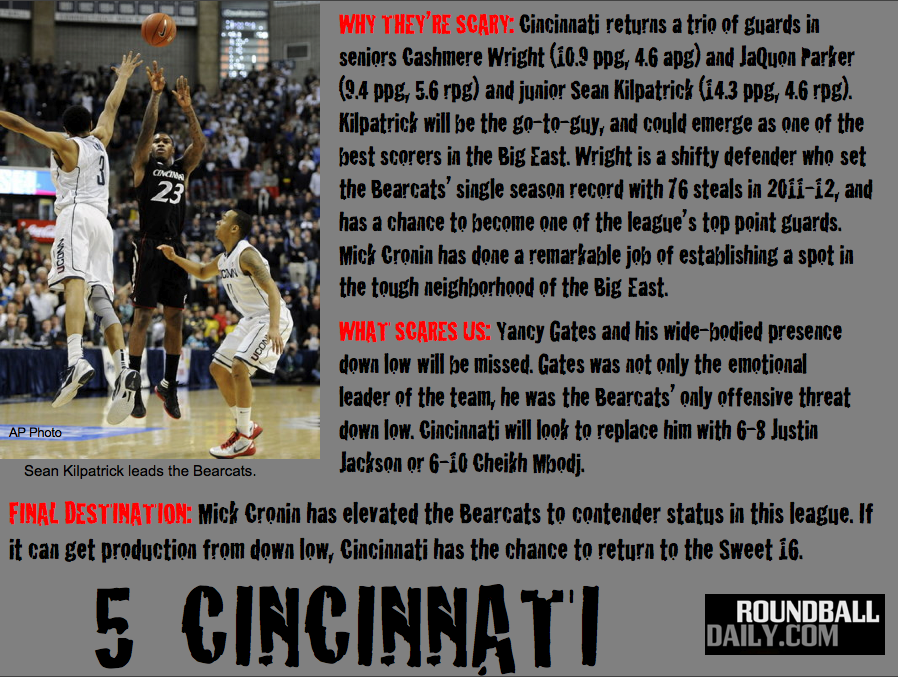 __________________________________________________________________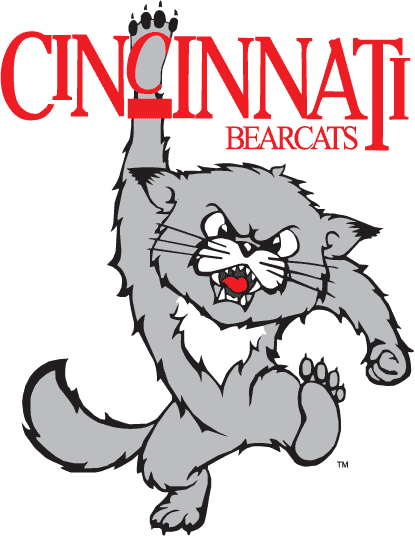 5. Cincinnati Bearcats 
________________________________
WHY THEY'RE SCARY: Cincinnati returns a trio of guards in seniors Cashmere Wright (10.9 ppg, 4.6 apg) and JaQuon Parker (9.4 ppg, 5.6 rpg) and junior Sean Kilpatrick (14.3 ppg, 4.6 rpg). Kilpatrick will be the go-to-guy, and could emerge as one of the best scorers in the Big East. Wright is a shifty defender who set the Bearcats' single season record with 76 steals in 2011-12, and has a chance to become one of the league's top point guards. Mick Cronin has done a remarkable job of establishing a spot in the tough neighborhood of the Big East.
WHAT SCARES US: Yancy Gates and his wide-bodied presence down low will be missed. Gates was not only the emotional leader of the team, he was the Bearcats' only offensive threat down low. Cincinnati will look to replace him with 6-8 Justin Jackson or 6-10 Cheikh Mbodj.
BIG EAST PREDICTION: 12-6
KEY PLAYERS:
G Cashmere Wright (6-0, 178, Sr.)
G/F Sean Kilpatrick (6-4, 221, Jr.)
G JaQuon Parker (6-3, 198, Jr.)
G Jeremiah Davis III (6-3, 204, So.)
F Shaquille Thomas (6-7, 177, Fr.)
FINAL DESTINATION: Mick Cronin has elevated the Bearcats to contender status in this league. If it can get production from down low, Cincinnati has the chance to return to the Sweet 16.
_____________________________________________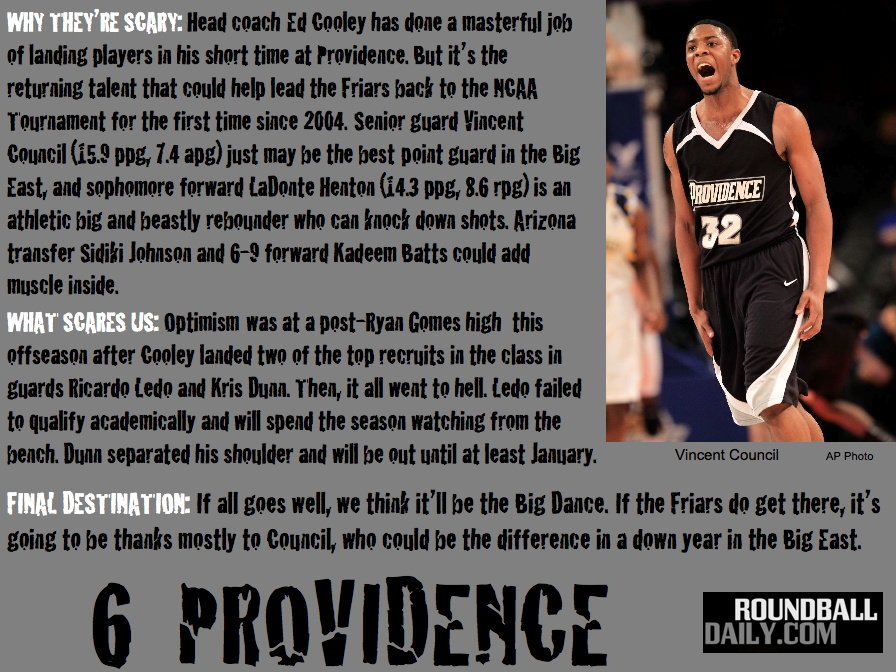 6. Providence College Friars 
WHY THEY'RE SCARY: Head coach Ed Cooley has done a masterful job  of landing players in his short time at Providence. But it's the returning talent that could help lead the Friars back to the NCAA Tournament for the first time since 2004. Senior guard Vincent Council (15.9 ppg, 7.4 apg) just may be the best point guard in the Big East, and sophomore forward LaDonte Henton (14.3 ppg, 8.6 rpg) is an athletic big and beastly rebounder who can knock down shots. Arizona transfer Sidiki Johnson and 6-9 forward Kadeem Batts could add muscle inside.
WHAT SCARES US: Optimism was at a post-Ryan Gomes high  this offseason after Cooley landed two of the top recruits in the class in guards Ricardo Ledo and Kris Dunn. Then, it all went to hell. Ledo failed to qualify academically and will spend the season watching from the bench. Dunn separated his shoulder and will be out until at least January.
BIG EAST PREDICTION: 11-7 
KEY PLAYERS:
G Vincent Council (6-2, 180, Sr.)
G Kris Dunn (6-3, 180 Fr.)
F LaDonte Henton (6-6, 220, So.)
F Kadeem Batts (6-9, 240, Jr.)
FINAL DESTINATION: If all goes well, we think it'll be the Big Dance. If the Friars do get there, it's going to be thanks mostly to Council, who could be the difference in a down year in the Big East.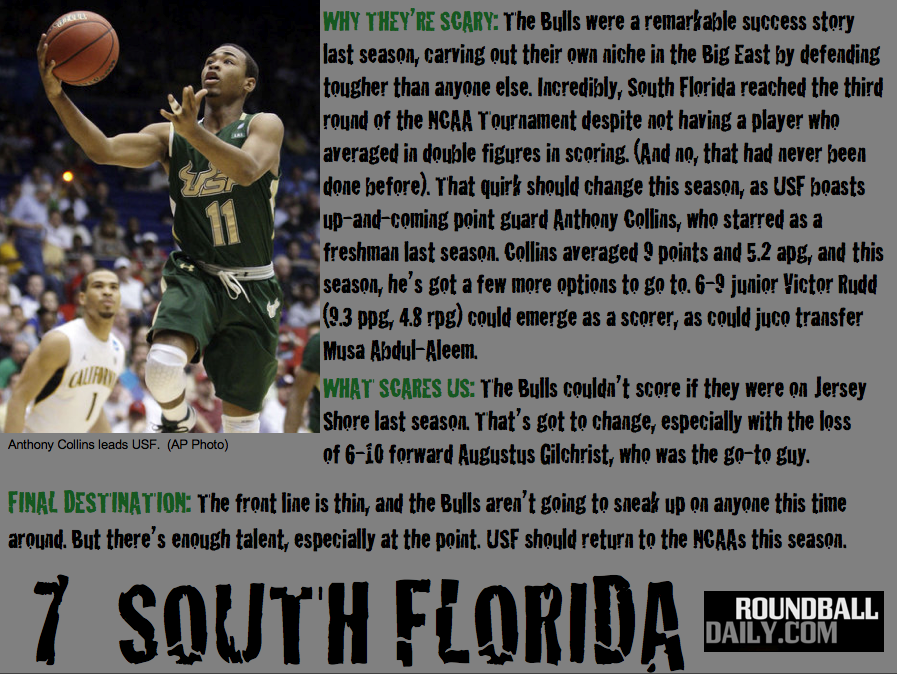 7. South Florida Bulls
WHY THEY'RE SCARY: The Bulls were a remarkable success story last season, carving out their own niche in the Big East by defending tougher than anyone else. Incredibly, South Florida reached the third round of the NCAA Tournament despite not having a player who averaged in double figures in scoring. (And no, that had never been done before). That quirk should change this season, as USF boasts up-and-coming point guard Anthony Collins, who starred as a freshman last season. Collins averaged 9 points and 5.2 apg, and this season, he's got a few more options to go to. 6-9 junior Victor Rudd (9.3 ppg, 4.8 rpg) could emerge as a scorer, as could juco transfer Musa Abdul-Aleem.
WHAT SCARES US: The Bulls couldn't score if they were on Jersey Shore last season. That's got to change, especially with the loss of 6-10 forward Augustus Gilchrist, who was the go-to guy.
BIG EAST PREDICTION: 10-8
KEY PLAYERS:
G Anthony Collins (6-1, 175, So.)
G Martino Brock (6-5, 205, Jr.)
G Jawanza Poland  (6-4, 204, Sr.)
F Victor Rudd (6-9, 229, Jr.)
FINAL DESTINATION: The front line is thin, and the Bulls aren't going to sneak up on anyone this time around. But there's enough talent, especially at the point. USF should return to the NCAAs this season.
8. Georgetown Hoyas
WHY THEY'RE SCARY: Sophomore Otto Porter (9.7 ppg, 6.8 rpg) came on strong in the second half last year and emerged as one of the top freshmen in the conference. This year, it'll be his team, so expect a breakout year from the 6-8 forward. The Hoyas also boast a truckload of young talent that may or may not emerge this season. Freshmen D'Vauntes Smith-Rivera, Brandon Bolden, and Stephen Domingo could have big impacts this season.  Guard Michael Starks (7.1 ppg, 1.6 rpg) will run the point, and his play could be the key to the season.
WHAT SCARES US: Georgetown's top three scorers from last year are gone, after Hollis Thompson (12.8 ppg, 5.5 rpg) left school early for the NBA. Jason Clark (14 ppg, 4.1 rpg) and Henry Sims (11.6 ppg, 6 rpg) will be missed. This team is painfully young, with no seniors and only one junior (6-8 forward Nate Lubick) on the roster. There could be plenty of growing pains.
BIG EAST PREDICTION: 9-9
KEY PLAYERS:
G Michael Starks (6-2, 175, Jr.0
G/F Otto Porter (6-8, 205, So.)
F Nate Lubick (6-8, 235, Jr.)
FINAL DESTINATION: This looks like a bubble team, depending on how the freshmen develop. There's some excellent young talent here, but it could be a re-grouping year for the Hoyas.
______________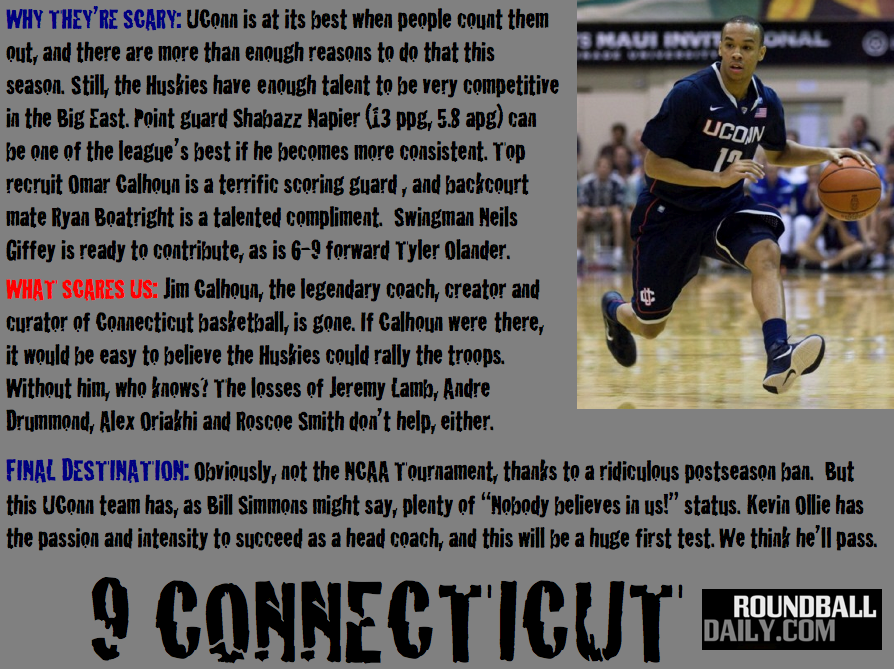 9. Connecticut Huskies 
WHY THEY'RE SCARY: UConn is at its best when people count them out, and there are more than enough reasons to do that this season. Still, the Huskies have enough talent to be very competitive in the Big East. Point guard Shabazz Napier (13 ppg, 5.8 apg) can be one of the league's best if he becomes more consistent. Top recruit Omar Calhoun is a terrific scoring guard, and backcourt mate Ryan Boatright is a talented compliment.  Swingman Neils Giffey is ready to contribute, as is 6-9 forward Tyler Olander.
WHAT SCARES US: Jim Calhoun, the legendary coach, creator and curator of Connecticut basketball, is gone. If Calhoun were there, it would be easy to believe the Huskies could rally the troops. Without him, who knows? The losses of Jeremy Lamb, Andre Drummond, Alex Oriakhi and Roscoe Smith don't help, either.
BIG EAST PREDICTION: 8-10
KEY PLAYERS:
G Shabazz Napier (6-1, 171, Jr.)
G Omar Calhoun (6-5, 200, Fr.)
G R.J. Evans (6-3, 210, Sr.)
G Ryan Boatright (6-0, 160, So.)
F Tyler Olander (6-9, 225, Jr.)
F DeAndre Daniels (6-8, 195, So.)
F Enosch Wolf (7-1, 230, Jr.)
FINAL DESTINATION: Obviously, not the NCAA Tournament, thanks to a ridiculous postseason ban.  But this UConn team has, as Bill Simmons might say, plenty of "Nobody believes in us!" status. Kevin Ollie has the passion and intensity to succeed as a head coach, and this will be a huge first test. We think he'll pass.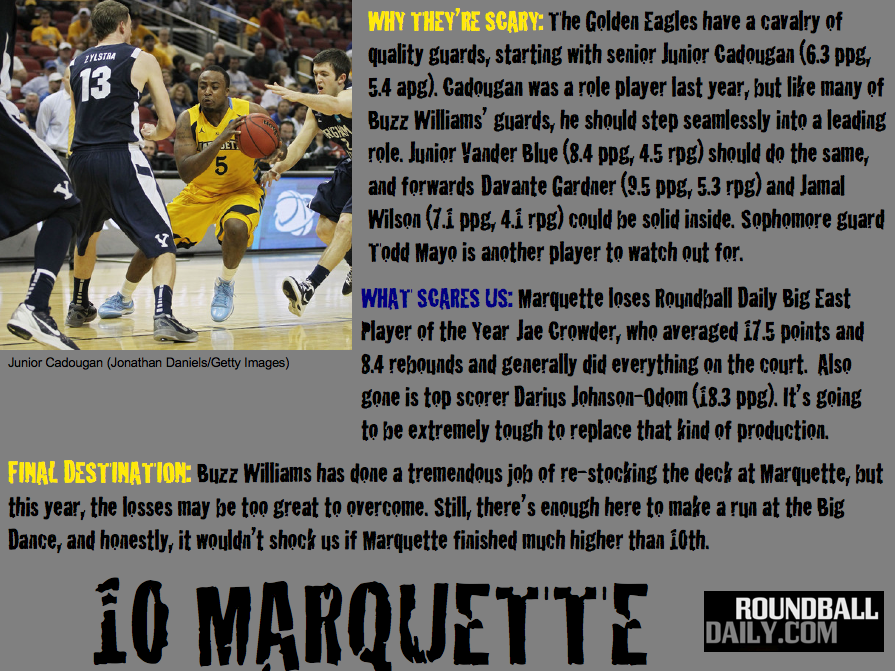 10. Marquette Golden Eagles 
WHY THEY'RE SCARY: The Golden Eagles have a cavalry of quality guards, starting with senior Junior Cadougan (6.3 ppg, 5.4 apg). Cadougan was a role player last year, but like many of Buzz Williams' guards, he should step seamlessly into a leading role. Junior Vander Blue (8.4 ppg, 4.5 rpg) should do the same, and forwards Davante Gardner (9.5 ppg, 5.3 rpg) and Jamil Wilson (7.1 ppg, 4.1 rpg) could be solid inside. Sophomore guard Todd Mayo is another player to watch out for.
WHAT SCARES US: Marquette loses Roundball Daily Big East Player of the Year Jae Crowder, who averaged 17.5 points and 8.4 rebounds and generally did everything on the court.  Also gone is top scorer Darius Johnson-Odom (18.3 ppg). It's going to be extremely tough to replace that kind of production.
BIG EAST PREDICTION: 8-10
KEY PLAYERS:
G Junior Cadougan (6-1, 205, Sr.)
G Vander Blue (6-4, 200, Jr.)
G Trent Lockett (6-5, 210, Sr.)
G Todd Mayo (6-3, 190, So.)
F Davante Gardner (6-8, 290, Jr.)
F Jamil Wilson (6-7, 225, Jr.)
FINAL DESTINATION: Buzz Williams has done a tremendous job of re-stocking the deck at Marquette, but this year, the losses may be too great to overcome. Still, there's enough here to make a run at the Big Dance, and honestly, it wouldn't shock us if Marquette finished much higher than 10th. (3rd? 4th?)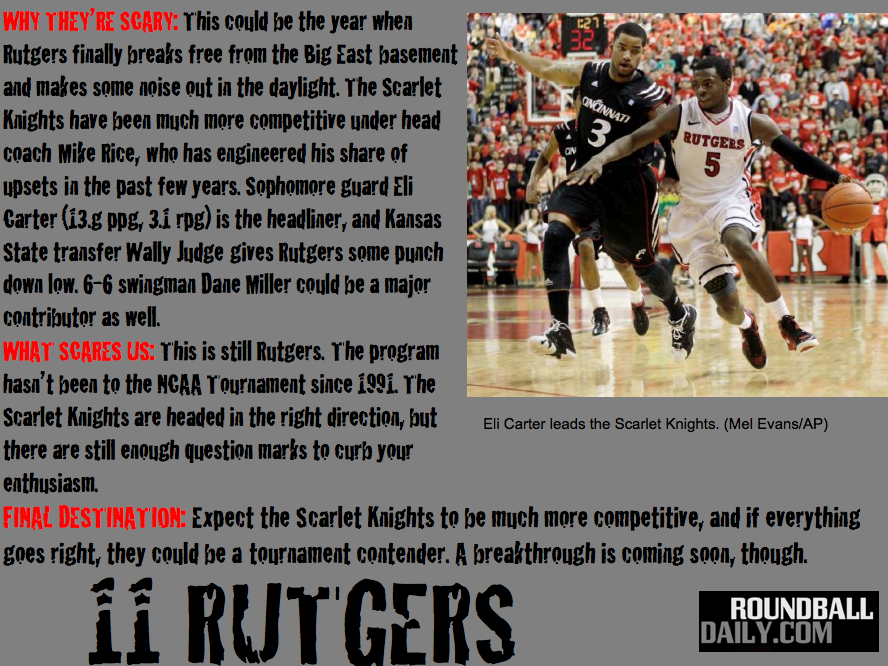 11. Rutgers Scarlet Knights  
WHY THEY'RE SCARY: This could be the year when Rutgers finally breaks free from the Big East basement and makes some noise out in the daylight. The Scarlet Knights have been much more competitive under head coach Mike Rice, who has engineered his share of upsets in the past few years. Sophomore guard Eli Carter (13.g ppg, 3.1 rpg) is the headliner, and Kansas State transfer Wally Judge gives Rutgers some punch down low. 6-6 swingman Dane Miller could be a major contributor as well.
WHAT SCARES US: This is still Rutgers. The program hasn't been to the NCAA Tournament since 1991. The Scarlet Knights are headed in the right direction, but there are still enough question marks to curb your enthusiasm.
BIG EAST PREDICTION: 7-11
KEY PLAYERS:
G Eli Carter (6-2, 195, So.)
G Dane Miller (6-6, 215, Sr.)
F Wally Judge (6-9, 250, Sr.)
F/C Derrick Randall (6-8, 240, So.)
FINAL DESTINATION: Expect the Scarlet Knights to be much more competitive, and if everything goes right, they could be a tournament contender. A breakthrough is coming soon, though.
12. St. John's Red Storm
WHY THEY'RE SCARY: God'sgift Achiuwa is a load inside, and he has an opportunity to become a big-time player in the Big East this year. D'Angelo Harrison (17 ppg, 3.9 rpg) is just a sophomore and has the same chance. He's an athletic guard who can be an NBA prospect. Sir'Dominic Pointer and Phil Greene give the Red Storm depth in the backcourt.
WHAT SCARES US: Losing Big East Rookie of the Year Moe Harkless and his 15.5 ppg, 8.6 rpg, and 2.3 apg will hurt.  If he came back, this could have been an NCAA Tournament team. Now, the Johnnies are left without depth at the small forward position and could be too reliant on Harrison to score.
BIG EAST PREDICTION: 7-11
KEY PLAYERS:
G D'Angelo Harrison (6-3, 202, So.)
G Phil Greene (6-2, 180, So.)
F God'sgift Achiuwa (6-8, 236, Sr.)
13. Villanova Wildcats
WHY THEY'RE SCARY: Mouphtao Yarou appears ready to finally break through and become the all-Big East talent everyone thought he could be when he arrived on campus four years ago.  JayVaughn Pinkston (6-7, 260) has the potential to become a force alongside Yarou, and Wake Forest transfer Tony Chennault solidifies a backcourt that was decimated after Maalik Wayns and Dominic Cheek both departed.
WHAT SCARES US: The talent level isn't where it once was, and it's strange to see a Villanova team whose strength is in the frontcourt. If Wayns had come back, there may have been hope for a return to normal, but now someone else is going to have to step up in the backcourt. Sophomore guard Ty Johnson could be the answer,  but other than that, the cupboard is pretty bare.
BIG EAST PREDICTION: 4-14
FINAL DESTINATION: Jay Wright isn't going to let this program slip too far. Last year was a disaster, but there's enough here to salvage a .500 record and a postseason bid. The Big Dance looks out of the question, though.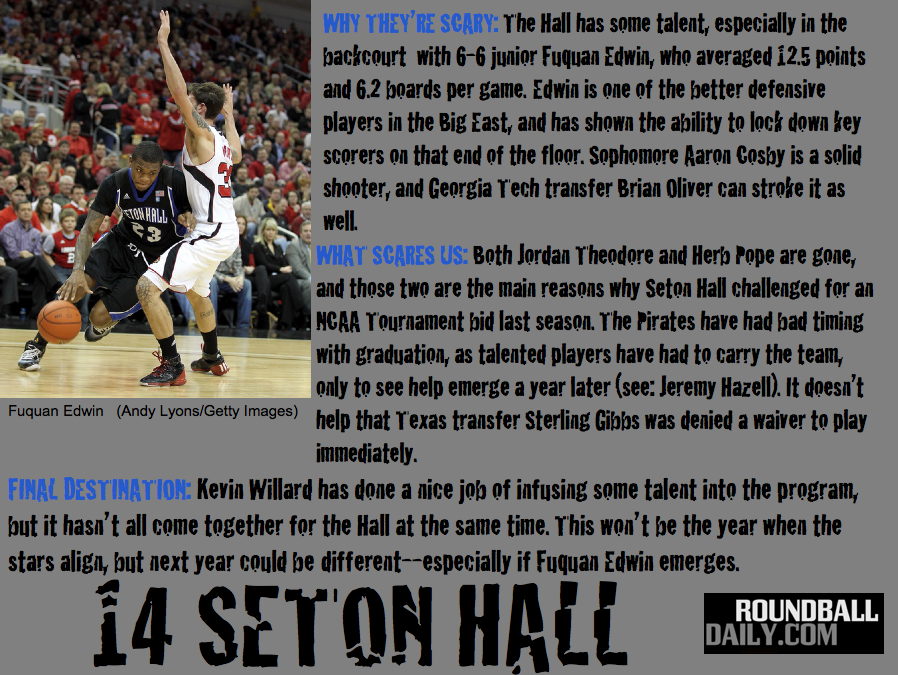 _______
14. Seton Hall Pirates
WHY THEY'RE SCARY: The Hall has some talent, especially in the backcourt  with 6-6 junior Fuquan Edwin, who averaged 12.5 points and 6.2 boards per game. Edwin is one of the better defensive players in the Big East, and has shown the ability to lock down key scorers on that end of the floor. Sophomore Aaron Cosby is a solid shooter, and Georgia Tech transfer Brian Oliver can stroke it as well.
WHAT SCARES US: Both Jordan Theodore and Herb Pope are gone, and those two are the main reasons why Seton Hall challenged for an NCAA Tournament bid last season. The Pirates have had bad timing with graduation, as talented players have had to carry the team, only to see help emerge a year later (see: Jeremy Hazell). It doesn't help that Texas transfer Sterling Gibbs was denied a waiver to play immediately.
BIG EAST PREDICTION: 4-14
FINAL DESTINATION: Things are looking up for Seton Hall, but results probably won't come this year. The talent level has improved under Kevin Willard, but the stars haven't yet aligned for an NCAA Tournament run. There's talent here, but not enough to put the Hall over the hump.
15. DePaul Blue Demons
WHY THEY'RE SCARY: They're really not, but at least DePaul can boast the Big East's leading returning scorer in 6-8 forward Cleveland Melvin (17.5 ppg, 7.4 rpg). He is a beast down low and may challenge for all-Big East honors. Junior guard Brandon Young (14.5 ppg, 4.7 apg) can emerge as a solid point guard, and freshman Durrell McDonald (6-2, 171) figures to receive plenty of playing time. Shooting guard Moses Morgan can catch fire and knock down big shots.
WHAT SCARES US: History. Oliver Purnell has the program heading in the right direction, and there's more talent here than in years past. But, there's not enough depth…
KEY PLAYERS:
F Cleveland Melvin (6-8, 208, Jr.)
G Brandon Young (6-3, 199, Jr.)
F Jamee Crockett (6-4, 213, So.)
G Charles McKinney (6-3, 183, So.)
FINAL DESTINATION: They're getting better, but until DePaul proves it can climb out of last place, it's the only place to rank them. The league is down, but it's still too deep for the Blue Demons to have a realistic chance to move up the ladder.