Taking in a game with the head of NCAA men's basketball officials
By: Kels Dayton
It's a dark, snowy night in Hamden, Connecticut, the kind that last all basketball season in the northeast. John W. Adams is sitting by himself in the last row at the TD Bank SportsCenter, preparing to take in yet another game in the long stretch of games that make up his life each winter.
Over the next five months, the NCAA's head of men's basketball officials will traverse the country, going from city to city, small gym to huge arena, to evaluate as many of our nation's college basketball officials as he can. His recommendations will determine which referees make it to the NCAA Tournament, which ones advance, and ultimately, who will toss the ball into the air at the Final Four.
He's told me to meet him here, section 101, by the entrance. I do so, but not before polishing off a Baconator in a Wendy's parking lot. (That's not really relevant…I just felt like sharing).
Adams' goal is to watch at least one game from each of the 32 conferences, and he believes he will achieve that goal again this season. On tap tonight is Lehigh (of the Patriot League) at Quinnipiac (Northeast Conference), an interesting game because of Lehigh guard CJ McCollum, who scored 30 points in leading the Mountain Hawks to a monumental upset over Duke in the NCAA Tournament last March.
When I arrive, Adams is holding a manila folder and taking notes on the back side of the game program. He's 64 years old, with white hair, and he's small in stature, looking every bit like a former referee. Adams settles into his seat, and for the next two hours, I am treated to an audience with referee royalty.
When he attends a game, Adams usually likes to sit courtside, where he can get a better feel for the way the officials are handling each situation. Tonight though, he feels like changing things up. The top row at the 3,500-seat TD Bank Sports Center isn't like the top row at Madison Square Garden, so he's still in position to judge most of the calls. "I like it. It's kind of like watching the game on T.V. You can see everything at the same time," he says. "Plus, nobody bothers me up here."
Before each game, Adams will meet with the coaches and referees, just to let them know that he is in the building. When he sits courtside, he says, coaches will appeal to him after a bad call, looking over as if to say, "See what your guy is doing to me?"
Our officials tonight are Doug Grant, James Ostwalt, and Frank Scagliotta. Adams has the scouting report on each man ready for me, and tells me that Ostwalt and Grant are relatively inexperienced. It will be Scagliotta's job to police the game, while the other two focus on their zones on the court. If they are working in perfect harmony, no one will even notice them.
Adams' main role is to pick out plays from each game that he believes the referees should take another look at later. If he sees a call he likes, he will have the television crew send a copy of it to the referees. If he sees one he doesn't like, he'll do the same, always with an explanation on how to call a similar play the next time. He also does this when he watches games on T.V. Later that night, Adams will ask ESPN to cut him video of selected plays from the North Carolina-Indiana game, which he will send out in a memo to all referees, or use them in video demonstrations.
"I do try to accentuate the positive," he says. "It's funny, sometimes you'll see a call in person and think, oh, that was a bad call. And then you'll watch it on tape and realize, the guy actually got it right."
Adams started out calling junior varsity games in Indiana in 1973. "So I could buy groceries," he said. Soon, he had worked his way up to refereeing NCAA Division I.  He also worked his way up the ladder in his day job, becoming a successful real estate executive. Adams could have retired, bought a golf course, and called it a career when he hung up his whistle in 1989, but when the opportunity to head the NCAA's referees presented itself in 2008, he couldn't pass it up.
These days, Adams spends summers at home in Indianapolis and winters traveling the country. Wednesday he will be in New Rochelle, N.Y., to see Iona College. Thursday, he'll be at St. John's. Then, it's off to Indiana State (his alma mater) on Saturday, San Diego State on Monday, the University of San Francisco on Tuesday, and Colorado next Wednesday. And that's just this week.
Come mid-March, Adams will plant his stakes at CBS headquarters in New York. There, he'll be on call during the NCAA Tournament, watching games and clarifying rules for the likes of Greg Gumbel, Seth Davis, Charles Barkley and Kenny Smith. Sometimes, like when Butler defeated Pittsburgh in a controversial third-round game in 2011, Adams will go on-air to explain calls to the masses. The role is similar to that of Fox's Mike Pereira, who clarifies calls for viewers during NFL broadcasts. Except, as Adams says, "We were doing that well before they were."
Although he watches the games to observe the officials, Adams knows more about college basketball than just about anyone you'll ever meet. He raved about the way John Calipari handled his Kentucky team last season, calling it one of the more impressive coaching performances he's ever seen. When Lehigh's McCollum drilled wide-open three-pointer late in the game, Adams couldn't help but shake his head. "I'm not a coach or anything, but how do you leave him open?" he asked.
The best game he's ever seen in-person? Villanova vs. Pittsburgh, in the 2009 Elite Eight. (Nova won, 78-76, on a last-second shot by Scottie Reynolds.) The best player? He doesn't have one. The list changes too often, he says.
Adams said that officials make themselves aware of what each team tries to do offensively and defensively, so that they can anticipate where the action is going to be. In this particular game, he said he would keep an eye on Lehigh's McCollum, because he knows that the guard is going to get a lot of touches. "You look for the matchups," Adams said. "You always want to be able to anticipate what is going to happen next, so you can be ready for it."
He also noted that NCAA Tournament games are among the best-refereed because officials do not have a preconceived notion about which team is better. "In the NCAA Tournament, you might have an official from California who knows who Duke is; maybe he's seen them on T.V., but not in person. And Lehigh, he's never seen them, may not even know where they are from. So, you come into the game with a clean slate."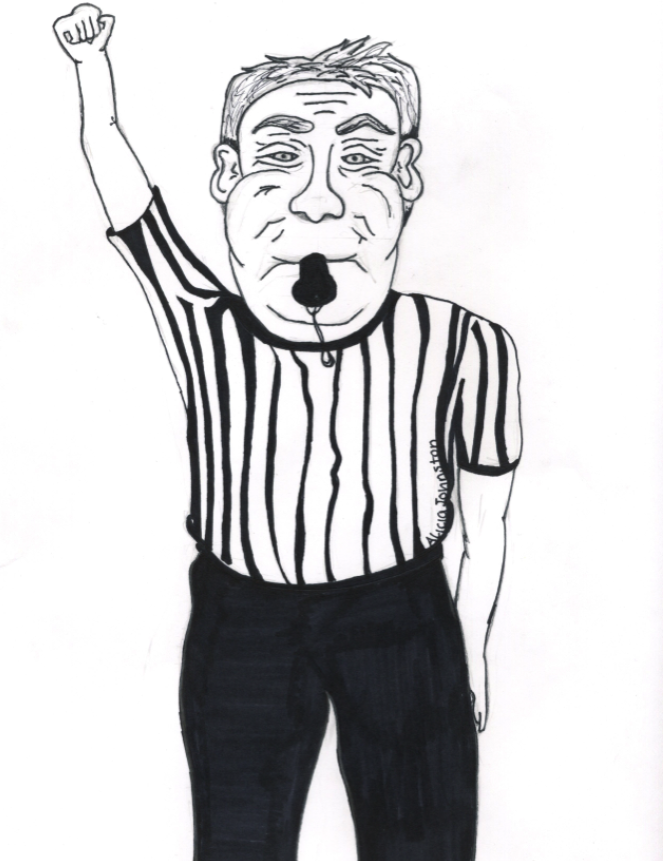 This season, Adams is placing much of his focus on the block-charge call, which he believes is among toughest for referees to get right. He is also concerned with the way palming violations are being called. "It's like a checklist for [officials]. Did we get a palming call tonight? Check. A traveling call? Check."
All in all, Adams wants to see consistency from his referees. He looks at how well referees do three things over the course of a game:
1. Get the plays right. You'd be surprised how many people at the NCAA would say that this isn't the main priority, Adams says.
 2. Be an adequate communicator. You'd think that being a great communicator would be better than just being adequate, but Adams says no. "We don't want them palling around with the coach, or taking too much time to explain things," he says. "We don't ever want to give a coach the feeling that we owe them something."
3. Manage Major Moments. When time gets short and the game is close, how does a referee respond? Adams puts extra stock in these moments, saying it can overshadow his opinion of the referees' performances throughout the rest of the game.
As this game approaches its major moment time, Adams falls silent. He focuses in on each call a bit more, and laughs when Quinnipiac head coach Tom Moore voices his displeasure with the lack of foul calls when his team drives to the basket.
"Moore wasn't complaining about that call in the first half. Now all of a sudden, he wants it," he says.
Lehigh ends up making a few more plays down the stretch, and pulls away behind McCollum, who finishes with 30 points. The Mountain Hawks win, 77-66. Adams praises the officials, saying that they did a fine job. ""And I would tell you if I didn't think so," he adds.
As time winds down, he makes a final note on the back of his game program.
The buzzer sounds, and he rises from his seat, shakes my hand and takes off.
On to the next one.
Related: Former Quinnipiac James Feldeine star James Feldeine balling for the Dominican Republic
Big-time basketball shrinks through the prism of Quinnipiac-UConn