NCAA Tournament: East Region 1. Indiana vs. 16. LIU Brooklyn or James Madison

 1 Indiana (27-6, 14-4 Big Ten)- The Hoosiers have been the odds-on favorite (almost by default) to win the national title almost all season long. They've got all of the piecesa team needs to make a run at a title. Cody Zeller (17 ppg, 8.1 rpg) is an All-American caliber big man, Jordan Hulls is a tremendous shooter (46% from three-point range), and 6-9 forward Christian Watford can rebound, score and defend like few players in the country.
But the one guy who makes this a championship-caliber team is 6-5 junior guard Victor Oladipo. Numbers don't even do Oladipo justice. Sure, his 13.6 points and 6.4 rebounds per game are impressive, but they don't reflect the way he carries the Hoosiers, particularly down the stretch in close games.
Oladipo is the leading candidate for National Player of the Year because he turns it on when the Hoosiers need him most. He put up 14 points and 13 rebounds in Indiana's one-point win over Michigan a week ago. He followed that effort with 12 and 11 in a first-round evisceration of Illinois in the Big Ten tournament. If he has a big tournament and Zeller and Watford play like the best frontcourt in the nation, Indiana will be tough to stop.
KEY STATS: 
3rd Points Per Game (80.7)
7th Field Goal Percentage (48.6%)
24th Field Goal Percentage Defense (39%)
Team Stats Courtesy: www.espn.com, www.statsheet.com.
___________________________________________________________________________________________________________________________________________________
16 LIU-Brooklyn (20-13, 12-6 Northeast Conference) / 16 James Madison (20-14, 11-7 Colonial Athletic)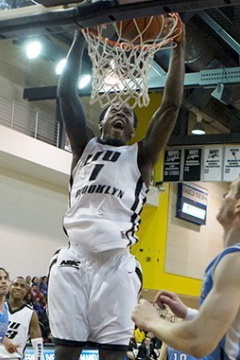 LIU-Brooklyn is back in the NCAAs for the third consecutive year, becoming the first NEC team to win three straight conference titles. This team is better than a No. 16 seed. LIU is chiseled, athletic and plays at a breakneck speed that can overwhelm opponents. 6-7 senior forward Jamal Olasewere (18.9 ppg, 8.5 rpg) is an imposing figure with prodigious dunking ability, and can score at will in the low block.
Senior guard CJ Garner (16.1 ppg) can also be an explosive scorer, having gone for 31 in the Blackbirds' evisceration of Mount St. Mary's in the NEC championship game. LIU also boasts the nation's assists leader in Jason Brickman, who averages 8.5 per game. If not for the loss of conference Player of the Year Julian Boyd (17 ppg) in December, LIU would probably have a terrific shot at pulling off a first-round upset. The Blackbirds lost six straight when Boyd went down, but they've rebounded to win 15 of 18.
KEY STATS:
 5th Points Per Game (79.5)
26th Assists Per Game (15.3)
11th Field Goal Pecentage (.484)
James Madison reached the NCAA Tournament for the first time since 1995 by winning what ended up being a down Colonial Athletic Association. The Dukes are also better than a No. 16 seed, but the CAA's dwindling conference RPI combined with a 20-14 record probably sealed their fate in the play-in game. JMU started out 1-5 and lost by 30 at UCLA, by 22 to North Dakota State and by 18 to Miami (OH). But they've turned things around and have won four straight, hammering CAA regular season champ Northeastern, 70-57, in the title game. Four Dukes average in double figures in scoring, led by senior forward Rayshawn Goins at 12.7 ppg. This is a fun team to watch, and it's a shame the committee put it in the play-in game.
KEY STATS: 
251st Assists Per Game (11.7)
241st Field Goal Percentage (.420)
253rd Rebounding (32.7)
Team Stats Courtesy: www.espn.com, www.statsheet.com.
PREDICTION: 

 Indiana over LIU-Brooklyn
NCAA BRACKET PREDICTIONS INDEX