NCAA Tournament Predictions: 4. Michigan State vs. 13. Delaware
Compare ANY two teams with Bracket Advisor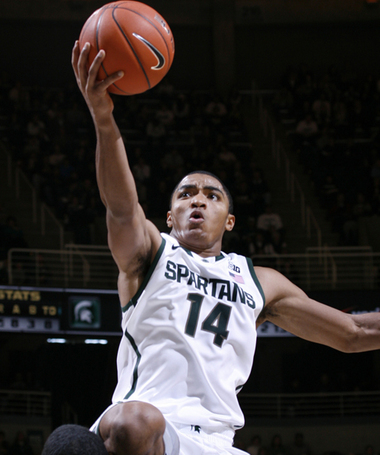 4. Michigan State Spartans (26-8, 12-6 Big Ten)- It's rare that a panel of experts comes to a unanimous decision on a national champion before the tournament. It's even rarer that that national champion is a 4-seed. But that's exactly what happened on ESPN's Bracketology special on Monday night, as the entire panel–from Dickie V to Jay Bilas on down, took the Spartans to cut down the nets in Dallas. Amazing. Of course, this means that you should immediately pick against Michigan State in your bracket.
The analysts love the Spartans because they are finally healthy and ran through the Big Ten tournament, overwhelming regular season champ Michigan in the final.
Big man Adreian Payne (15.7 ppg, 7.3 rpg) is powerful and athletic down low, and has the potential to take over in the NCAA Tournament. Athletic forward Branden Dawson (10.3 ppg, 8.3 rpg) is also stout on the interior, and Gary Harris (17.2 ppg) is a flat-out playmaker who leads the team in scoring.
KEY STATS:
6th Assists per Game (17.1 ppg)
31st Field Goal Percentage (.474)
59th Points Allowed per Game (65.3)
____________________________________________________________________________________________________________
Delaware Fightin' Blue Hens (25-9, 14-2 CAA)–No team in America has a more potent 1-2-3 punch, at least in terms of points per game.
The Blue Hens boast a brilliant backcourt in guards Devon Saddler (19.8 ppg, 4.4 rpg, 3.5 apg), Davon Usher (19.7 ppg, 6 rpg) and Javis Threatt (18.1 ppg, 5.8 rpg, 5.6 apg), all of whom are upper classmen.
Usher is big at 6-6 and efficient as a scorer (he shoots 45% from the floor). He's got a good mid-range jumper and can get his own shot. He can also explode in games, having gone for 42 against Charleston and 34 against James Madison in back-to-back games in early February. Threatt and Saddler are both small, but crafty scorers who can cause problems for teams.
Delaware nearly upset Villanova in Philly in November, losing 64-60. They also hung in with Ohio State in Columbus, losing 76-64, and lost by five at Notre Dame. They were the clear-cut class of the Colonial, running roughshod over an admittedly bad league at 14-2. This isn't your older brother's CAA, which sent two teams to the Final Four (George Mason in 2006 and VCU in 2011).
If you're picking Delaware in this game, it's because of Usher. He is a high-major talent at a mid-major school, and he'll be the key man on the scouting report.
KEY STATS:
Points per Game: 24th (79.7)
Points per Possession: 35th (1.10)
Possessions per Game: 25th (72.3)
Three Point Percentage: 161st (31.6%)