Blazers guard CJ McCollum is the NBA's Most Improved Player
(RD)–All of the diehard Kels Dayton fans out there (hi, mom) know that I used to write a weekly column for SheridanHoops.com on the NBA's Most Improved Players.
And, not to brag or anything, but I like to think of myself as the Joe Lunardi of the NBA's Most Improved Player Award, maniacally handicapping the race from start to finish while eating cheesesteaks for breakfast and sleeping 45 minutes a night.
And, as much as I'd like to take that last sentence back, I can't. It's true.
So, if I were to handicap the 2015 Most Improved Player award right now, I'd have to give a big ol' No. 1 seed to Portland Trail Blazers guard C.J. McCollum.
The former Lehigh standout and lottery pick is on fleek fire right now, averaging 21 points per game on a career-best 45 percent shooting from the floor.
Sure, McCollum has seen a lot more run this season (35.5 minutes per game as opposed to 15 and 12 his first two years in the league). And sure, much of that is due to the fact that the Blazers lost the equivalent of a small island nation's entire army from last year's squad, as Wes Matthews, Aron Afflalo, LaMarcus Aldridge, Robin Lopez and Steve Blake all departed via free agency.
But as McCollum proved in the season opener, when he torched the Pelicans for 39 points, he's now the second-best player on the roster. Check out these numbers from the past week, as the Blazers have won four of five games: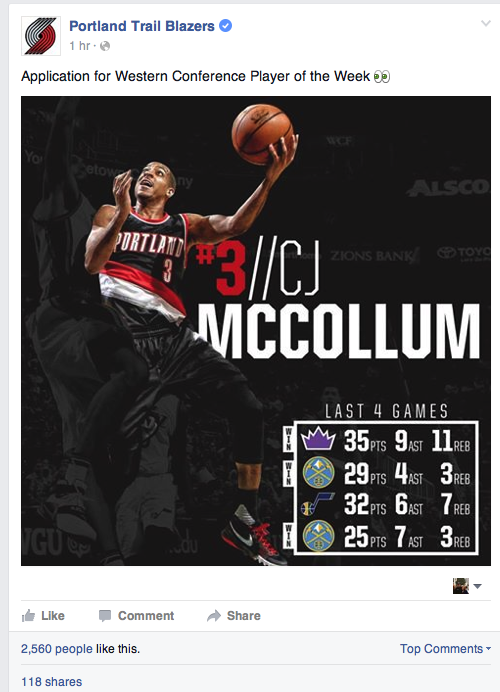 For his part, McCollum says he doesn't like the Most Improved Player Award, and says, "I'm not most improved. I've always been good."
Dang it, C.J.
I do know how he feels, though. I won Most Improved Player at a camp one time and I was kind of annoyed. But still. Like it or not, McCollum, who currently ranks 14th in the league in scoring, is the clear leader for the MIP award right now.
Take that, Lunardi.