Lance Stephenson versus LeBron James and the Cavaliers is a dream playoff matchup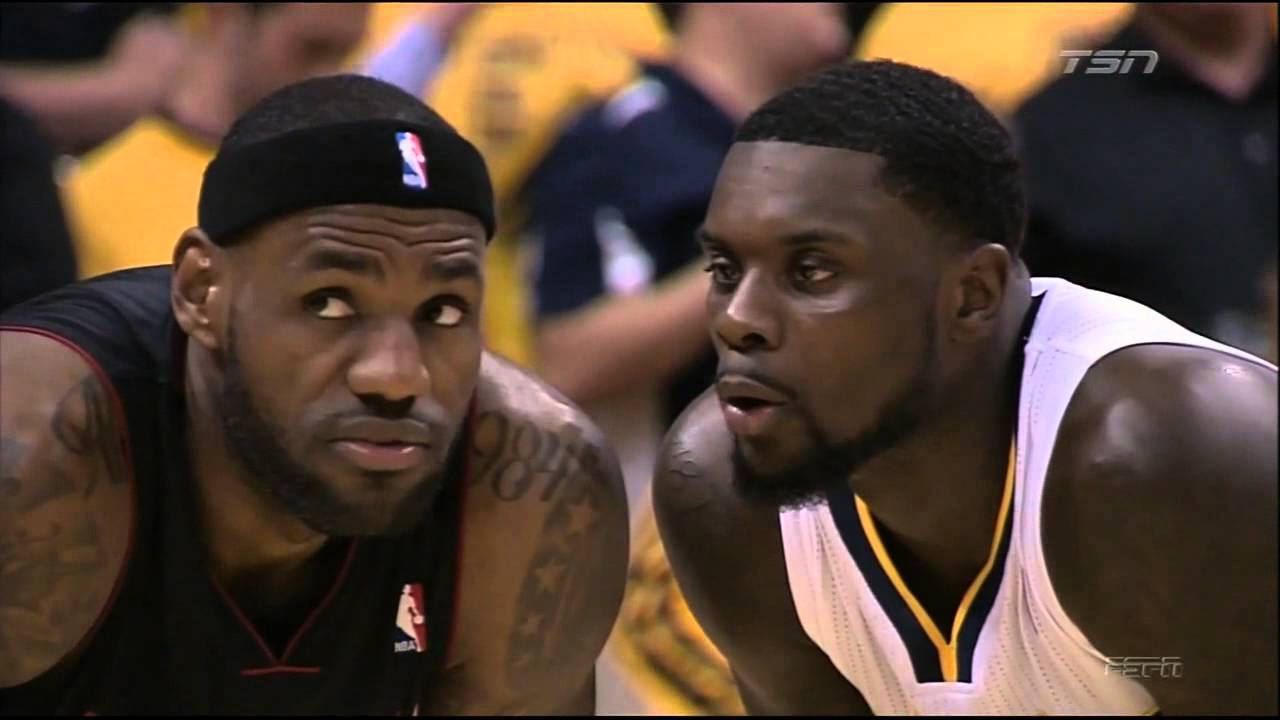 Lance Stephenson is back with the Indiana Pacers.
The Vertical's Adrian Wojnarowski, who is the NBA's equivalent of Adam Schefter to the NFL, first reported the news.
Stephenson will sign a three-year, $12 million contract with Indiana.
Because only three teams are capable of winning this year's NBA championship (Golden State Warriors, San Antonio Spurs and Cleveland Cavaliers), Stephenson and the Pacers matching up with LeBron James and the Cavaliers becomes one of the league's best subplots headed into the postseason.
Remember, Stephenson blew on James' ear during a 2014 playoff series between the Miami Heat and Pacers. It even served as an inspiration for other players.
The Cavs and Pacers would play each other in the first round if the season ended on Thursday.
1. Cavs move into 2 seed in East
2. Pacers move into 7 seed in East
3. Pacers sign Lance Stephenson
4. Rematch: pic.twitter.com/HRywi7yNek

— Crossover Report (@CrossoverReport) March 29, 2017
Also, the Cavs worked out Stephenson, Kirk Hinrich and Mario Chalmers. Instead, Cleveland signed Deron Williams, who openly admitted the Cavs don't practice.
Just imagine Stephenson's attempt at revenge against James and the Cavs, in whatever form it comes.
The Twitter reaction from the fans is already incredible to Stephenson's "homecoming."
Would rather watch Lance Stephenson piss off Lebron for the next 80 years than watch Teague get his ass roasted by another point guard.

— JCSourwine (@JCSourwine) March 30, 2017
lance stephenson is a cult hero. if he's a little bit serviceable, fans are going to go bonkers for him.

— whitney (@its_whitney) March 29, 2017
since he's in the news, here's an important reminder that lance stephenson has a brother named lantz stephenson

— Jordan Heck (@JordanHeckFF) March 29, 2017
Here's what has happened to "Born Ready" since he left Indiana. We're talking about a player who once went to a New York City nightclub to celebrate the birth of his son.
The 26-year-old All-Star journeyman has played for five different teams in three years:
Charlotte Hornets, 2014-2015
Stephenson turned down a five-year, $44 million contract to stay with the Pacers. He wound up signing a three-year, $27 million with the Charlotte Hornets in July 2014.
In his Hornets debut, Stephenson recorded seven points, 13 rebounds and eight assists in a 108-106 overtime win over the Milwaukee Bucks. Stephenson has come close a few other times, but hasn't recorded a triple-double since leaving Indiana when he led the NBA with five in 2013-2014 regular season.
Shortly after his debut, Stephenson released his rendition of a Bobby Shmurda rap song:
Stephenson rapped about pairing with Kemba Walker in the Hornets' backcourt in the song, and that players on the 29 other teams in the league were "dead meat."
Injuries limited Stephenson to 61 games in 2014-2015 (he started 25 of them). Stephenson shot 37.6 percent from the floor, which was the lowest percentage since his rookie season.
Stephenson reverted to slapping himself to try to draw a foul call, and was also unimpressed with the Hornets' attempt at making him a bobblehead.
Los Angeles Clippers, 2015-2016
The Clippers' experiment with Stephenson lasted 43 games.
Stephenson averaged 4.7 points, 1.4 assists and 2.5 rebounds. He did have this monster jam on Lakers' forward Julius Randle.
Los Angeles traded Stephenson to the Memphis Grizzlies for Jeff Green and a lottery protected draft pick.
Memphis Grizzlies, 2016
Stephenson played in 26 regular season games for the Grizzlies, averaging 14.2 points per game on 47.4 percent shooting.
He averaged 13.0 points per game on 52.3 percent shooting in four playoff games. The Spurs swept the Grizzlies in the opening round of the playoffs.
New dance alert . https://t.co/2tqnVtZi66

— Lance Stephenson (@StephensonLance) March 12, 2016
New Orleans Pelicans, 2016
Stephenson signed a one-year, non-guaranteed contract worth about $1.2 million in the 2016 offseason. He played in New Orleans' first six games, averaging 9.7 points, 4.8 assists and 3.3 rebounds in 27 minutes per game.
The Pelicans waived Stephenson in November 2016 after he needed surgery to repair a torn groin.
"They had no interest in letting Lance go, that's for sure," Stephenson's agent, Mark Bartelstein, told the Associated Press.
Nothing says "we want you on our team" like waiving that same player.
Stephenson's New Orleans teammate Matt Barnes (the same player he was traded for about a year earlier) was not happy with the Pelicans' decision. Unsurprisingly, Barnes now plays for the Golden State Warriors.
Minnesota Timberwolves, 2016
The Timberwolves gave Stephenson two 10-day contracts. Stephenson appeared in six games.
BORN READY in the open court!! pic.twitter.com/ob2IuylGWS

— Bleacher Report (@BleacherReport) March 9, 2017
Lance Stephenson out of nowhere! pic.twitter.com/u3BhDR6POS

— SportsCenter (@SportsCenter) March 9, 2017
The Lance Stephenson era in Minnesota was a good one, but like they say all good things must come to an end.

— Hunter (@Zimmesota_) March 19, 2017