Which players are making the biggest impact in NBA Summer League?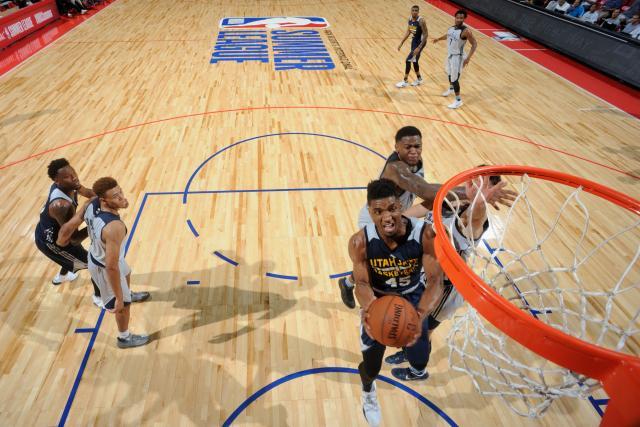 The NBA Summer League is kind of like a postapocalyptic look at professional basketball.
What would the NBA look like if all of the superstars, starters, hell–all the veterans– vanished in some kind of explosion? Or less graphically, if they had all of their talents stolen by the Monstars?
It'd be a pretty strange place.
Scouting the Summer League certainly isn't an exact science–there are so many factors, from rest to rotations to experimental lineups, etc.–you can't take anything anybody does at face value.
Still, a few guys have made names for themselves with how well they've shown up this summer.
Check out our list:
Bryn Forbes
He's having a better time in Vegas than Carrot Top. The 23-year-old former Cleveland State and Michigan State star is averaging a Vegas-best 29.3 points per game, a full decimal point movement from his 2.6 per in 7 minutes per game with the Spurs last season. Forbes has been lights-out, shooting 44% from the floor, and has dished out 3.7 assists and come away with 1.3 steals per. He's going to get a look at some more playing time in the Spurs' incredible system.
Donovan Mitchell
The Jazz rookie has been absolutely phenonmenal in two games, averaging an absurd 28 points, 6 (!!) steals and 2.5 boards per. He came up with 8 steals in just three quarters in less than three quarters against Memphis on Tuesday. He's shown an upbeat, positive attitude since he was drafted and has some real leadership qualities about him.
Yes, it's only Summer League, but the way he played in Utah and now in Vegas shows he's got the potential to be an impact player in the NBA.
Dennis Smith Jr.
If there were a Rookie of the Year award for Summer League, Smith would be in the running for it (Mitchell and Boston's Jayson Tatum would probably be the other two candidates). The rookie point guard from NC State put up 25 points, 8 boards, 4 assists and 4 steals against the Suns on Sunday. He's got Knicks fans already regretting that Frank Ntilikina pick.
De'Aaron Fox
The Lonzo Stopper™ has shown off his track star-speed, instinct for disrupting passing lanes, and leadership with his new group in the time he's been out there for the Kings. He's vocal, encouraging, and positive, which is something this moribund franchise desperately needs. Here's hoping Fox will be the pick that transforms the Kings for the future.
Jayson Tatum
The Celts' top pick has been prolific, showing off a Dirk-like stepback, tremendous quickness for his size, and the ability to score from anywhere. His J has been outstanding, and he's rebounded the ball extremely well (his 9.7 per ranks second only to teammate Jaylen Brown's 10.5 in Vegas).