2017-18 NBA Season Preview: Chicago Bulls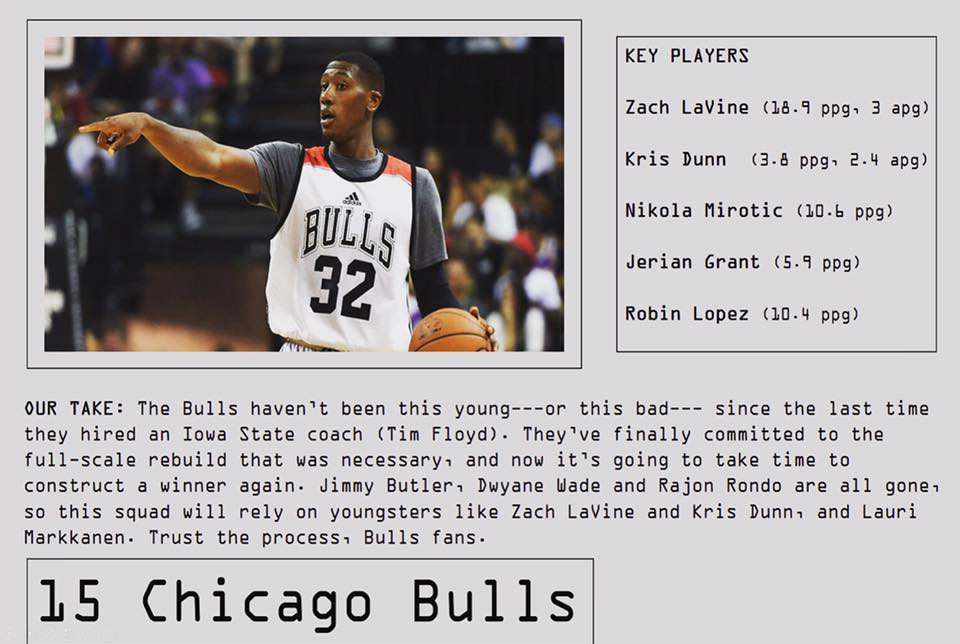 The NBA season is almost here, and here at Roundball Daily, we can't wait like Bart Scott.
We've put together some team preview capsules for each of the 30 teams, starting from the bottom and working our way towards our picks for the top. We start in the East, with our last-place pick, the Chicago Bulls.
15. Chicago Bulls
The Bulls haven't been this young–or this bad–since the Tim Floyd era (the last time they hired an Iowa State coach). They've finally committed to the full-scale rebuild that's been necessary for a while, and now it's going to take time to construct a winner again.
Jimmy Butler, Rajon Rondo, and Dwyane Wade are all gone, so this squad will rely on young potential stars like Zach LaVine, Kris Dunn, and Lauri Markkanen.
While we think LaVine will put up big numbers (and have a chance to prove he's more than just a dunker), this team will probably struggle to win 30 games.