2017-18 NBA Preview: Atlanta Hawks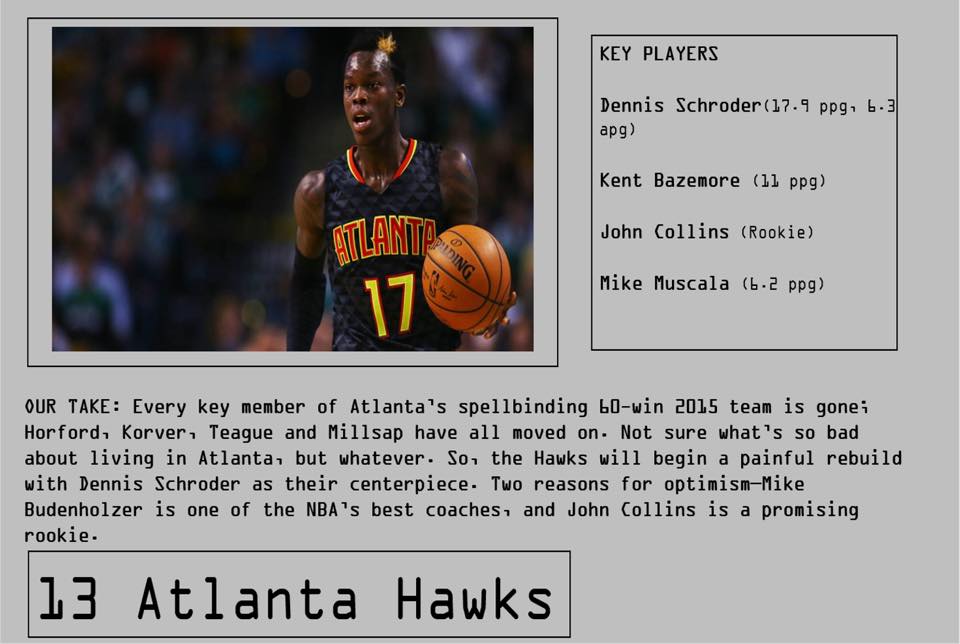 The NBA season is almost here, and here at Roundball Daily, we can't wait like Bart Scott.
We've put together some team preview capsules for each of the 30 teams, starting from the bottom and working our way towards our picks for the top. Next up: the Atlanta Hawks.
13. Atlanta Hawks
Every key member of Altanta's spellbinding 60-win team in 2015 is gone, as Al Horford, Jeff Teague, Kyle Korver and Paul Millsap have all moved on. Not sure what was so bad about living in Atlanta, but whatever. The Hawks will now embark on a painful rebuild with 24-year-old point guard Dennis Schroder as their centerpiece.
Two reasons for optimism? Head coach Mike Budenholzer is one of the league's best, and top draft pick John Collins looks like a rebounding machine who might be one of the best put-back dunkers in the league as well.