Ivy League, strongly criticized for canceling its tournament, was vindicated when all conferences and the NCAA did the same as March Madness became March Sadness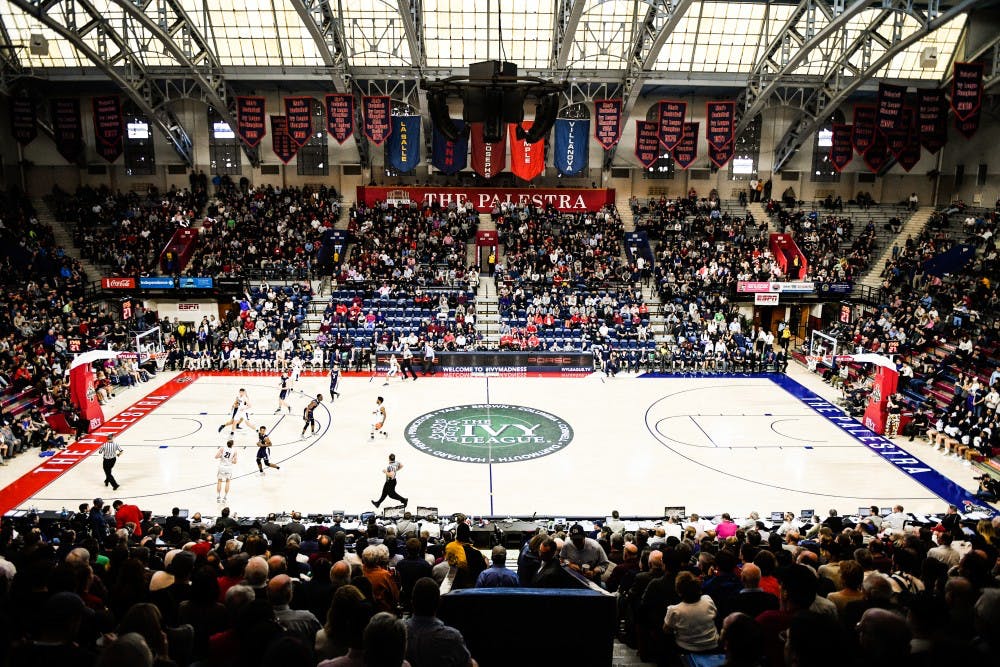 By Joel Alderman
When, due to the increasing threat of the coronavirus (COVID-19) pandemic, the Ivy League decided on Tuesday (March 9) to cancel its post season basketball tournaments, it became the first Division One conference to take what was a bold and courageous step. The league and its executive director, Robin J. Harris, were almost immediately severely criticized. Coaches, players, media. and fans exercised little restraint in deploring or agreeing with the move, mostly deploring.
A petition was started by the Pennsylvania women's team urging that the event, which was to have started on March 13th, be reinstated. It quickly obtained in excess of 1,400 signatories.
The abandonment its tournament was no doubt influenced by brilliant minds these institutions (Harvard, Yale, Princeton, Columbia, Pennsylvania, Cornell, Dartmouth and Brown) employ. Harris said the outcome was finalized in a conference call among the league presidents early that morning. She summarized it in these words:
"We understand and share the disappointment with student-athletes, coaches and fans who will not be able to participate in these tournaments. Regrettably the information and recommendations presented to us from public health authorities and medical professionals have convinced us that this is the most prudent decision. Following a number of league-wide discussions throughout the last several weeks, we have decided to exercise caution in the interest of student-athletes, fans, and the general community."
She later explained to The New York Times: "The presidents wanted a proportionate response that would mitigate the spread of the virus. They're doing that on their own campus with other events, so how could we justify treating the basketball tournaments differently?"
The same day Harvard, which was to be the host of the tournaments, told its students not to return to campus after spring recess beginning during the time the games were to be played, and that classes would be held online thereafter.
The fact that the Ivy was quick to scrap its post-season was noted in the Los Angeles Times of March 13, in which it was stated:
"The Ivy League, which drew criticism for canceling its tournament Tuesday, had been the lone conference to take such a drastic step."
Among the few Ivy coaches to endorse fully the termination of its 4-team competition was Harvard's Tommy Amaker, whose team along with Yale was at least a co-favorite to win and advance to the NCAA "Big Dance." He issued the following written statement:
"This is an unprecedented situation and I fully support the University and College's actions to protect the health and well-being of our students – including all of our student-athletes.  I trust and admire President (Lawrence) Bacow's leadership and vision for Harvard.  He has always done what is in the best interest of our students and the Harvard community."
Some other coaches in the league were not as generous in their praise.
Steve Donahue, Penn, (inquirer.com)
"Didn't see it coming. . . To pull this from our kids, it's the most horrific thing I've dealt with as a coach. . . Simply put: The Ivy League administration has failed its players, coaches, and fans."
Carla Berube, Princeton women (goprincetontigers.com)
"Our team is disappointed to not have the opportunity to compete this weekend alongside our fellow competitors. We were looking forward to showcasing the high-quality caliber of play inside the Ivy League on both the women's and men's sides. I am especially saddened for my colleague, Mitch, and his team. We were all looking forward to a great weekend for everyone involved with Princeton Basketball."
Mitch Henderson, Princeton (goprincetontigers.com)
"We appreciate the Ivy League's concern for the health and safety of the teams, coaches and fans in regards to canceling the Ivy League Basketball Tournaments. . . This is an emotional time for all involved with Princeton Men's Basketball, especially our seniors – Jose (Morales), Will (Gladson) and Richmond (Aririguzoh). They have been outstanding representatives of our program. I am heartbroken that they will not have another opportunity to compete on a national stage for our University."
Megan Griffith, Columbia women (Associated Press)
"All of our student-athletes work tirelessly all season to be able to compete in March and earn an opportunity to represent our conference in the NCAA Tournament. . .Their hearts are broken. Completely devastated. They should be. . . We understand there are health risks. . . We don't know what alternatives were discussed. It's hard to swallow."
Mike McLaughlin, Penn women (inquirer.com)
"To allow these other sports to continue this weekend and cancel this tournament is really hard to explain to our young ladies. They're very intelligent. It's not OK for them to play for their safety, while it's OK for others. It's wrong in so many ways. . . The hypocrisy is difficult for really mature young ladies to accept."
James Jones, Yale  (@ctpost.com)
"The way things have gone over the last 10 days it seemed like it was inevitable in some respects. Holding out hope in some capacity that we would still be able to do this for the young men and women around the country who have put do much time and effort for it, but if you think about the security of the country and what we are going through, it only makes sense.
Credit to the league is finally given  
In the Los Angeles Times of March 13 credit and recognition was stated this way: "The Pac-12 allowed four games to be played.
But the Ivy League, which drew criticism for canceling its tournament Tuesday, had been the lone conference to take such a drastic step."
Termination Thursday
An ironic twist took place two days after the Ivy took its unprecedented action. Other leagues followed suit. Some tournaments had already started. Several were to begin soon. At Madison Square Garden in New York the Big East contest between St. John's and Creighton got through the first half. But before the second half could begin word came that the tournament was canceled and the game never proceeded. This was the last tournament game to be played, though not fully.
Ivy Players, past and present, spoke out, pro and con
From a petition on Change.org (started by Penn's women's team)
Some members of Penn's women's team submitted a petition to Change.org which said, in part:
"As of right now, Yale Women's Lacrosse is flying to California to compete against Fresno State and multiple Ivy League baseball and softball teams are competing in Florida. Additionally, Ivy League wrestlers are flying to Minneapolis to compete in the NCAA tournament. If it is deemed safe enough for teams to travel to higher-level tournaments, then it should be safe enough for us to travel locally for the chance to compete. This is discrimination against the Ivy League men's and women's basketball teams. . . We just want to play. As much as we want our family and friends to be in attendance, we don't need spectators to play the sport we love. The hypocrisy of our Ivy League presidents is baffling and alarming. We are disappointed and disheartened that they would discriminate against one sport and allow the others to continue to compete."
Jeremy Lin, ex-Harvard and NBA (@JLin)
"Can the @IvyLeague allow the Ivy Tournament to happen with no fans instead of canceling it altogether? All the athletes (not just the Harvard hoopers) went into the season expecting a tourney to decide the March Madness bid…this is the worst especially for seniors."
Trey Phills, ex-Yale (@tphillss)
"Obviously great for a few but this is yet another example of @ivyleague administration failing to recognize the student-athlete experience in the same regard as every other student. Seniors just worked on a year-long thesis for higher powers to toss it in a shredder –  hurts."
Eric Monroe, Yale, outgoing captain (@emonroetweets)
"I want to thank all of the Ivy League school presidents and others involved that decided to call off the Ivy Tournament before any other mainstream sporting event was called off. They received so much misinformed backlash and stuck with their decision. . . A decision that was clearly the right one (in hindsight). I was heartbroken for the seniors on the other qualifying teams. It didn't feel right. But it is looking like the clear right call, and one that positively influenced America's fight against covid-19.2."
Bryce Aiken, Harvard, @BryceAiken
"Horrible, horrible, horrible decision and total disregard for the players and teams that have put their hearts into this season. This is wrong on so many levels and the @IvyLeague should do its due diligence to find a better solution."
Note: Aiken was injured and played in only seven games this season.
Justin Bassey, Harvard (@insider.com)
"I actually first saw it on Twitter. I saw Jon Rothstein's (CBS Sports) tweet saying that a source had told him that the Ivy League had decided to cancel the tournament and that Yale would be going. Obviously it was devastating for that to be the decision that the league made but also to find out in that manner was tough."
Robert Baker, Harvard (Rob@easyRobert B)
"My team and I worked really hard to qualify for a conference tournament that would be hosted here in Boston. .  . (to) have it taken from us it's heartbreaking, Play without fans, play without security personnel, whatever you have to do but DO NOT take the opportunity away from us."
Seth Towns, Harvard,  (@seth_towns17) 
"Cancelling the Ivy League tournament while still allowing two Ivy League teams to play in the NCAA tournament seems to be a contradiction. This is wrong. If precaution is necessary, let us play in an empty gym."
(Note: Towns underwent knee surgery and did not play this season.
Matt Morgan, ex-Cornell  (@TheRealMM10)
Wow, this is just making it so much worse for student-athletes in the Ivy League! Again if I'm a senior and my last season of my career was just canceled?! Wow.. there has to be a better way than ending their seasons. SMH.
(editor's note "shaking my head")
Roxy Barahman. Yale women  (@roxybarahman)
"Absolutely heartbreaking. Kids who have worked hard for 4 years for these institutions just to get stripped of the opportunity to play in the big dance. Extremely confusing why all other tournaments from other conferences are still going on and not ours."
Sydney Johnson, ex-Princeton; ex-coach of Princeton and Fairfield (@CoachSydney)
"The student-athlete would have WILLINGLY played in an empty gym (no spectators). Support staff, officials, media could have taken all necessary precautions recommended by the @CDCgov to protect themselves and others."
Devin Cannady, ex-Princeton  @devin_cannady3
Makes sense …
More media and internet reactions
Theodoros Papazekos,  Daily Pennsylvanian
"The Ivy League's decision to cancel the basketball tournaments was mindless. . .If the risk of spreading coronavirus is low enough for Ivy teams in other sports to continue their seasons uninhibited, why was it too high for men's and women's basketball? . . . Simply put: The Ivy League administration has failed its players, coaches, and fans."
Jerry Carino, Asbury Park (NJ) Press
"The Ivy League likes to pound its chest about virtue and perspective when it comes to sports. On Tuesday, when it canceled the Ivy League men's and women's tournaments, the league brass gave everyone a lesson in hypocrisy.  It's not safe enough to hold the four-team Ivy League tourneys, but it's OK to send Yale's men and Princeton's women to the 68-team NCAA tournaments, which will draw much larger crowds?. . . This half-measure is a slap on the face to the other teams that qualified for the four-team tournaments. . . Their season is done because of a pandemic, while the league sends out its two champions onto the national stage with a pat on the head and a box of disinfectant wipes. . . At least one class took place Thursday at Ivy League headquarters. Hypocrisy 101 was in session."
John Colony (ivyhoopsonline.com) 
"Robin Harris continues to be a joke. No reason to pull this crap other than to gin up fear."
Mo (ivyhoopsonline.com)
"I can assure you that the decision was made by university presidents, not Ms. Robin Harris.The League does not invest in her the authority to make a call like this one."
Tiger69 (ivyhoopsonline.com)
"I am sorry for many seniors who expected a little more season. But I am NOT sorry to see this tournament canceled. Let it stay dead until such time as the Ivies warrant more than one bid and then give the automatic bid  to the team that won the 14 game season rather than the two-game tournament on someone's home turf."
@RealMattVogel)
"What an over reaction. This is a joke."
Jerome Wilson
"The 8 Ivy League Presidents made this decision. You can't ask for a bigger bunch of elitist overpaid group of people, making a decision on athletics."
luckywoj
"Stupid – you don't need an audience to hold a tournament. The Ivy league just screwed about 40% of its basketball players, not to mention families, donors, and more."
danjmallon
"Typical ivy league snowflake decision!!!!!!!"
TERMINATION THURSDAY
After the Ivy League canceled its tournament on March 9th, it went to Thursday, March 11, when the rest went down. That day became a historic one in all sports. Basketball tournaments, one after the other, rapidly fell by the wayside. Colleges like Duke and Kansas shut down and proclaimed that their teams would not go to the NCAA tournaments. A short time later their decision became academic, in more ways than one. March Madness was canceled. Instead, it became March Sadness.
Instead of Selection Sunday, the sports world now had Termination Thursday. The petition to reinstate the Ivy League Tournament died in its tracks. Those who first criticized the Ivy's decision had no answer. They were left outside, looking in.
There is a lesson to be learned here. Don't be quick to knock some of the most brilliant minds in the college system. The Ivy League made what was an immediate and decisive move after serious consultation with its medical people. It cared little what others would do. It knew it was right for itself. It proved to be right for all.
It was amazing to see the cancellations take place, one after another, and by late afternoon the Big East was the only conference still playing. There is no way of knowing if the decision-makers around the country took into consideration that the Ivy League was the first to pull the plug. It surely must have been among the factors.
The league representatives, Yale (men) and Princeton (women), may not have gone far if March Madness took place. But the conference certainly made a much bigger impact than what a victory on the hardwood could have achieved.
The Ivy League has been vindicated!