Marty Derer, who played at Rutgers-Camden, died of coronavirus less than two months after this beloved referee worked his last game
By Joel Alderman
In our series on former college basketball players who have died in the coronavirus plague, this is the first about one who was also a referee. The South New Jersey basketball community has been devastated by the passing of 56-year old Marty Derer on April 6, 2020.
"He was very kind, very gentle," said Rob Murtin, an assistant coach at Camden Catholic High School and longtime friend. "Some people misunderstood him because he was this big, tall guy. But he had that type of loyalty, friendship, courtesy. He'd give you the shirt off his back if he knew you needed it."
Last game before he died
Derer last officiated March 12th. Less than four weeks later he was to die. In his final game he was one of the officials for a New Jersey South/Central Group 1 semifinal between the girls' teams of Woodbury and Bound Brook. Later that night the New Jersey State Interscholastic Athletic Association canceled the rest of the tournament.
According to Jeff Cohen, the NJSIAA assignor of game officials, the other two officials that night have shown no signs of illness, despite being in proximity with someone who could have been harboring the virus.
Starred at Rutgers-Camden
He was a star player at Camden Catholic High School in Cherry Hill NJ. From there he enrolled at Rutgers University-Camden, where he played under head coach Wilbur "Pony" Wilson from 1984-86. Derer averaged 15.4 points in 49 games over two seasons for the Division III school, one of three regional sites of Rutgers University. The team was then nicknamed the Pioneers, though they're now called the Scarlet Raptors. In 1985, Derer had a career-high of 32 points against Spring Garden.
In college he was named the Pioneers' MVP as a junior and senior and also received the Samuel Strass Award for Most Dedicated Player each of those two seasons.
At the time of his death he was a member of the IAABO (International Association of Approved Basketball Officials) Camden Board 34 Chapter.
The type of person
Derer was a loquacious and very friendly person who was extremely popular among players, coaches, and even spectators who appreciated his efforts.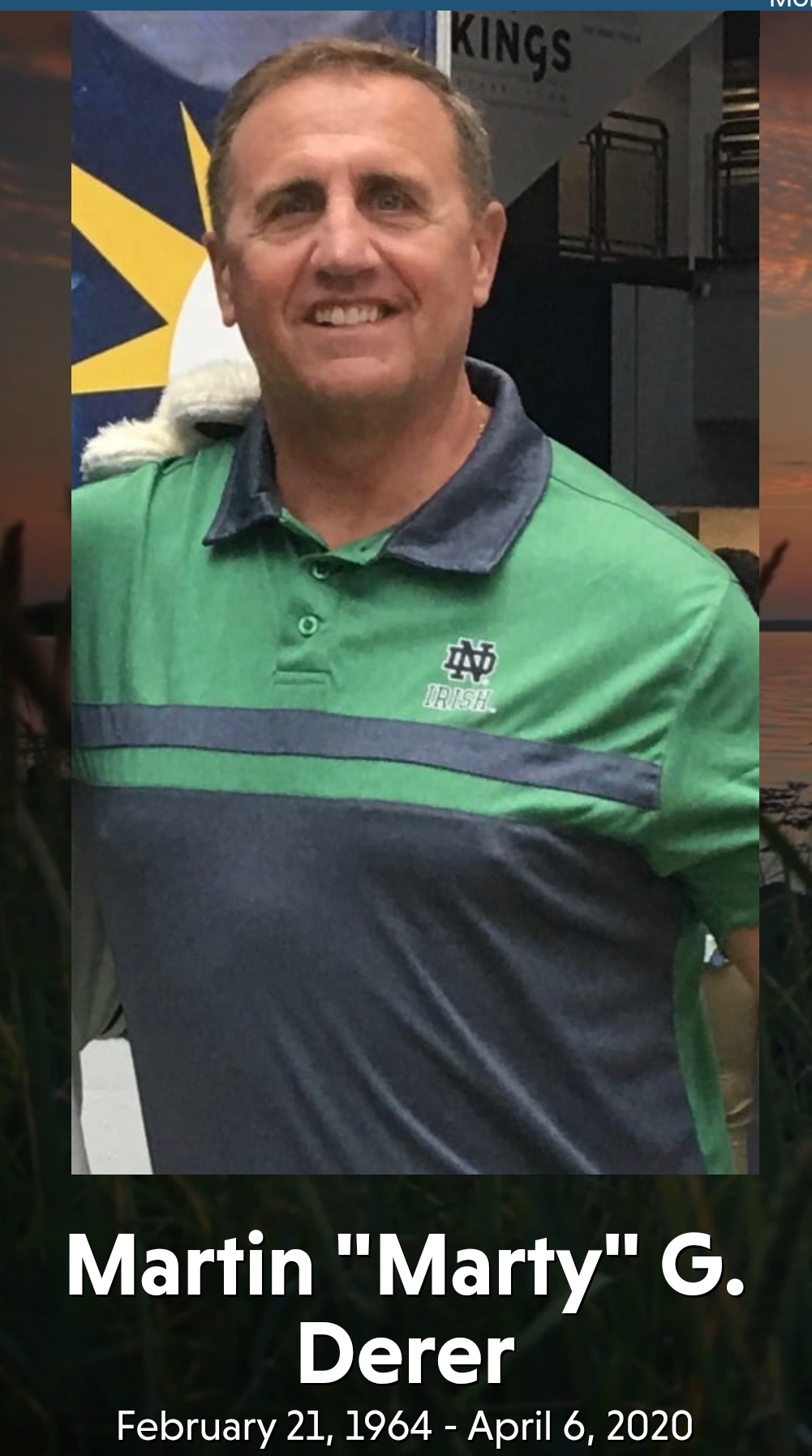 Tim Attanasi, a fellow basketball official and one of Derer's closest friends, recalled that "he just loved being out there. The only thing he loved more was to talk to people while he was referring basketball games — players, coaches, fans in the stands."
On Twitter, another official, Tom Di Tullio, wrote "He loved to referee b-ball more than anyone I've ever worked with in my 30 years on the court. Board 34 will never ever be the same."
Cohen said that Derer always wanted to referee basketball games, whether at the high school or youth level.
"I would see him at a varsity game on a Saturday and he would have three more little kids' games after that," Cohen said. "He didn't need the money. He just loved it (officiating)."
Cohen said Derer was famous for interacting with everyone during a game.
"As his boss I would be like, 'Stop talking to the kids, ref the game. Stop talking to the fans, ref the game.' But that was Marty."
Personal
Derer lived in Williamstown NJ, and worked in the Gloucester County probation office in Deptford. He leaves his father, Gerry, sisters Susan Drob and Deborah Derer, and long-time companion, Meg Skillman. He also left his beloved dog, Mia.
A celebration of Derer's life will be held at a later date, according to Egizi Funeral Home in Washington Township, NJ.
College players who have died of coronavirus
March 23, 2020 Lee Green, 48, St. John's
March 23, 2020 David Edwards, 48, Georgetown and Texas A&M
March 24, 2020 Jonathan Duck, 50, Iona
March 29, 2020 Arnold Obey, 73, Wagner
April 1, 2020 Ted Vartelas, 89, Uconn
April 6, 2020 Marty Derer, 56, Rutgers-Camden
April 15, 2020 Matt Gras, 46, Siena
April 28, 2020 Charles "Duffy" Jernigan, 61, Eastern CT