NBA star Andre Drummond shocks waitress with $1,000 tip as Florida restaurants reopen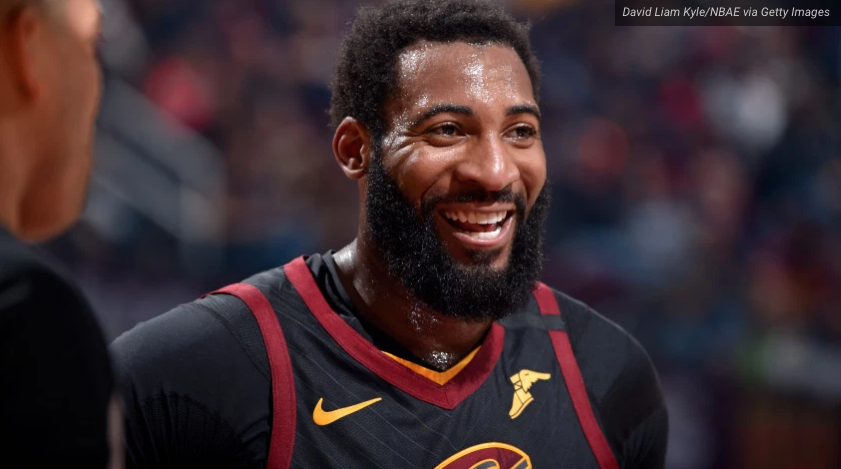 By Joel Alderman
In the midst of our series about former college basketball players who have died in the coronavirus pandemic, it is refreshing to be able to post a "feel good" story about Andre Drummond, who played one season at the University of Connecticut before turning pro.
Drummand has been a star with the NBA's Detroit Pistons and is now with the idled Cleveland Cavaliers. On Sunday, May 24 (2020), with the league still waiting to resume play, Drummand merely left a $1,000 tip after having brunch with a woman and a young boy at a Che's restaurant.
On top of a food check for $164.25
The beneficiary of Drummand's generosity, waitress Kassandra Diaz, is still in disbelief. The check for the party of three at Che's in Delray Beach, Florida, was $164.25. When she looked carefully at the tip line, she thought the amount written in was a mistake and went back to the table to call it to the attention of the new Cleveland center.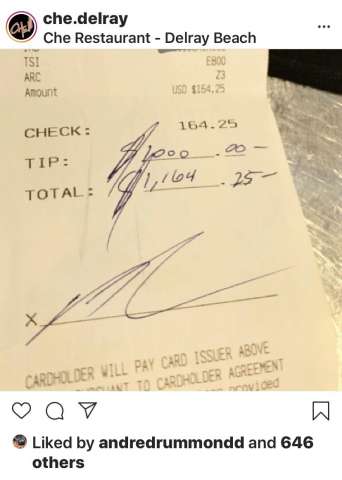 While 20% is a general rate for tipping, this one came to about 600%. Some restaurants "pool" the tips among the servers. But Daniela Sujoy, the general manager of Che's, was quoted in the South Florida Sun Sentinel saying that it was all hers.
After realizing she was $1,000 richer, Kassandra Diaz posted on Instagram: "Today, started off as a slow day at work getting there for my double shift. The past week, overall, has been pretty slow of course due to COVID. Restaurants and staff have been struggling, as you can imagine. Little did I know that today I would get a tip no server would guess that they would ever receive when they open that checkbook."
She said she had no idea who Drummond was, nor had she seen him at the restaurant before. She wrote that she was shaking and had "tears of happiness after what he left me. I had no idea how to react, I didn't want to draw attention but at the same time I couldn't describe the amount of appreciation I had/have. It's so amazing to see people displaying acts of kindness in these uncertain times. This is a story I will never forget. Thank you again so much."
Drummond answered back: "Thank you for being amazing."
It was only on May 18 that many Florida restaurants reopened after being closed for two months due to the pandemic.
Seven and a half seasons in the NBA
He was drafted No. 9 by the Detroit Pistons in 2012, after playing one season at UConn. He appeared in 34 games for then coach, Jim Calhoun, averaged 7.6 rebounds and shot 54 percent.
Drummond, 26, is now a seven-and-a-half-year veteran of the NBA. Just before this year's trade deadline, he was sent to Cleveland in a surprise deal. He reportedly will earn about $25 million a year, although the virus-imposed suspension of play in the league could reduce that figure this season. Still, to him the $1,000 tip may have been a drop in the bucket.
But he didn't have to do it. Yet he did, and it made Kassandra Diaz doubly happy to be back to work and see the doors at Che's open again. Especially to Andre Drummond.