David "Smokey" Gaines, a college player in the mid-1960s and a pioneering African American coach, contracted coronavirus while he was dying of cancer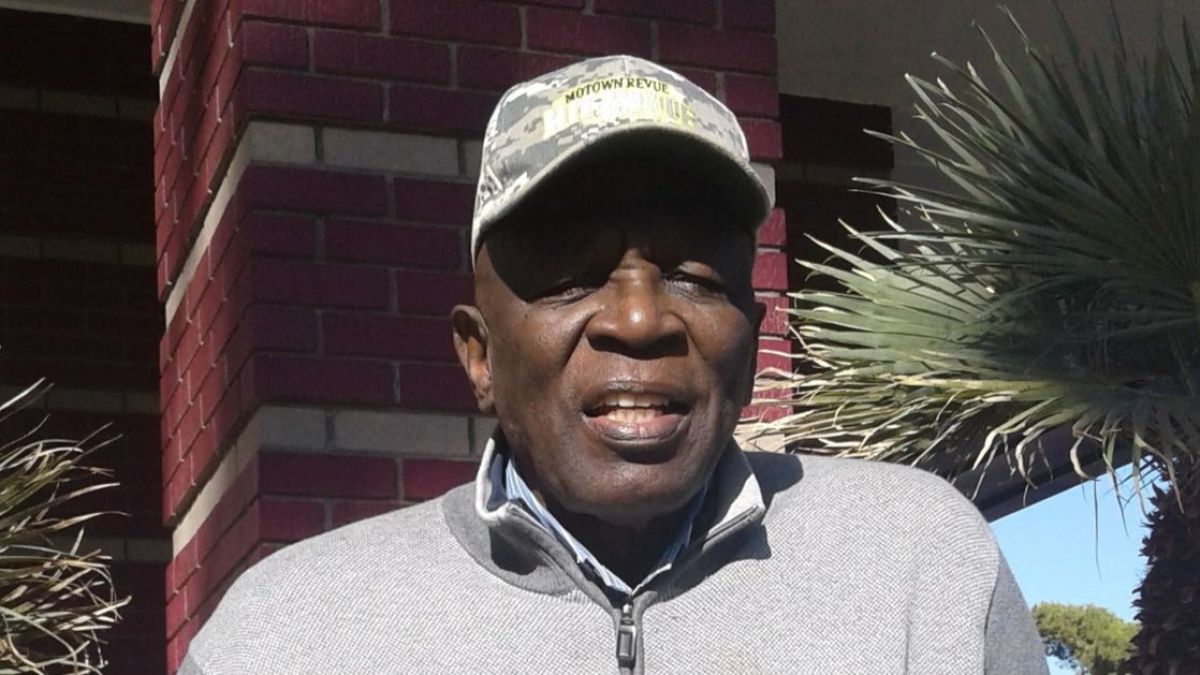 By Joel Alderman
Another pandemic related fatality in the basketball community occurred early this month. Although the death of David "Smokey" Gaines was due medically to cancer, he had also contracted COVID-19 toward the end of his life. We are including him among the former college basketball players who have died soon after being infected with coronavirus.
Gaines was 80 when he expired on Sept. 5th. He played basketball at LeMoyne-Owen College in Memphis, Tennessee, and graduated in 1968 as the program's all-time leading scorer. Although he was a sixth-round draft pick of the Detroit Pistons, he decided to accept an invitation to try out for the Harlem Globetrotters.
One of just four who were selected from a group of 117 hopefuls, the 6-1 Gaines traveled with the Globetrotters to more than 60 countries over the next year, appearing in 133 (so-called) games. One of his team mates was famed Curly Neal.
He was with the Harlem Globetrotters from 1963-67, then made a few token appearances with the Kentucky Colonels of the American Basketball Association in the 1967-68 season.
Basketball prepared him for life ahead
"Basketball meant a lot to me," he recalled back in 1983. "The competition was tough. Hey, in Detroit, everything's tough, to tell you the truth. But (playing basketball) taught me to deal with competition, with the elements around me. And when I was able to deal with the elements around me, I was able to deal with everything else when I left. Because it was tougher being in the ghetto." (San Diego Reader)
Growing up in inner-city Detroit in a family of nine children, he said his mother made only $5 a day as a housekeeper. He boasted that he once dated singer Diana Ross.
Smokey displayed his talents at Northeastern High School, which was the Detroit Public League champs in 1958 but lost in the Motor City championship, 63-40, to Austin Catholic Prep School. The city's Catholic League Central Division winner featured future Hall of Famer Dave DeBusschere, who also played baseball for two years with the Chicago White Sox. (DeBusschere died suddenly in 2003 at the age of 62).
Gaines was All-State 1959 and was inducted into the Detroit Sports Zone High School Hall of Fame in 2018.
His number 32 was retired by LeMoyne-Owen
Smokey, who got his nickname on the Detroit playgrounds, was a point guard for Coach Jerry Johnson at LeMoyne College, and graduated in 1968 (the year LeMoyne and Owen merged and became LeMoyne-Owen) as the school's all-time leading scorer. He was the earliest player there to have his number (32) retired by the Magicians.
Gaines was the first in his family to receive a college degree and in 1970 he earned a master's from Eastern Michigan.
Coached under Dick Vitale
His coaching career began in 1973 as an assistant to future ESPN broadcaster Dick Vitale at the University of Detroit (since 1990 Detroit-Mercy). Gaines took over the head job after the 1976-77 season when "Dickie V" become the school's AD for a year, before he coached another year for the Detroit Pistons.
Vitale was one of the first to react on social media to the news of the death of his long-time friend, by writing on Twitter:
"I'm so saddened to just receive a call from Darryl Gaines, son of David Smokey Gaines, that his Dad has just passed from cancer. Smokey was a dear friend who played a vital role in my career while at the University of Detroit. Pls God May he RIP!"
Immediate success
"I hope that people don't judge me on being the first black coach at U-D but will judge me on my results" he said after taking over from Vitale at Detroit.
In his first year at the helm Gaines steered Detroit to a 25-4 mark in 1977-1978 with a trip to the NIT and a victory over Virginia Commonwealth in the first round. In 1978-1979, the squad posted a 22-6 record, including wins over Oregon, Georgetown, Marquette, and Xavier on its way to the NCAA Tournament. The Titans were defeated by Lamar in the first round 95-87.
Earl Cureton had 16 points in that game and later played 12 seasons in the NBA. He currently works for the Detroit Pistons in charge of their outreach and community partnerships. On learning of the death of his old coach. Cureton said that "Smokey was a motivator, he just had his way of doing it and he got the most out of you. We had one of our most successful seasons when he took over, but he just wasn't a great coach, he was a great individual."
While at Detroit he was one of the originators of the splashy pregame introductions, dimming the lights and spotlighting each player as he came onto the court.
First African American to coach Division 1 in California
In 1979 Gaines was hired by San Diego State University, and was the first African American to be a Division I head coach in California. He was there though 1987, long enough to chalk up a Western Athletic Conference title and make it into the NIT and NCAA.
He started with only six victories in his initial season at SDSU, but thereafter Gaines' teams compiled double-digit wins in six of the next seven years. In 1981-82 the Aztecs won 20 games for the first time since elevating to the top division eleven years earlier.
In eight seasons with the San Diego he had a 112-117 record playing mostly strong opponents.
The starting point guard for Smokey's first three seasons at SDSU was better known for baseball than roundball. He was Tony Gwynn, the future Hall of Famer who played all 20 years of his career with the San Diego Padres. But he also stood out on the basketball court and still ranks as the school's career assist leader.
Michael Cage did Smokey proud
Gwynn, who was not recruited by Gaines, had already played a year under the preceding coach. The most outstanding prospect Smokey brought in was Michael Cage, a 6-foot-9 power forward from Arkansas and currently the broadcast analyst for the Oklahoma City Thunder. In four years at SDSU he scored 1,846 points and had 1,317 rebounds.
He was named to the 1983 U.S. team for the Pan American Games alongside Michael Jordan and Chris Mullin but had to leave after two games due to an illness in the family.
Cage was the #14 first round pick in the NBA draft and would play for five teams in the league in 15 seasons, averaging 7.6 rebounds and 7.3 points per game.
Returned as coach and become Athletic Director at his alma mater
In 2005 Gaines returned to LeMoyne-Owen, his alma mater, as head coach and athletic director for three years.
Tribute from a coach-friend
"I knew Smokey from our mid-west days, when he was in Detroit," former Aztecs coach Steve Fisher said. "I watched from a distance as he developed some great teams at San Diego State.
"He was a man who loved his profession and genuinely cared about people," Fisher added. "He followed the Aztecs long after his coaching days ended and was proud of what San Diego State accomplished. He will be fondly remembered by all of us that were fortunate enough to know him."
A simple tweet by his daughter
"Our father, David 'Smokey' Gaines transitioned to his eternal resting place this morning. Sunrise: February 27, 1940 – Sunset: September 5, 2020 – Davita Gaines-Stewart."
In 1982, his third team at San Diego, finished 20-9 and was in the NIT but edged by UC-Irvine 70-69. In 1985 they finished with a 22-6 mark and appeared in the NCAA Tournament, falling in the first round to UNLV, 90-80.
At SDSU Gaines coached Eddy Gordon, the father of Aaron, now in his sixth season with the Orlando Magic, and Drew Gordon, who plays in Europe.
Among his other fields of endeavor was being an NBA scout, a high school athletic director, a nightclub owner, a real estate investor, a comedian, a promoter, a single-digit handicap golfer, and even a furniture salesman.
One of the jokes he used to tell was that he "believed in higher education. "You know, 6-8, 6-9, 6-10."
Smokey Gaines left an array of friends in so many fields. It all started with basketball on the playgrounds of Detroit.