Scottie Pippen claims bubble play is like pickup basketball, but for LeBron James it is the "most challenging thing" he has done as a pro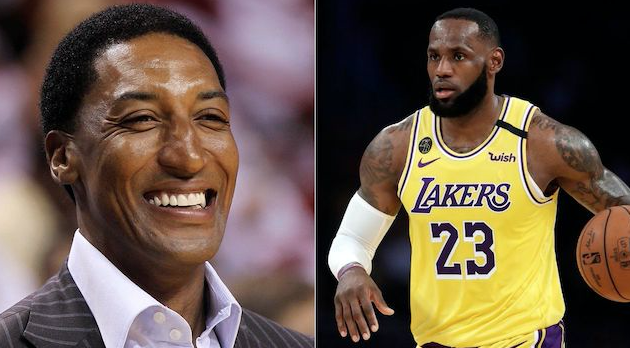 By Joel Alderman
The NBA has gone to the championship series- in a season that is like one never ever seen before. But is it NBA basketball? Not according to Scottie Pippen.
The Hall of Famer, who played most of his career alongside Michael Jordan, compared the quality of play inside the bubble to pickup games.
He told John Lynch of "Business Insider" that it's not NBA basketball. "It's not the travel. It's not the fans. It's not the distractions. Really, to me, it's pickup basketball. It's going to the gym. Yeah, you already got your team. Y'all practicing together. But it's a more of a pickup type of basketball game because there's no fans in the stands. So, there is no distraction. There's no real noise. There's no pressure on the players."
But what does King James think?
Quite the opposite was expressed by LeBron James on Media Day, the day before the championship round got underway.
"It's probably been the most challenging thing I've ever done as far as a professional, as far as committing to something and actually making it through. But I knew when I was coming what we were coming here for. I would be lying if I sat up here and knew everything inside the bubble, the toll that it would take on your mind and your body and everything else, because it's been extremely tough.
"But I'm here for one reason and one reason only, and that's to compete for a championship. That was my mindset once I entered the bubble, once I entered the quarantine process the first two days. Then right from my first practice, my mindset was to — if I'm going to be here, make the most of it and see what you can do and lock in on what the main thing is. The main thing was for us to finish the season and compete for a championship."
He went on to say, "I've been as locked in as I've ever been in my career."
Does that sound like "pickup basketball"?
Rajon Rondo a target of Pippen
Pippen, in addition to not being impressed with the quality of play, used his forum to knock Rajon Rondo of the Los Angeles Lakers. "Rondo ain't made three pointers in his whole NBA career. Now, all of a sudden, he's in a bubble (where) he's probably a 50% three-point shooter."
He explained "Rondo can't score inside of an arena when you got depth perception. Like, there's a whole lot of things that make the NBA hard. The bubble makes the NBA easy to me. There's no travel. That's the killer itself. So, you're sleeping in the same bed every night. You're walking to the gym. You're not having to go with a 25 to 50-minute bus ride to an arena. You're not having to probably even sit in the arena for two hours before the game, talk to the media, deal with all the outside stuff that they're trying to pull you in to make some distraction and, you know, throw the team in a loop. So, it's a different game, but it's very entertaining."
To Pippen the games are down to 3-point competitions. "Teams are just shooting three-pointers. They're more three-point attempts. The whole deal with the NBA is the first one to 120 can win. That's the game. But the opposite side of that, if you stop a team, you can win. So, you gotta do both."
What's the point?
In all fairness, "Business Insider" is obviously not a sports magazine. The Pippen article is more about a form of meditation called "mindfulness" which Scottie is now advocating while narrating an audio history of basketball for an app about Calm Meditation. He, along with some of his teammates on the Chicago Bulls back in the 1990s, learned to practice the technique from coach Phil Jackson.
If that's the way Scottie wants to go, then good luck to him. But we will focus, not on Calm Meditation but what he thought of the games in the bubble as opposed to what LeBron had to say. LeBron comes out the winner here, as he usually does.
And without meditating.