Jeff Van Gundy, who just missed another NBA coaching job, had a couple of other disappointments when he failed to make the Yale JVs, and also lost nerve to ask fellow student, Jodie Foster, for a date
By Joel Alderman
Late last week Jeff Van Gundy was considered a finalist to return to his old job of coaching the Houston Rockets. But the position instead has gone to Stephen Silas.
Van Gundy has been set back before- long before. He had two personal disappointments in 1980 when he was an 18-year old freshman at Yale. That's right, he was at Yale, not to play basketball but to enhance his educational background. It is a generally overlooked bit of trivia in the extensive resume of Jeff Van Gundy and may mean little or to nothing to the average sports fan.
But to those accustomed to reading about the unusual here at RoundballDaily.com, we present it.
Yale (1980-81)
Even in New Haven CT, the home of Yale University, few know that Van Gundy was there as an 18-year old freshman in 1980. He wanted desperately to play the game of hoops, starting with the Bulldog junior varsity team. Yale discontinued freshman basketball starting in 1978 but continued to put a junior varsity unit on the floor. So Jeff responded to this notice in the Yale Daily News: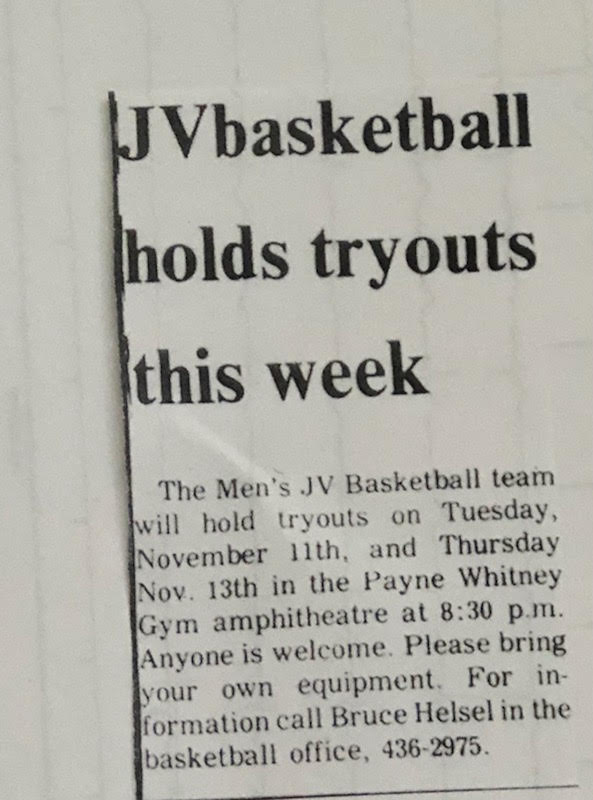 He was a walk-on candidate and did not do too well. Imagine the shock of the 5-foot-9-inch guard candidate when he was cut from the JV tryouts before the season began. Nevertheless, he completed his freshman year. But without basketball he decided to transfer.
But where would one go from Yale, a prestigious educational institution that almost guarantees its graduates much success in later life? Hardly anyone fortunate enough to be among the low percentage of applicants to be accepted would have the audacity to pull out after one year. But he did. He was transferring but not to Harvard, Princeton, or Stanford.
"I thought he was nuts"
Jeff was going to move on to small Menlo Junior College in Atherton CA for his sophomore year, 1981-82. When he told his parents his mother asked, "Are you sure? He replied, "I'll have a better chance to play ball."
He recalled for the NY Times in 1997. "My mother has still not forgiven me. She'll never understand going from Yale to Menlo so I could get more playing time. "His girlfriend, Kim, who was to become his wife, was quoted in the same article. "I thought he was nuts."
Menlo Junior College (1981-82)
The coach at Menlo was a family friend, George "Bud" Presley. Van Gundy went there for the 1981-82 academic year. He was on the basketball team and set a school record for shooting free throws with 90% accuracy. He gained much of his knowledge of defense from Coach Presley, who was well known and respected despite coaching at only a junior college. He died at 80 and Van Gundy was there for the funeral.
SUNY-Brockport (1982-83)
Jeff moved on again to SUNY-Brockport for one year, 1982-83, where his father was the coach. The team had just a 7-17 record. But in 24 games he averaged 12.8 ppg, shooting 56.4% with 125 field goals and 57 of 78 (73.1%) from the line. This was before the 3-point basket.
But when his father was let go by Brockport and, perhaps out of loyalty to his dad, Jeff also left the school to transfer for the fourth time.
Nazareth College (1983-84 and 1984-85)
He was welcomed at Nazareth College in Rochester NY. He got national exposure as the starting point guard on the 1983-84 team that played in the NCAA Division III tournament. In the first round, Nazareth defeated Buffalo State, 67-50, followed by a 74-53 win over College of Staten Island, before losing in the field of eight, 90-84 to Clark Univ. That 1984 squad is generally considered to be Nazareth's best ever and was inducted into its sports Hall of Fame after Van Gundy himself entered it.
He became known to his coaches as "All-Out Jeff," due to his hustle. He had a foul shot success rate of 86.8%, at last reports still a school record.
In 1985 Jeff Van Gundy got his degree along with his fill of college basketball. It took going to four schools over five years, starting with Yale in 1980.
Why did it require five years for him to get a degree? The best explanation to date is that he was probably short of credits following his previous transfers.
The rest of the story
The part of his career dealing with coaching and providing commentary and analysis on TV broadcasts was not the purpose of this article. That information, for those interested, is easily available. But for the rest of the story we shall go back to the beginning- his year at Yale.
The movie actress Jodie Foster also was a first-year student there. She and Van Gundy, who did not know each other, were living in different college residence buildings on the historical Old Campus, an enclosed yard where Class Day and graduation ceremonies are still held.
Jeff was in a group of 12 Yalies on his floor who were challenging each other to ask the somewhat daunting actress for a date, and the discussion got to the point where they each put up $100 which would go to anyone who was successful.
"I had seen her around," Van Gundy said, "but was too shy to go engage her in conversation and then ask her out."
Jeff had his chance, but blew it
Sometime later he was walking by a candy store that made popcorn, and he heard a voice behind him saying, "That popcorn smells really good." He turned around and saw that the words were spoken by Jodie Foster. It was the opening Jeff needed to get into a dialogue, ask for a date, and possibly win $1,200.00, So what was his response?
"Yeah, it does."' he said simply.
End of conversation. End of a conceivable chance to get together. He had no date, and probably no popcorn either.
In a TV interview with Rich Eisen a couple of years ago, Foster said she did not remember the incident and when shown his picture said Van Gundy "wasn't memorable."
How does Jeff remember it? He told Eisen "I absolutely choked. I froze."
See this YouTube segment below, which brings up both the VanGundy and Foster interviews that were done on separate occasions.
"Finally, one guy had the guts to ask her out, and she went with him," said Van Gundy, recalling the moment almost 20 years later. "He got the twelve hundred dollars. But I vowed that I would never be that flustered, or that unprepared, again."
In defense of Van Gundy the highly acclaimed Jodie Foster was surely one to get flustered over. She would win two Academy Awards, three British Academy Film Awards, and the Cecil B. DeMille Award. Not your typical Yale student.
Before beginning college, Jodie Foster told the late renowned film critic, Roger Ebert, that she had visited several Ivy League campuses, and liked Yale the best. "Yale boys aren't your obnoxious rah-rah types," she told him. "Harvard was too polite for me," she added and "Princeton was too beautiful."
Maybe Jodie was also. People Magazine would name her the most beautiful woman in the world in 1992. For Jeff, it would have been like winning game seven in the finals if he had been able to date her. But Van Gundy lost his nerve when they came face-to-face, as would a lot of college freshmen.
So, his one and only year at Yale met with two failures. He was cut from the J.V. basketball tryouts and he went nowhere with Jodie Foster.
The popcorn incident was lost on Jodie
As confirmed by his TV interview, Van Gundy well remembers the incident today. But to Jodie Foster it meant so little that when asked by Rich Eisen, she said could not recall it.
The parts of the Jeff Van Gundy story, his coaching and television activities, are being reported elsewhere by the sports media, especially since he just lost out on the Houston job. But now readers of RoundballDaily.com know some parts about his life that most hoop fans are not aware of.
To borrow the closing line of the late iconic radio personality Paul Harvey,
"Now you know the rest of the story. . .. Good day!"
Postscript:
Jeff Van Gundy's personal box score to get a degree
1980-81 Yale Univ.
1981-82 Menlo Junior College
1982-83 SUNY-Brockport
1983-84 Nazareth College
1984-85 Nazareth College