Zaila Avant-garde, at 14, is spelling champion, math whiz, and hoop phenom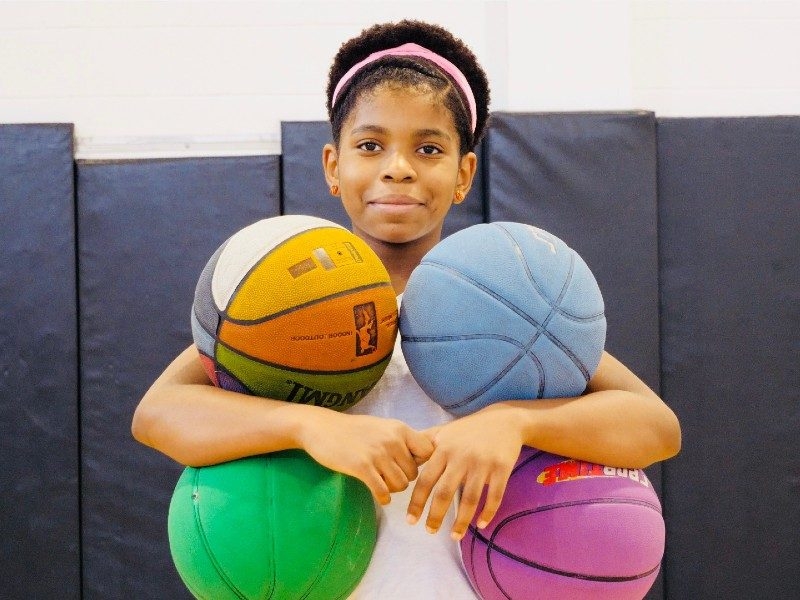 By Joel Alderman
Zaila Avant-garde is 14 years old and has at least three exceptional talents. One is the ability to spell difficult and obscure words. Another is doing speed math in her head. The third is in performing eye-opening stunts with basketballs.
Spelling
She became the first African American and just the second Black person to win the Scripps National Spelling Bee when the 93rd annual competition took place at Disney World in Florida on July 8th.
It was a weird sight with all the eleven finalists. wearing face masks.
She survived the original field of 209 young people when the contest took place remotely in the early rounds and came out on top when she spelled "murraya," which is the name of a tropical Asiatic and Australian tree.
The Scripps National Spelling Bee began in 1925. The only previous black person (but not an African American) to win was 12-year-old Jody-Anne Maxwell of Jamaica in 1998.
In 1936 two 13-year-olds were the first blacks to compete. One of them, MacNolia Cox and her mother, told Mabel Norris in The Akron Beacon Journal that they could not occupy the same whites-only coach but had to sit in the back of the train that took them to Washington. They could not stay in the same segregated hotel. MacNolia Cox still made it to the final five.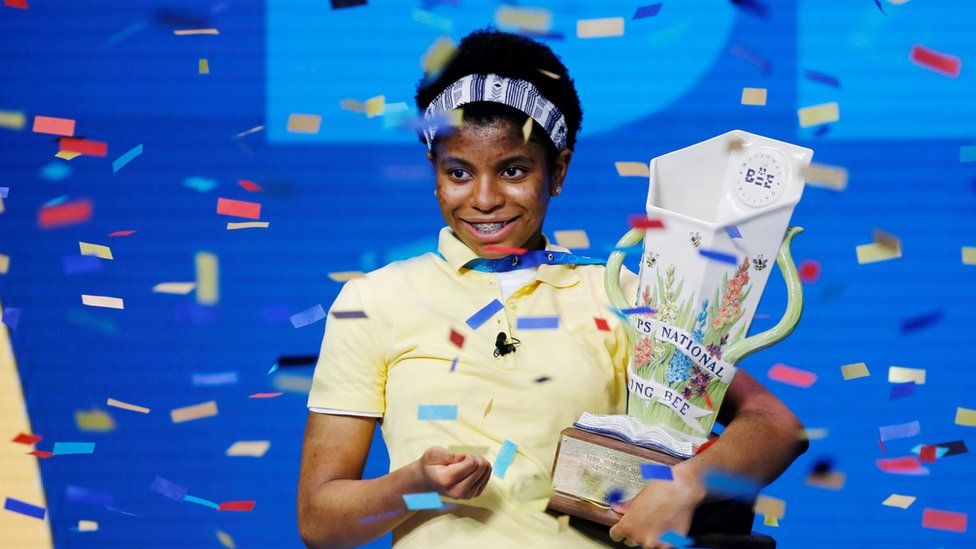 $50,000 plus more benefits
Shortly after winning Zaila was on the Jimmy Kimmel TV show where she dribbled three basketballs while balancing on a foam roller and spelling the word "portmanteau." The next day she appeared on ABC's "Good Morning America."
She has been awarded a full scholarship to Sports Academy, the basketball training center co-founded by the late Kobe Bryant, and two scholarships at two small colleges in her home state.
Basketball, not spelling, is "what I do"
"Basketball, I'm not just playing it. I'm really trying to go somewhere with it" she said. "Basketball is what I do. Spelling is really a side thing I do. It's like a little hors d'oeuvre. But basketball's like the main dish." (Esquire)
Avante-garde has over 36,000 followers on her Instagram page (@basketballasart) and aspires to be an archaeologist, a WNBA player, and to work with NASA.
Holder of these Guinness World Records
Most basketballs (6) dribbled simultaneously for 30 seconds
Most basketball bounces (307) in 30 seconds)
Most bounce juggles in one minute (255) using four basketballs
An International Jugglers Association video shows her dribbling three basketballs while riding a unicycle, and balancing five on top of one another.
She also plays the game well
According to Dan Gartland of Sports Illustrated she has legitimate skills as a point guard, such as she can finish at the rim with both hands, has good court vision and throws crisp passes. And she has a slick Euro step, in which an offensive player picks up the dribble, takes a long lateral move in one direction, and then quickly takes a second step the other way to evade a defender and attacks the basket. (Wikipedia)
She hopes to one day play in the WNBA. She has read over 1,000 books and solves complicated math in her head.
Big following on Instagram
Zaila has more than 20,000 followers on Instagram where she has posted videos. The New Orleans Pelicans (WNBA) and several other sports followers were quick to give her props.
She was born Zoila Heard, but her surname was changed by her parents in tribute to the late jazz great John Coltrane, who was known for his experimental and unusual musical ideas as a leading saxophonist in the avant-garde era of the mid-60s.
Besides tricks she also plays a good game
Zoila is home schooled, and this year completed the eighth grade. ESPN named her as one of the nation's best girls basketball players in that class. Her next big goal is to make the 2022 USA Basketball under-16 national team. She listed James Harden, Diana Taurasi, Kevin Durant, and Maya Moore as some of her favorite players.
She has aspirations outside of basketball and spelling, one of which is to be an archaeologist or to work for NASA.
Spelling coach is a Yale undergrad, but her aim is its rival
A 20-year-old student, Cole Shafer-Ray, who was runner-up in the 2015 competition, is her spelling coach. Although he is currently a Yale student the super speller hopes to continue her athletic and educational experiences at its rival, Harvard, "as a basketball player and student." (PEOPLE Magazine)
Shafer-Ray feels she has a different approach than any speller he has ever seen. "She basically knew the definition of every word. She knows not just the word but the story behind it, why every letter had to be that letter and could not be anything else."
The public is overwhelmed, check these posts
"Wow that is amazing."
I'm absolutely blown away. Keep reading those books, Zaila. You're a force to be reckoned with. Peace!"
"This little girl has dribbling skills out of this world."
"I am literally crying tears, awestruck, overjoyed and in love with this extraordinary young lady."
"Mark my words, she's going to change women's basketball forever!"
"Keep grinding young queen."
"I can't believe this gem of a lady has been hidden from us. She's amazing."
"'Super-Human' is an understatement. If there is the term called 'Hyper-Human' she definitely (is) the One."
"Making shots in the dark and knowing the spelling of 13k words. Dribbling on a pogo stick and a unicycle. Hula hoop and a seesaw board. . ."
"I am in awe of a 14-year-old…"
"Has Geno offered her yet? Dawn Staley get on this ASAP!!"
"Too perfect to be a human."
Two exhibitions with the Harlem Globetrotters
The Harlem Globetrotters expressed an interest in having Zaila join them. She appeared in two of their exhibitions, but if she becomes a paid athlete she would forfeit her amateur status and option to play for Harvard or any college.
In one of the exhibitions with the basketball clowns, Nat Lofton challenged Avant-garde to the first-ever Globetrotters Spelling Bee. "If you're going to come for my job, I'm going to come for yours," he joked.
Lofton gave up after failing to attempt "hippopotamus" or Greek NBA player Giannis Antetokounmpo's last name.
LeBron James and Stephen Curry
She had also been featured in a shoe commercial with Stephen Curry.
After her win LeBron James tweeted "CONGRATULATIONS CHAMP!!!!!!"
What remains?
Harvard basketball and academics, an archaeologist, worker at NASA, player in the WNBA.
She may even one day get to sit under a murraya tree.