The Former Basketball Player Who Blew the Whistle on Bill Cosby
By Joel Alderman
Bill Cosby is back in the news, and so is college basketball. Normally there is no connection between the two. But in at least one case they are related. And therein lies the reason we are offering this account from a basketball perspective, which the editors of other publications do not probably think of doing.
Andrea Eminia Constand was born on April 11, 1973, in Toronto and played basketball at Albert Campbell Collegiate Institute in the Scarborough section of that city, averaging 30 points a game her senior year. She also was on Canada's junior development team. She received a full scholarship to play at the University Arizona, where in her senior year (1995-1996) she averaged 10 points per game and helped the Wildcats win the Women's NIT.
She then played some pro ball in Europe and also played for Canada at the 1997 Summer Universiade (World University Games).
"I'm on a mission," she said in a 1997 interview before leaving for Italy. "First to help Canada do well, then to play basketball in Italy and finally crack a spot on a team in the WNBA. "
Making it to the WNBA never happened for Constand, but other things did when she met with Cosby, which is well documented in the media. It is not the purpose of this article to rehash the sordid details. But what we want to do is fill in her profile as a basketball player, not a victim, this being a hoop publication.
Rolled through the Women's NIT
At Arizona one of her teammates was Adia Barnes, who is now the Wildcats' head coach.
The Lady Wildcats, who were 22-8, won three straight games in as many days in the NIT against Western Kentucky, Arkansas, and then Northwestern for the title.
Back then, the tournament featured just eight teams and was played at a neutral site, Amarillo, Texas. The team drew its energy from coach Joan Bonvicini, said Constand, who played forward.
Bonvicini was a star player at Southern Connecticut State College in New Haven, home area of RoundballDaily.com.
There was another player on that 1996 Arizona team who had an outstanding run. Adia Barnes averaged 17.4 points per game and was named the WNIT's most valuable player.
Constand also had a great showing in the tournament. It began with 12 points in an 80-72 victory over Western Kentucky Then in the semi-finals she had 16 against Arkansas in a narrow 80-77 win.
The championship game against Northwestern was seen on a TV hookup before a capacity crowd in McKale Center at the university back in Tucson. She had 14 points in that one.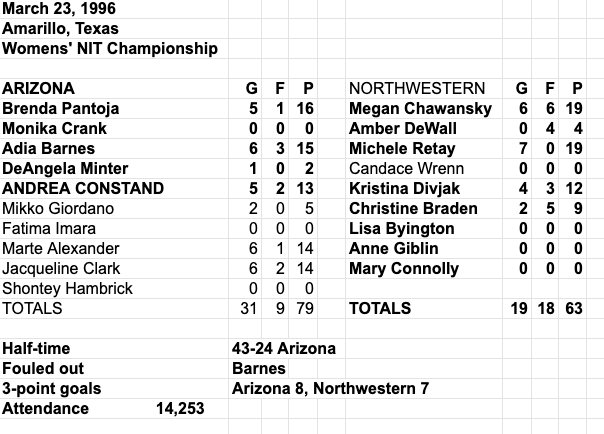 "We were deeply proud of what we accomplished," Constand said. "We knew we did all we could to develop as players and put in all on the line. And we walked away from everything as WNIT champions. We had a lot of pride. There was that feeling that we did everything we could to lift this program up."
Dawn Staley, currently coach of the South Carolina Gamecocks and Team USA in the Tokyo Olympics, recruited Constand to become director of operations for the women's team at Temple, where she was then coaching.
She brought a civil suit against Cosby
In 2004 she met Cosby at Temple, and in a lawsuit, the following year claimed he had drugged and sexually violated but not raped her.
The case was settled, and the terms kept confidential.
Four months after her episode with Cosby, she quit her job at Temple, moved back to Canada, and began studying to become a massage therapist, which she is now.
In early 2005, Montgomery County District Attorney Bruce Castor said no charges would be filed in the case due to insufficient evidence. Because of that commitment, which was originally disregarded and just recently came to light, the criminal case against Cosby was reopened and dismissed.
Constand and other women who were involved with Cosby are disappointed. But they do have the satisfaction of knowing he spent a few years in prison, and what is left of his career is over.
And Constand can still go back to happier times before Cosby and reminisce about playing for the winning team in the Women's NIT in 1996.