Finals Preview: Which matchups will determine Suns-Bucks winner?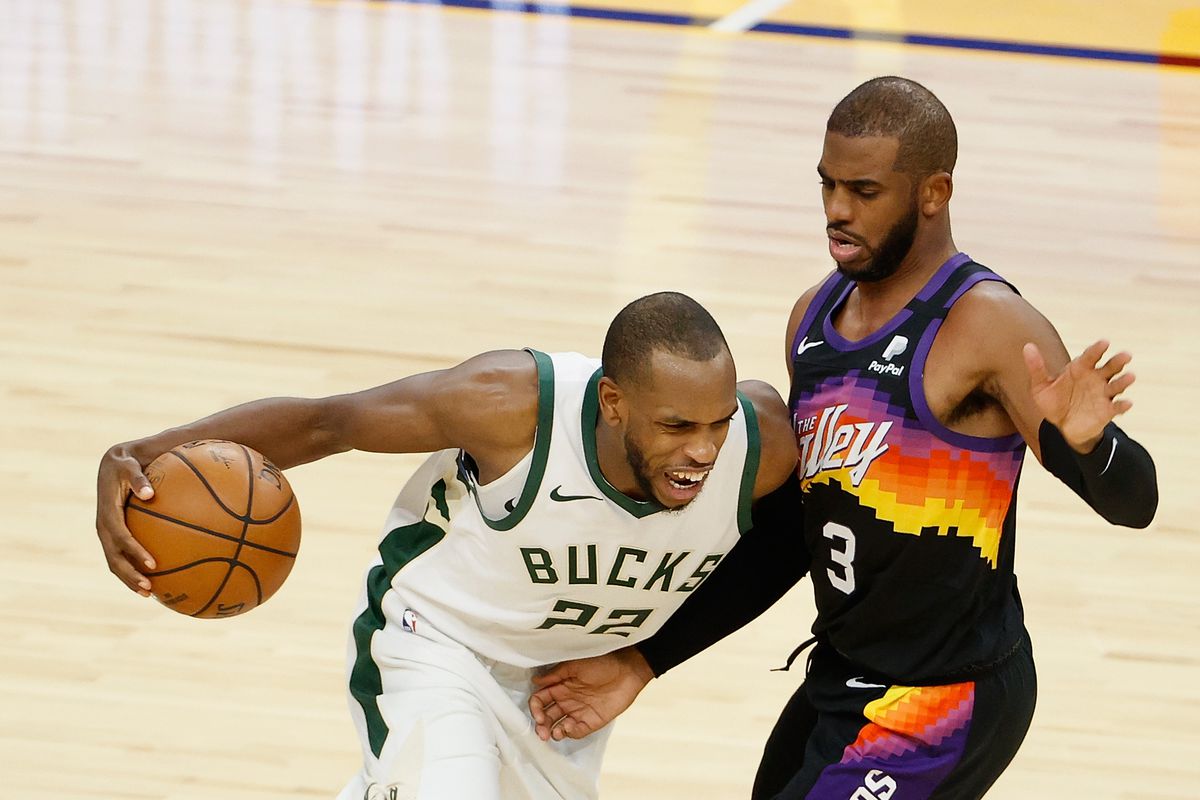 This year's NBA Finals are like a dream. For franchises like the Bucks and Suns to have found themselves here, it's like a really bold 2K sim, a dizzying climb from decades and decades of irrelevance fans must be pinching themselves over.
The route that both of these teams took to the Finals was circuitous, but they're here nonetheless, ready to provide some still much-needed new blood to basketball's biggest stage.
The Milwuakee Bucks gritted and gutted their way there without two-time MVP Giannis Antetokounmpo, against a Hawks team that seemed incapable of giving in. When Giannis went down in Game 4, it looked like Atlanta was about to become the most improbable NBA Finalist in history– and then the Bucks, improbably, beat them in two straight.
Jrue Holiday stepped up like the two-way All-Star player and Olympian that he is, Brook Lopez started banging down low like he was back at Stanford, and Khris Middleton started pouring in points like a mini Kevin Durant.
Holiday and Middleton are two star-caliber players, and they showed that this Bucks team is more than just a bunch of complimentary dudes who rebound and knock down 3s when Giannis kicks it out to them. This is a legit team, one of the best in the NBA, and it's not all just one guy.
The Suns, meanwhile, went from perennial lottery team with no discernable direction to Finals favorite basically with one offseason masterstroke– landing a point guard with a tragic playoff history who most thought was heading into the twilight of his NBA career. (Though we didn't).
Phoenix enters this series as favorites, and they looked like world beaters in the first two rounds of the playoffs. They erased an early deficit to send LeBron and the Lakers home, something that had never happened before in the first round of the playoffs. Then, they knocked out the Nuggets, dropping Denver like an obnoxious fan who got a little too aggressive. Suns in four.
The Suns struggled to recapture their rhythm when Chris Paul returned from COVID protocol, dropping at least one head-scratching game to Paul George and the also-shorthanded Clippers, but appeared to find it again in a Game 6 onslaught that sent LA home and Patrick Beverley off his rocker.
So who's got the advantage in this series? Let's take a look at a couple of key matchups:
Jrue Holiday vs. Chris Paul
Holiday is one of the best defenders in the league, but he'll have his hands full trying to slow down the craftiest point guard in the league and maybe its best mid-range shooter at the moment. Paul embarrassed the Denver Nuggets guards in the conference semifinals, and had his way with whoever LA threw at him. He's been untouchable for a long time. Holiday will have a lot on his plate trying to slow down The Point God while also trying to create offense on the other, which the Bucks desperately need him to do. It was Holiday's aggressiveness on the offensive end that helped turn the series around against the Hawks. He'll have to do both well if the Bucks are going to have any chance to win this series, especially if Giannis doesn't return for a while.
Brook Lopez vs. Deandre Ayton
Lopez took Shaq's always advice for every big man alive after Giannis went down, getting his ass in the paint and dominating. It truly was like he was back at Stanford, owning Cal or Washington State again. The seven-footer has become an analytics casualty, hanging out by the 3-point line and jacking up shots far too often, but his return to the low block made a huge difference for Milwaukee in the Eastern Conference Finals.
Deandre Ayton is a prodigious rebounder and terrific defensive presence inside, and the battle on the boards could prove very key in this series. Milwaukee needs to hold an advantage there if it wants to slow down Phoenix in transition, and keep pace on offense itself.
Prediction: A whole lot depends on Giannis' status for this series, and even though it's looking likely he will be able to play at some point, he probably won't be at full strength. The Suns (for now) have health and home court on their side, and a major motivating factor in looking to get their future Hall of Fame point guard his first title. It would mean everything for Chris Paul's legacy to win this series.
If Giannis were healthy, we'd take the Bucks in seven. As it is, our official prediction is Suns in six.