NBA Draft Profile: Jamaal Franklin
JAMAAL FRANKLIN
6-5, 205 lbs.
School: San Diego St.
Class: Junior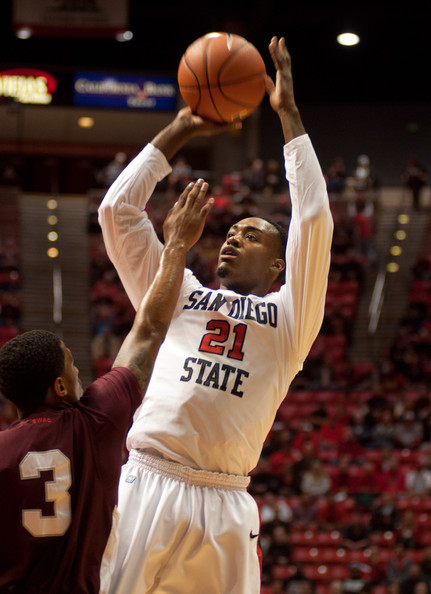 STRENGTHS: Besides being one of the only players in history to rock the long sleeve shirt under his uniform, Franklin is known for his versatility and productivity in every facet of the game. (The long sleeves are awesome though). Though San Diego State played with a four-guard lineup, Franklin led the Aztecs with 9.5 rebounds per game last season. He also led the team in scoring (17 ppg), assists (3.2) and steals (1.6). Franklin has NBA size and strength, and he has the potential to be a Tony Allen-like defender. Though he's not super-quick, he has the size and toughness to be disruptive on the defensive end of the floor.
WEAKNESSES: Franklin isn't a great shooter- he shot just 28 percent from 3-point range and just 41 percent from the field. Those numbers aren't going to cut it as a shooting guard in the NBA. He played big at San Diego State and thus could be a tweener at the NBA level. He's not an elite athlete, or at least doesn't showcase his athleticism on a regular basis. He can throw down highlight-reel dunks but seems grounded in the half-court setting and doesn't have top-level explosiveness. As NBADraft.net points out, detractors say that most of his points come from his length rather than quickness, and much of his production comes from garbage points.
BOTTOM LINE: Franklin has a future in the league as a defensive specialist and all-around facilitator. He's never going to be a great scorer, but he brings enough tools (rebounding, assists, steals) to succeed in the NBA. His best-case scenario may be to become a Tony Allen-like player, and if he can do that, he'll stick in the league for a long time.