What would the All-Time NBA Draft look like?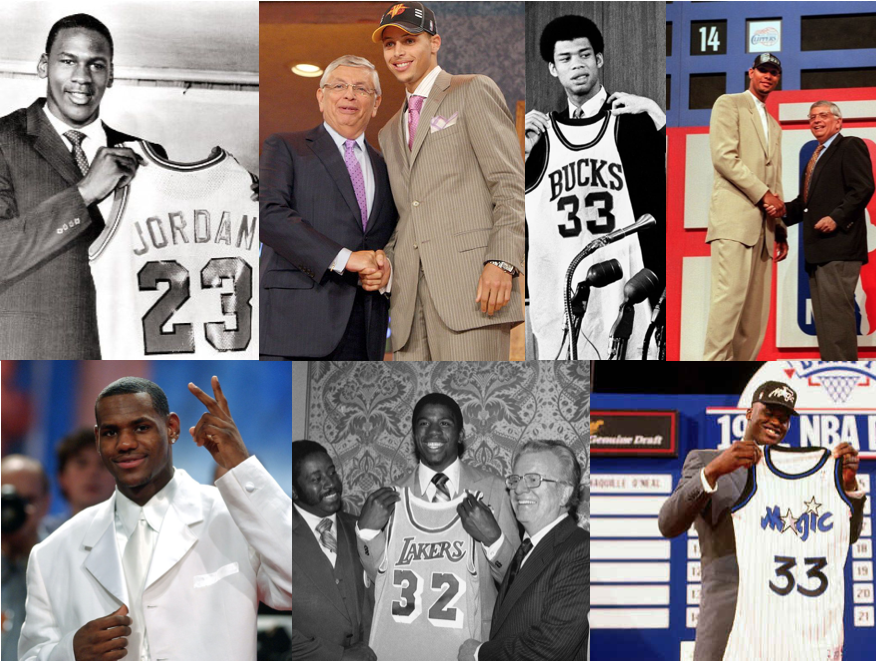 Having the Number 1 pick in the NBA Draft is an awesome responsibility.
To have to choose the best player in a particular class, out of every hooper who's laced up his sneakers across the country and throughout the globe, would no doubt be a daunting challenge.
But what if you weren't just choosing among the best players in one draft class? What if you were choosing from every player who's ever stepped on a court? What would that draft look like?
We dreamed it, and now, it exists. Although, maybe it also exists in some alternate reality. We like to think that God is a basketball fan.
The NBA's All-Time Draft, consisting of every player who's ever suited up in the league, rests just a few paragraphs below.
Before you dig in though, here are the Ground Rules:
-Draft order was determined by all-time NBA win-loss percentage, with the worst team (Minnesota Timberwolves) getting dibs on that awesome responsibility of the No. 1 pick. That order continues with the second-worst team of all-time (the L.A. Clippers) getting the second pick, all the way down to No. 28. San Antonio technically owns the best all-time winning percentage, but since the L.A. Lakers and Boston Celtics each own 17 NBA titles to the Spurs' 5, we gave San Antonio the No. 28 pick. Boston and L.A. close out Round 1.
The first through third rounds follow in that order, but the order is reversed beginning in Round 4, with the Lakers getting the top choice and the Celtics the second, all the way down to Minnesota. This was done to maintain competitive balance between the rosters.
-There are five rounds, so each team could choose a starting five.
Round 1
1. Minnesota- Michael Jordan, G, North Carolina
2. L.A. Clippers- Kareem Abdul-Jabbar, C, UCLA
3. Brooklyn- Bill Russell, C, San Francisco
4. Memphis- LeBron James, F/G, St. Vincent-St. Mary High School
5. Charlotte- Magic Johnson, G, Michigan State
6. Washington- Shaquille O'Neal, C, LSU
7. Sacramento- Larry Bird, F, Indiana State
8. Toronto- Wilt Chamberlain, C, Kansas
9. Cleveland- Tim Duncan, F/C, Wake Forest
10. New Orleans- Kobe Bryant, G, Lower Marion High School
11. Orlando- Stephen Curry, G, Davidson
12. Golden State- Kevin Durant, F, Texas
13. Detroit- Hakeem Olajuwon, C, Houston
14. Denver- Julius Erving, G, UMass
15. New York- Oscar Roberston, G, Cincinnati
16. Atlanta- Karl Malone, F, Louisiana Tech
17. Indiana- Jerry West, G, West Virginia
18. Dallas- Dirk Nowitzki, F, Germany
19. Milwaukee- Charles Barkley, F, Auburn
20. Philadelphia- Moses Malone, F, Petersburg High School
21. Chicago- Kevin Garnett, F, Farragut Career Academy High School
22. Miami- Elgin Baylor, G, UCLA
23. Houston- John Stockton, G, Gonzaga
24. Phoenix- James Harden, G, Arizona State
25. Portland- Steve Nash, G, Santa Clara
26. Utah- Scottie Pippen, F, Central Arkansas
27. Oklahoma City- Jason Kidd, G, California
28. San Antonio- Isiah Thomas, G, Indiana
29. Boston- Giannis Antetokounmpo, F, Greece
30. Los Angeles Lakers-Dwyane Wade, G, Marquette
Round 2
31. Minnesota- David Robinson, C, Navy
32. L.A. Clippers- Chris Paul, G, Wake Forest
33. Brooklyn- Bob Cousy, G, Holy Cross
34. Memphis- Anthony Davis, F/C, Kentucky
35. Charlotte- Kevin McHale, F, Minnesota
36. Washington- Luka Doncic, G, Slovenia
37. Sacramento- Gary Payton, G, Oregon State
38. Toronto- Walt Frazier, G, Southern Illinois
39. Cleveland- Kawhi Leonard, G, San Diego State
40. New Orleans- James Worthy, F, North Carolina
41. Orlando- Reggie Miller, G, UCLA
42. Golden State- Patrick Ewing, C, Georgetown
43. Detroit- Rick Barry, F, University of Miami
44. Denver- Dominique Wilkins, F, Georgia
45. New York- Wes Unseld, F/C, Louisville
46. Atlanta- Ray Allen, G, Connecticut
47. Indiana- Elvin Hayes, F, Houston
48. Dallas- Paul Pierce, F, Kansas
49. Milwaukee- Bill Walton, C, UCLA
50. Philadelphia- Tony Parker, G, France
51. Chicago- Klay Thompson, G, Washington State
52. Miami- Dennis Rodman, F, Central Oklahoma
53. Houston- Allen Iverson, G, Georgetown
54. Phoenix- John Havlicek, F, Ohio State
55. Portland- Clyde Drexler, G, Houston
56. Utah- Russell Westbrook, G, UCLA
57. Oklahoma City- Chris Webber, F, Michigan
58. San Antonio- George Gervin, G, Eastern Michigan
59. Boston- Manu Ginobili, F, Argentina
60. Los Angeles Lakers- Alonzo Mourning, C, Georgetown
Round 3
61. Minnesota- Chauncey Billups, G, Colorado
62. L.A. Clippers- Tracy McGrady, G, Mount Zion Christian Academy
63. Brooklyn- Pau Gasol, F, Spain
64. Memphis- Tim Hardaway, G, UTEP
65. Charlotte- Robert Parish, C, Centenary
66. Washington- Carmelo Anthony, F, Syracuse
67. Sacramento- Dikembe Mutombo, C, Georgetown
68. Toronto- Joe Dumars, G, McNeese State
69. Cleveland- Vince Carter, G, North Carolina
70. New Orleans- Dennis Johnson, G, Pepperdine
71. Orlando- Chris Bosh, F, Georgia Tech
72. Golden State- Chris Mullin, F, St. John's
73. Detroit- Alex English, G, South Carolina
74. Denver- George Mikan, C, DePaul
75. New York- Bernard King, G, Tennessee
76. Atlanta- Sidney Moncrief, G, Arkansas
77. Indiana- Artis Gilmore, C, Jacksonville
78. Dallas- Nate Archibald, G, UTEP
79. Milwaukee- Grant Hill, G/F, Duke
80. Philadelphia- Joel Embiid, C, Kansas
81. Chicago- Damian Lillard, G, Weber State
82. Miami- Earl Monroe, G, Winston-Salem State
83. Houston- Willis Reed, F, Grambling State
84. Phoenix- Nikola Jokic, C, Serbia
85. Portland- Nate Thurmond, F, Bowling Green
86. Utah- Jerry Lucas, F, Ohio State
87. Oklahoma City- Donovan Mitchell, G
88. San Antonio- David Thompson, F, NC State
89. Boston- Bob McAdoo, F, North Carolina
90. Los Angeles Lakers- Maurice Cheeks, G, West Texas A&M
Round 4 (Reverse order begins)
91. Los Angeles Lakers- Spencer Haywood, F, Detroit-Mercy
92. Boston- Pete Maravich, G, LSU
93. San Antonio- Bob Lanier, F, St. Bonaventure
94. Oklahoma City- Dwight Howard, C, Southwest Atlanta Christian Academy
95. Utah- Mitch Richmond, G, Kansas State
96. Portland- Ben Wallace, C, Virginia Union
97. Phoenix- Sam Jones, G, North Carolina Central
98. Houston- Arvydas Sabonis, C, Lithuania
99. Miami- Paul George, F, Fresno State
100. Chicago- Billy Cunningham, F, North Carolina
101. Philadelphia- Jayson Tatum, G/F, Duke
102. Milwaukee- Dave DeBusschere, G, Detroit-Mercy
103. Dallas- Adrian Dantley, G, Notre Dame
104. Indiana- Lenny Wilkens, G, Providence
105. Atlanta- DeMarcus Cousins, F/C, Kentucky
106. New York- Dan Issel, F/C, Kentucky
107. Denver- Bob Pettit, F, LSU
108. Detroit- LaMarcus Aldridge, F, Texas
109. Golden State- Dave Bing, G, Syracuse
110. Orlando- Dave Cowens, F, Florida State
111. New Orleans- George McGinnis, F, Indiana
112. Cleveland- Mark Price, G, Georgia Tech
113. Toronto- Rasheed Wallace, F, North Carolina
114. Sacramento- Kevin Love, F, UCLA
115. Washington- Jamal Murray, G, Kentucky
116. Charlotte- Shawn Kemp, F, Concord High School
117. Memphis- Jimmy Butler, G/F, Marquette
118. Brooklyn- Jamaal Wilkes, G, UCLA
119. L.A. Clippers- Connie Hawkins, F, Iowa
120. Minnesota- Al Horford, F, Florida
Round 5
121. Los Angeles Lakers- Kristaps Porzingis, F, Latvia
122. Boston- Jack Sikma, C, Illinois Wesleyan
123. San Antonio- Peja Stojakovic, F, Serbia
124. Oklahoma City- Draymond Green, F, Michigan State
125. Utah- Amar'e Stoudemire, F, Cypress Creek High School
126. Portland- Horace Grant, F, Clemson
127. Phoenix- Rudy Gobert, C, France
128. Houston- Rudy Tomjanovic, F, Michigan
129. Miami- Vlade Divac, C, Serbia
130. Chicago- Karl Anthony-Towns, C, Kentucky
131. Philadelphia- Kyrie Irving, G, Duke
132. Milwaukee- Jo Jo White, G, Kansas
133. Dallas- Yao Ming, C, China
134. Indiana- Blake Griffin, F, Oklahoma
135. Atlanta- Ben Simmons, G, LSU
136. New York- Walt Bellamy, F, Indiana
137. Denver- Penny Hardaway, G, Memphis State
138. Detroit- Derrick Rose, G, Memphis
139. Golden State- Zach Randolph, F, Michigan State
140. Orlando- Marc Gasol, F/C, Spain
141. New Orleans- Rik Smits, C, Netherlands
142. Cleveland- Dolph Schayes, F/C, New York University
143. Toronto- Buck Williams, F/C, Maryland
144. Sacramento- Bradley Beal, G, Florida
145. Washington- Tom Heinsohn, F, Holy Cross
146. Charlotte- Michael Cooper, G, New Mexico
147. Memphis- Clyde Lovellette, F, Kansas
148. Brooklyn- Otis Thorpe, F, Providence
149. L.A. Clippers- Larry Nance, F, Clemson
150. Minnesota- Jerry Sloan, F, Evansville
ROSTERS
LAKERS 
G- Mo Cheeks
G- Dwyane Wade
C- Alonzo Mourning
F-Spencer Haywood
F- Kristaps Porzingis
Grade: B+. For picking at the back of the draft through the first three rounds, the Lakers did a pretty good job constructing what could be a winning team in this, the Greatest League Ever Assembeled. D-Wade will be the go-to scoring option, but Mourning should hold his own against some of the league's greatest bigs, and Mo Cheeks lends a steady hand at point. The Kristaps pick is certainly on potential, but when healthy, his inside-outside capability is, as his nickname would suggest, Unicorn-like, and will be tough for a lot of these old-timers to guard. These dudes were shook beyond words by a 6-11 Wilt Chamberlain, so imagine what the 7-3 Porzingis could be.
CELTICS
G- Pete Maravich
G- Manu Ginobili
C- Jack Sikma
F- Bob McAdoo
F-Giannis Antetokounmpo
Grade: B+. The combination of Pistol Pete and Giannis makes this squad one of the most entertaining in the league, and they've got three sensible players flanking those two. Giannis is still building his legacy and could end up being one of the 20 greatest players of all-time when he's through, so getting him at 29 could be a steal. We're not sure how many games this team is winning in this ridiculous league, but it'd surely be fun to watch.
SPURS
G- Isiah Thomas
G- George Gervin
C- Bob Lanier
F- Peja Stojakovic
F- David Thompson
Grade: B+. The Spurs land one of their own, the legendary George Gervin at No. 58, and boast one of the greatest point guards of all-time flanking him in the backcourt. Bob Lanier is solid in the middle, and they've got some shooting in Peja (who finished fourth in MVP voting in 2003-04, with more votes than Kobe). David Thompson is one of the NBA's greatest "what-if" stories (he once scored 73 points in a game), and he could be one of the greatest ever if given the chance to restart his career.
THUNDER
G- Jason Kidd
G- Donovan Mitchell
C- Dwight Howard
F- Draymond Green
F- Chris Webber
Grade: B+.  Sam Presti (he's probably the GM of this fictional team, right?) went with an all-modern squad, and it looks pretty damn good on paper. Chris Webber is one of the best passing big men of all-time, and he's a natural fit alongside Draymond Green, who might have been a controversial pick in this draft but works perfectly on this squad. They'll share the rock plenty, Donovan Mitchell will score, and Dwight Howard will defend and grab rebounds. This looks like a playoff team in our fake league.
JAZZ
G- Russell Westbrook
G- Mitch Richmond
C- Amar'e Stoudemire
F- Scottie Pippen
F- Jerry Lucas
Grade: B-. The Jazz might have a hard time keeping up with teams that decide to shoot the 3, as the only guy in their starting five who can do that consistently is Mitch Richmond. The idea of Amar'e catching lobs from Russell Westbrook is pretty enticing, and Scottie Pippen adds in effect a second point guard on the floor. But this team doesn't appear to fit tremendously well together, compared to the other Dream Team-like squads out here.
BLAZERS
G- Steve Nash
G- Clyde Drexler
C- Ben Wallace
F- Horace Grant
F- Nate Thurmond
Grade: B+. This is a pretty well-put together team, with two-time MVP Steve Nash running the point and Clyde Drexler filling it up alongside him. The Wallace-Grant-Thurmond trio inside will be devastating on defense and on the boards, too. The one weakness here is a lack of three-point shooting.
SUNS
G- James Harden
G- Sam Jones
C- Nikola Jokic
F- John Havlicek
F- Rudy Gobert
Grade: B+. Some people will claim that Havlicek was a steal at No. 54, and his presence alongside Jokic gives the Suns a tremendous passing duo to offset Harden's ball dominance. In fact, Havlicek might have to steal the ball from Harden in order to get some shots up. He'll have to share the rock on this squad, with Hall of Famer Sam Jones alongside him and an interesting move at power forward, with Rudy Gobert making up for Jokic's defensive liabilities on that end of the floor. This is a very well-balanced starting five.
ROCKETS
G- John Stockton
G- Allen Iverson
C- Arvydas Sabonis
F- Willis Reed
F- Rudy Tomjanovic
Grade: B. You've gotta love the Iverson-Stockton combo in the backcourt, which will be devastating for other super teams to try and guard. Sabonis is a good fit in the middle, and Willis Reed and Rudy T add some scoring punch inside.
HEAT
G- Earl Monroe
G- Elgin Baylor
C- Vlade Divac
F- Paul George
F-Dennis Rodman
Grade: B-. Earl the Pearl and Elgin Baylor make up one hell of a backcourt, and Dennis Rodman certainly makes this Miami team better inside. (Can you imagine what his career could have looked like if Pat Riley coached him?!) Vlade and Paul George are nice additions, but the overall talent on this squad isn't as great as some of the others.
BULLS
G- Damian Lillard
G- Klay Thompson
C- Karl Anthony-Towns
F- Billy Cunningham
F- Kevin Garnett
Grade: A-. The Bulls picked Chicago high school legend Kevin Garnett at No. 21, over the likes of John Stockton, James Harden, Steve Nash and Giannis, but it appears they knew what they were doing. Damian Lillard and Klay Thompson are a devastating backcourt duo, and Karl Anthony-Towns still has the chance to develop into a center who deserves to see his name in this draft.
SIXERS
G- Tony Parker
G- Kyrie Irving
C- Joel Embiid
F- Jayson Tatum
F- Moses Malone
Grade: B. The Sixers chose Tony Parker over Iverson (that won't be popular in Philadelphia), but he's a good fit for this roster, which is heavy on modern players. Jayson Tatum was chosen on what he's already accomplished but also on potential (he's still just 22 years old!), as was Embiid. JoJo and Moses Malone won't have to leave Broad Street– they're already two of the greatest Sixers of all-time.
BUCKS
G- Jo Jo White
G- Grant Hill
C- Bill Walton
F- Dave DeBusschere
F- Charles Barkley
Grade: B. This is a solid club, especially if you're getting Grant Hill and Bill Walton before the injuries that ruined their careers. If not, there's a 99 percent chance Charles Barkley requests a trade.
MAVERICKS
G- Nate Archibald
G- Adrian Dantley
C- Yao Ming
F- Paul Pierce
F- Dirk Nowitzki
Grade: C+. The Mavs took Dirk Nowitzki (!) with the 18th pick, and that was no reach considering where he ranks all-time. These are some talented players, but this squad could struggle in this league.
PACERS
G- Lenny Wilkens
G- Jerry West
C- Artis Gilmore
F- Blake Griffin
F- Elvin Hayes
Grade: C+. Jerry West, Elvin Hayes and Artis Gilmore are a terrific start, but Blake Griffin could struggle in this league and Lenny Wilkens might not have been a shrewd choice with guys like Kyrie Irving still on the board.
HAWKS
G- Ben Simmons
G- Ray Allen
C- DeMarcus Cousins
F- Karl Malone
F- Sidney Moncrief
Grade: B-. Pairing Ray Allen (all-time great shooter) with Ben Simmons (all-time non-shooter) is interesting, and that Cousins-Malone frontcourt is something. Simmons to Malone would be a heck of a connection. This team probably fares better than you'd think in this league.
KNICKS
G- Oscar Robertson
G- Bernard King
C- Dan Issel
F- Walt Bellamy
F- Wes Unseld
Grade: B-. Not unlike any other draft, Knicks fans are probably furious with their team's haul– considering there isn't one modern-era player on the squad. You can't argue with The Big O and Wes Unseld though, as they would be devastating together, and real Knicks fans would be happy to see Bernard King back balling at the Garden. Still, compared to the other squads in this league, the Knicks might finish in a familiar place in the standings.
NUGGETS
G- Penny Hardaway
G- Julius Erving
C- George Mikan
F- Dominique Wilkins
F- Bob Pettit
Grade: B. Can you even imagine the highlights Julius Erving and Dominique Wilkins would produce on the same team?? Better yet, how about George Mikan and Bob Pettit? Set shots!! Two-handed layups! Running hooks! Move over, Atlanta. Denver is the new Highlight Factory.
PISTONS
G- Derrick Rose
G- Alex English
C- Hakeem Olajuwon
F- Rick Barry
F- LaMarcus Aldridge
Grade: B. Hakeem Olajuwon is the star of this squad, but an Alex English-Derrick Rose backcourt would be absolute must-see TV. Rick Barry is a tremendous fit here, and along with LaMarcus Aldridge, this team might have the shiftiest frontcourt in the league. There's probably not enough three-point shooting here to win the league title, but this is an entertaining group.
WARRIORS
G- Dave Bing
G- Chris Mullin
C- Patrick Ewing
F- Kevin Durant
F- Zach Randolph
Grade: B. In an enthralling bit of NBA transaction karma, the Warriors draft Kevin Durant. They also take former Warriors star Chris Mullin, who would thrive in a high-scoring backcourt. Patrick Ewing would be a monster on this team, and Zach Randolph in his prime is a nice fit as well.
MAGIC 
G- Stephen Curry
G- Reggie Miller
C- Marc Gasol
F- Dave Cowens
F- Chris Bosh
Grade: A. Just look at that backcourt combo– mannn, can you imagine Steph and Reggie Miller taking turns hoisting 3s? Marc Gasol is a tremendous fit as a great passer, defender and rebounder, and Bosh and Cowens fill the same role. This team is extremely well put together, and they'd be a tough out.
PELICANS
G- Dennis Johnson
G- Kobe Bryant
C- Rik Smits
F- James Worthy
F- George McGinnis
Grade: B. Kobe would clearly carry the load offensively for these Pelicans, but James Worthy and Rik Smits are pretty nice complementary players. Dennis Johnson is one of the best defensive point guards of all-time, so this team would compete well on both ends of the floor.
CAVS
G- Mark Price
G- Kawhi Leonard
C- Dolph Schayes
F- Vince Carter
F- Tim Duncan
Grade: B. Cavs fans have got to be happy about seeing their boy Mark Price on the roster, and pairing Tim Duncan and Kawhi Leonard with him is a pretty good start. How well this team performs depends on how good you think Dolph Schayes, who starred in the '50s, would be.
RAPTORS
G- Walt Frazier
G- Joe Dumars
C- Wilt Chamberlain
F- Buck Williams
F- Rasheed Wallace
Grade: B. The Raptors went heavy on old-school players, taking Wilt at No. 8 over the likes of Tim Duncan, Kobe Bryant and Steph Curry. This is, obviously, a great roster, but Buck Williams, Joe Dumars and Rahseed Wallace don't provide the level of offense needed to win in this insane league. But again, they've got Wilt… so maybe they won't need much offense.
KINGS
G- Gary Payton
G- Bradley Beal
C- Dikembe Mutombo
F- Larry Bird
F- Kevin Love
Grade: B+. This team has got a little bit of everything, with two of the greatest defensive players in history in Payton and Mutombo and one of the absolute best shooters of all-time in Larry Legend. Kevin Love is a similar player but can rebound the heck out of the ball, and Bradley Beal is a nice scoring option alongside Payton in the backcourt.
WIZARDS
G- Luka Doncic
G- Jamal Murray
C- Shaquille O'Neal
F- Tom Heinsohn
F-Carmelo Anthony
Grade: A. This team has the ridiculous inside-out combo of Luka Doncic and Shaq, plus the microwave-like Jamal Murray at the two. If that wasn't enough instant offense, you've got Carmelo at the four, draining 3s and spin-moving past people in the post, and Tommy Heinsohn to clean up the exceedingly-rare miss.
HORNETS
G- Magic Johnson
G- Michael Cooper
C- Robert Parish
F- Kevin McHale
F- Shawn Kemp
Grade: A. The Hornets G.M. must have been watching "Lakers vs. Celtics" before the draft, because Charlotte's roster is heavy on '80s NBA Finals stars. Lakers teammates Magic Johnson and Michael Cooper team up with Celtics homies Robert Parish and Kevin McHale, in what would be undoubtedly one of this league's best defensive teams. And can you even imagine Shawn Kemp catching transition lobs from Magic?! Ooooooh. Talk about Showtime.
GRIZZLIES
G- Tim Hardaway
G- LeBron James
C- Anthony Davis
F- Jimmy Butler
F- Clyde Lovellette
Grade: A. Pairing LeBron and Anthony Davis worked out pretty well for the Lakers, so the Grizzles (who almost landed the King in the 2003 Draft lottery) will give those two a chance to run against the best players of all-time. The 2020 Finals are well-represented, with Jimmy Butler at small forward, and Tim Hardaway can help this squad run and gun, and he can add both scoring punch and an extra facilitator in the half-court.
NETS
G- Bob Cousy
G- Jamaal Wilkes
C- Bill Russell
F- Otis Thorpe
F- Pau Gasol
Grade: B. Cousy may have been a reach at 33, but you can't argue with the tandem of him and Bill Russell inside. This is an older-school team, with only one modern player, so depending on your take, they might get smoked– but the names add up to one of the most impressive rosters imaginable.
CLIPPERS
G- Chris Paul
G- Tracy McGrady
C- Kareem Abdul-Jabbar
F- Larry Nance
F- Connie Hawkins
Grade: A. This might be the best roster in the league, with The Point God (Chris Paul) distributing the ball to the greatest center of all-time. T-Mac adds a go-to scorer on the perimeter, and Connie Hawkins was a great value pick late in the draft and will add plenty of muscle.
TIMBERWOLVES
G- Chauncey Billups
G- Michael Jordan
C- David Robinson
F- Jerry Sloan
F- Al Horford
Grade: B+ They've got the GOAT, a top-10 big man of all-time and a steady, big-shot making point guard, who will come in handy when MJ needs someone to kick it out to. The roster gets thinner at the forward spots, but this team will still be plenty competitive in this Greatest League Of All-Time.