Get to know your 2018 NBA Draft Lottery Picks: Texas A&M's Robert Williams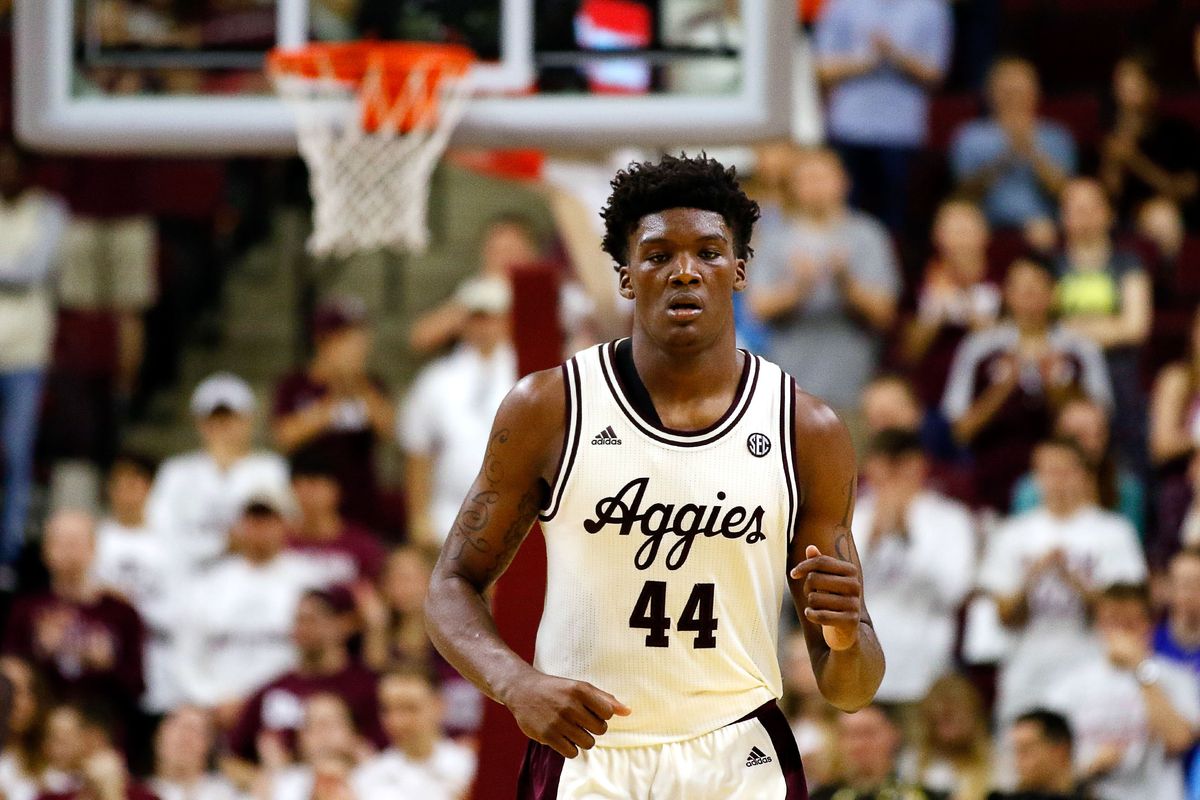 College hoops has a name recognition problem.
Every year, the best players in the country make their entry into the sport's landscape relatively unknown–unless you're a diehard fan.
It's kind of like college itself.
Get to know your 2018 NBA Draft Lottery Picks: Duke's Marvin Bagley
If you're a freshman just venturing onto campus, you don't know anyone. You might do a little bit of research about your roommates, stalking them on Facebook or Instagram, but that's about it.
You walk onto campus for the first time with no idea what's going to happen.
Are you going to fit in? Is the work going to be too hard? What if you get homesick? Are you going to blow through $100,000 and live in your parents' basement the rest of your life???
It's the same with college hoops fans.
Sure, they might know a little bit about their own top recruits–might have stalked them on YouTube or checked out what other people have to say on Scout.com, but around the sport–they have no idea what's going to happen.
Is your five-star freshman going to fit into the offense? What if the coach rides him too hard? What if he gets homesick? Is he going to transfer, leaving your program in shambles, and they never reach the NCAA's for the rest of your life???
So, we decided to fix all of this.
Think of us as a Facebook for college basketball prospects. Just slightly less profitable.
In this series, we'll take a look at some of the biggest names of the 2018 college hoops season that you may not know yet–but will soon.
Check it out.
Robert Williams
Height/Weight: 6-9, 237 lbs.
School: Texas A&M
The statuesque sophomore forward returns after winning the SEC Defensive Player of the Year award as a freshman in 2016. "Boo Butt" (that's his nickname, seriously) was a potential lottery pick last year, but decided to return to A&M after consulting his mother, Tundra.
Even though his family could use the NBA money, Tundra told her son that if he didn't feel ready for the grind and business of pro basketball, he didn't have to jump in early.
"We haven't been rich for 19 years," Tundra told Robert. "What's one more year?"
"My mom just wants me to be happy," Robert told NBC Sports. "I could quit basketball and go work at Burger King. If I'm happy, she's happy."
So, the 6-9, 237-pound beast of a power forward is back in College Station, and head coach Billy Kennedy is happy, too.
"Boo Butt" is really long (7-4 wingspan!), athletic, and has an NBA-ready body which will only get better with another year of hitting the weights. He's a terrific finisher, and just needs the ball thrown up anywhere in the vicinity of the rim in order to come down with it and flush it through.
He doesn't have much of a jump shot, and shot under 60% from the free throw line in his freshman season, but is a prodigious rebounder (13.1 per 40 mins) and a great defender. He's got good lateral quickness, and is an outstanding shot blocker.
Williams averaged 2.5 blocks per game last season, and sent some shots back on the perimeter as well as underneath the basket.
With him (11.8 ppg, 8.2 rpg) and 6-10 junior Tyler Davis (14.1 ppg, 7 rpg) back, as well as juniors Admon Gilder (13.7 ppg) and DJ Hogg (12 ppg), the Aggies have a legit shot to contend in what should be a loaded SEC. This team will be back in the NCAA Tournament this spring, and Williams will likely find himself in the NBA Draft's green room a couple of months later.