Harvard grad transfer Seth Towns was handcuffed and placed in police van during protest over Floyd incident; later released and not held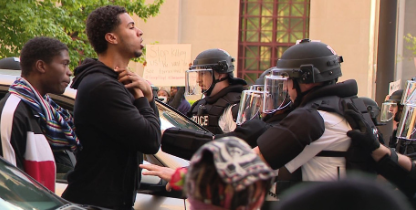 By Joel Alderman
"In a span of just 24 hours, I walked across a Harvard virtual graduation stage into the back of a police van alongside other peaceful protesters–both of which I am equally proud of." (@seth_towns17)
Seth Towns, the highly-rated graduate transfer from Harvard who will be entering Ohio State soon, was in police custody briefly on Friday during a protest in his native city of Columbus, Ohio.
Towns missed the past two seasons of the Ivy Leaguers basketball program while recovering from knee surgeries and, if he doesn't turn pro, could have two years of eligibility to play with the Buckeyes.
He was a three-star recruit out of Northland High School when he averaged 31.6 points as a senior and graduated as the Vikings' all-time leading scorer with 2,018 points.
His former and future coaches wrote words of support.
Harvard coach Tommy Amaker
"I am aware that recent graduate Seth Towns was detained last night at a rally in Columbus, Ohio. I fully support, and am proud of Seth in his continued fight for social justice, a cause that had been near and dear to his heart since he arrived on campus four years ago. We, as a program, always encourage our players in their effort to stand up for their beliefs and for what is right,"
Ohio State coach Chris Holtmann
"We fully support our players' right to peacefully protest. In the time I've gotten to know Seth, it's clear that he has a heart for social justice. . . we will continue to openly discuss this within our program. We pray for safety in our city, state, and around the country.
Wise words from Seth Towns
— Seth ? (@seth_towns17) May 30, 2020
Towns uttered powerful words
Towns, seen on ESPN' s SportsCenter, said "We have to be true to who we are and our voices. We have to use those voices to impact people, and there is a huge dilemma in this country right now that needs to be addressed and I won't shut up. I won't stop. I will continue to use my voice to speak out for the people who are unheard, and that's what I did.
"A voice is so important, and when I say voice I'm not talking about speaking, per se. I'm talking about actions. I'm talking about going out and protesting and doing your duty as a member of this democracy.
"I was protesting like everyone else. It was a peaceful protest in the street. They were telling us to back up. They just came up and about six cops put me in handcuffs and put me in the back of a paddy wagon. I don't regret anything. We have to be heard, and this is a very serious issue and I won't stop."

Among the comments on Twitter
"Seth Towns will forever have my love, support, and respect. For those fans calling for him to be removed from the team, saying mean things, saying he should shut up and dribble . . . You are proving his point. Even a Harvard grad is just an object to you." We have a ways to go." (@ZachFleer270)
"Smart kid. Only young athlete I've seen take a different approach. That's what wisdom is!" (@gccjad)
"All I can say is WOW. What insightful words from such a young man." (@mrpaver2017)
"This is spot on. You make me proud to be a Buckeye fan, Ohioan, and a human being." (@monger1977)
"Dude you are freaking awesome. Well spoken." @HornacekMatt)
"Amen BROTHER!!! (@Dirty_D_7
We say the same
Yes indeed. Amen.