Here is an El-Amin who is not only a star college basketball player but a serious activist
By Joel Alderman
When Khalid El-Amin strutted along the court for the Univ. Of Connecticut for four years under Jim Calhoun, and helped bring UConn a national title in 1999, he was a colorful and sometimes controversial and "showboat" type figure. His claims to fame were his production and appearance on the court, which were significant. But to fans of opponents, he could be annoying and cocky.
Now it is his son, 21-year old Ishmael El-Amin, is making a different kind of name for himself, while about to enter his senior year at Ball State in Muncie, Ind. Not that he isn't a very good basketball player, which he is. But he is stepping forward on a different level than his father achieved.
Ishmael had removed his name from the transfer portal to return to Ball State. While waiting for the new season to get underway, if it ever does, he has become a leading athlete-activist.
Organized a peaceful protest in Muncie
In the aftermath of the George Floyd tragedy back in his hometown of Indianapolis, he organized a peaceful protest rally and march from the campus of his college to the Muncie, Ind. City Hall on June 4th.
Why did he take it on? "We need to come together as one and let our voices be heard," he explained on Twitter. "We need to demand justice and demand change. That is one of the reasons why I put the protest together. To show there is a right way to make a difference. Violence isn't the way to get the justice we seek."
Endorsed by Ball State A.D .
Beth Goetz, the athletic director at Ball State, backed Ishmael. "We applaud and admire Ish's willingness to bring a community of voices together to collectively confront racism."
Basketball is still very important in his life. Last season the star guard averaged 13.8 points, 2.3 assists, and made an amazing total of 77 three-pointers for the Cardinals, of the Mid-American Conference.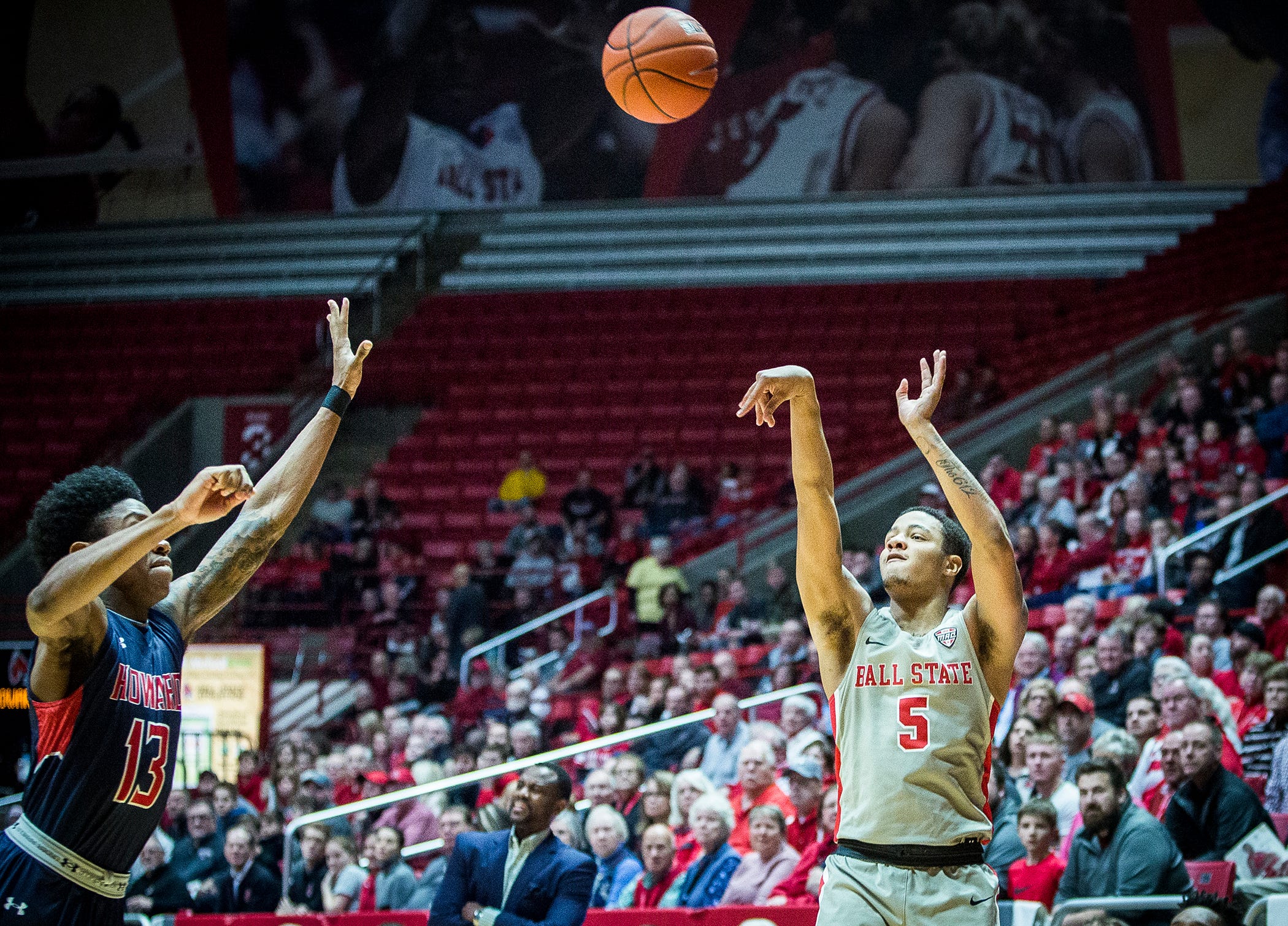 But his main concern, probably even bigger than whether there will be a basketball season, is the November election. "We can be a part of who is elected into office and who will affect our states, our cities, and towns. That's the area (where) we need to start."
How the rally went
El-Amin's roommate, Sultan Benson, who helped organize the rally, had himself been the center of an incident last January when he refused to change his seat in a classroom for which a professor called the campus police. The professor was later suspended.
The rally included several coaches from Ball State. They were James Whitford and assistant Ben Botts (basketball), Rich Maloney (baseball) and Brady Salley (women's basketball). Also spotted were former basketball teammates Taylor Persons and Josh Thompson, current hoop player Blake Huggins, and two members of the football team, Kaleb Slaven and Brandon Martin.
Coach Whitford was on Shaw Island off the coast of Washington with his two boys, ages 10 and 12, and even though Ishmal told him he didn't have to come, he cut his trip short to be at the rally.
"It lets me know that Ball State sports is behind the cause. Is behind what's going on around here, around the world. They want to see change," he told Jordan Guskey of the Muncie Star Press.
Praise from a teammate
Parsons wanted people to "forget about how good a basketball player he (El-Amin) is. He's an even better person." And in a text to the paper, assistant coach Botts pointed out that he lived in Muncie his entire life and "I don't think I've ever seen that many people united in one place together. He is a special individual."
This of course meant a lot to Ishmael. "It lets me know that Ball State sports is behind the cause, is behind what's going on around here, around the world. They want to see change," he told the Minneapolis Star Press.
According to Muncie's police chief, Nathan Sloan, there were no arrests or conflicts between protesters and officers. He estimated the crowd at from 2,000 to 3,000.
"We didn't have a single problem," he said. And seeing so many people gathering for a single cause he found to be a "moving experience."
Ishmael El-Amin had accomplished much more than making 77 three-point baskets.