Will the college basketball season start on time? Geno Auriemma is doubtful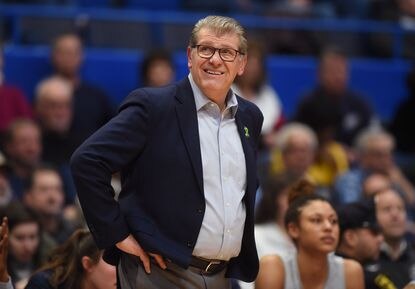 By Joel Alderman
A pessimistic prediction about the start of the college basketball season has been made by Geno Auriemma, who has been the mentor of the women's game at the University of Connecticut since 1985.
Auriemma was quoted in the Hartford Courant, "Once the rest of the country cancels football (as many feel will happen), then we'll know there are no fall sports at all, then we'll know there will be no basketball games in the fall, so there won't be any games in November. And then we can start thinking about January, maybe, or February, who knows?"
That would mean four months before the first game. "Four months of what?" Auriemma asked of no one in particular. "What are you supposed to do for four months? We're just taking it one day at a time, one drill at a time."
Right now, Auriemma is working with three separate groups of players or "pods" and is hoping to have the full squad together next week.
UConn canceled football. Is basketball next?
What about losing the season altogether? A precedent has already been set at UConn. It was among the first to cancel its entire slate of football games. "I'm a little nervous just because of football, said Christyn Williams, a junior. "I don't really care if we have fans or what. I just literally want to have a season."
Another player, sophomore Anna Makurat said, "We definitely want to play basketball and have our season, but we can't focus on things we don't have control of. . . . When it's going to come, we're going to be ready."
Williams and Makurat were quoted in the article by Alexa Philippou, who covers women's sports for the Courant and is currently following the Connecticut Sun of the WNBA. She doesn't yet know when- or even if- there will be any UConn games to write about. Nobody really knows.