Hal Upjohn, 91, a member of the earliest Yale basketball team to play in the NCAA tournament in 1949, is the first Bulldog athlete known to have died from coronavirus
By Joel Alderman
When Yale played in the NCAA tournament in 1949 for the first time, Harold Upjohn was among those on its roster. Upjohn died on March 24th at the age of 91 and became the first and only athlete from Yale that this researcher is aware of who has been a victim of coronavirus.
Upjohn, a physician, as was his father, E. Gifford Upjohn, passed away at Mills Peninsula Hospital in Burlingame, CA. He was a long-time resident of San Mateo County and in the last few years resided at Atria Senior Living in Burlingame.
Four teammates of Upjohn- Tony Lavelli, Levi Jackson, Art Fitzgerald, and Tom Redden- were all former or future captains at Yale. All-time great Lavelli headed the basketball team, Jackson, Yale's first Black athlete football, 3-sport starter Fitzgerald baseball, and Redden was basketball captain the previous season when he was a junior.
Because Yale traditionally and to this day never had co-captains, it is all the more remarkable that these four played on the same team.
Lavelli, Jackson, and Fitzgerald made their names prominent in college sports, but Upjohn already had a family surname known throughout much of the world, especially in the medical community. He was a member of the family that founded the Upjohn Pharmaceutical Company, which is now part of Pfizer.
He was born on Nov. 17, 1927, in Ann Arbor, Michigan, and raised in Kalamazoo. As a young man, he was nationally ranked in youth tennis and represented Kalamazoo in the U.S. Junior Tennis Nationals.
It was common, almost expected in those years, for future Yale and Harvard students, especially those of family means, to attend a prep school. Upjohn went to the elite Phillips Andover Academy in Andover, MA, where he earned the coveted Fuller Medal for scholastic excellence. He also played basketball, football, and tennis for the school.
He entered Yale in 1946 and received his degree in 1950. Then he went to Harvard Medical School where in his final year he was class president. After graduation in 1954, he joined the army where he was a captain and an MD.
In the service, he conducted clinical research on wound healing and metabolism at Walter Reed Army Medical Center. He was honorably discharged in 1956.
He then began a career in the family business in Kalamazoo. He was Clinical Research Director at the Upjohn Company and helped gain the approval of several drugs by the Food and Drug Administration (FDA), including Orinase, a blood control medication for diabetes.
In 1970 Harold moved to California where he created and founded Health Maintenance Inc., one of the earliest forms of HMOs. He became a professor at The University of California at Irvine, where he taught the proper procedures and protocols of clinical trials. He then worked at two other pharmaceutical companies, Allergan, Inc. for five years and then Syntex, Inc. for the remaining 18 years of his career.
Andover
Upjohn was captain of the Phillips Andover Prep School quintet that went 8-6. He averaged 15.3 points game, a high number since this was before the 3-point basket and the shot clock. His best point output was 26 against arch-rival Exeter in the last game, which Andover won, 54-42.
The player-student manager of the Andover basketball team was Cliff Crosby, who graciously contributed to this article.
Hal Upjohn was also on the school's football team and caught a few touchdown passes thrown by Dick Phelps, then considered the most outstanding athlete (football, baseball, and hockey) at Andover. Phelps, who accompanied Upjohn to Yale, is 91 and still plays either tennis or golf five days a week (Boston Globe). He has subsidized the Globe Foundation/Richard J. Phelps Scholar-Athlete Award for nearly 30 years.
From teammates to rivals
After graduating from prep school, Upjohn and Crosby went their separate ways, but not too far. Upjohn studied at Yale and Crosby entered Harvard, where he excelled athletically as a baseball catcher and pitcher. He also played basketball and faced Upjohn and Yale on the court for three years.
Crosby, 91, is the same age as Upjohn was when he died. He is from New Hampshire and still lives there in the town of Bethlehem, known as "the Star of the White Mountains." We were fortunate to have caught up with him recently for this article.
Hal Upjohn at Yale
At Yale Upjohn wore number 10 for the basketball quintet, coached by the innovative and scholarly Howard Hobson. As a sophomore, in the 1947-48 season, Upjohn got into 21 games and made 17 field goals and 11 free throws for 45 points. In his junior year, 1948-49, when Yale made its debut in the NCAAs at a previous Madison Garden, he played in 30 games, with 42 baskets and 45 fouls for 106 points. In his senior year, 1949-50, he appeared in 21 contests, hit on 78 baskets and made 36 from the line, for 192 points.
His final game was against Harvard with his former Andover classmate Cliff Crosby in its lineup. The Crimson had already beaten Yale 57-55 the week before in the Boston Arena and the return match in New Haven was the finale for both teams.
With Harvard leading 55-53, Bob "Arky" Bramhall was dribbling up the court. "Hal suddenly appeared and stole the ball. He sent a bounce pass to Ted Anderson who made the tying basket and sank the free throw that almost gave Yale the game," Crosby recalled in an email.
Upjohn was to make another deflection to protect the lead. A Harvard player intercepted a Yale pass and was going in for a layup. Again, quoting Cliff Crosby:" Hal blocked the shot cleanly and Yale won 56-55." He remembered that game of 70 years past as if it had taken place yesterday.
Upjohn's teams twice beat Holy Cross with Cousy
A few days earlier, on March 8, 1950, Yale had a midweek contest with Holy Cross and its superstar, Bob Cousy. They came to New Haven ranked 14th nationally by the Associated Press, although their 29-game winning streak, including three from the year before, had just been ended by Columbia. In that one, the future Hall of Famer was reduced to tears when he went to the bench after fouling out (The New York Times).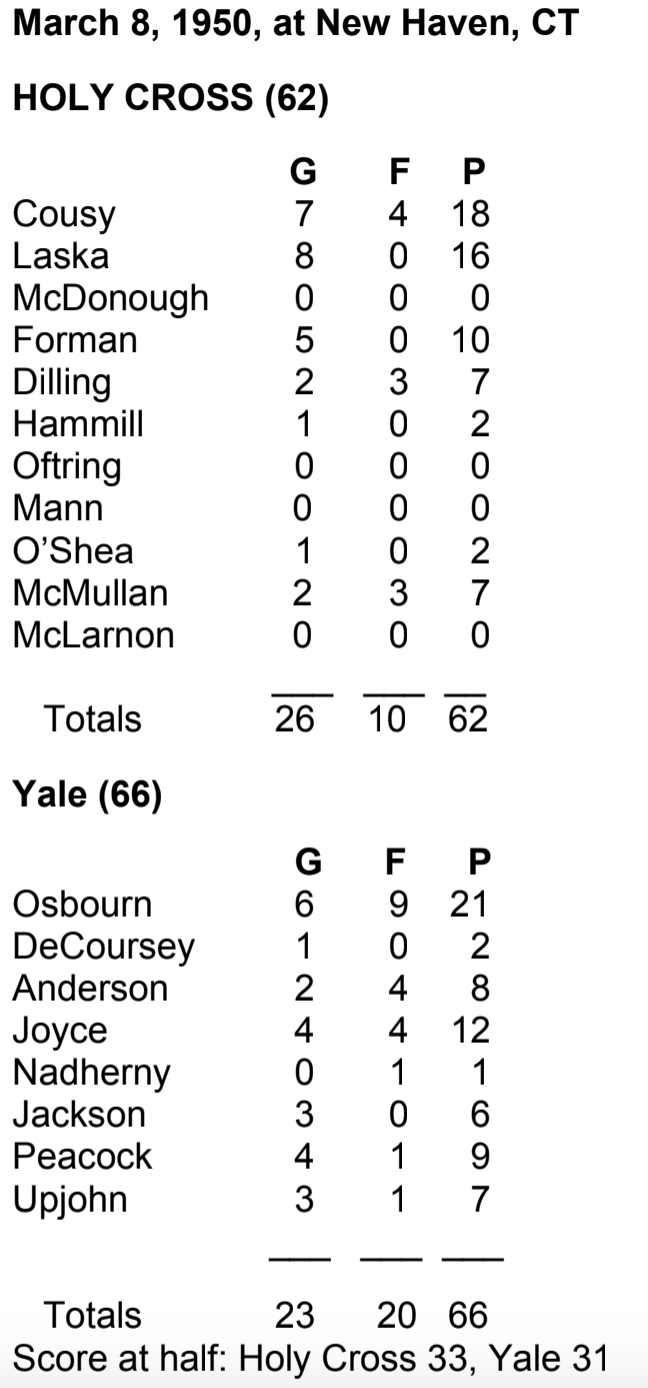 Looking to bounce back, the Crusaders instead suffered their second straight upset loss. Yale, with Upjohn in a key role, won in the final 90 seconds, 66-62. Hal scored 7 while the heralded Cousy made 18 for the losers. But he finished the season with 515 points, an average of 19.07 per game.
The year before, on Feb. 19, 1949, Yale also had upended the Crusaders and Cousy. With Cross ahead 35-33 "Upjohn arched a long set for Yale which bounced off the rim, precariously teetered awhile, and dropped in for the crucial tying points." (New Haven Register) Thereafter the Bulldogs scored eight more in a row, including another Upjohn basket, and built a 43-35 lead.
Cousy had four personals in the first half and still managed to score 19 points before picking up his fifth foul with 2:29 to play. By then it did not matter, as Yale won, 66-52. This was before the formation of the Ivy League and the victory virtually clinched a bid for Yale to represent District One in the NCAA tournament.
Cliff Crosby and Harvard baseball
Now a bit history from the same era but in another sport, baseball. Cliff Crosby, who is already part of this Upjohn and Yale story, was on the Harvard nine coached by the legendary Stuffy McInnis, the first baseman in Connie Mack's "million-dollar infield."
On June 19, 1949, Harvard was at Yale Field playing before a crowd 7,000 revelers for the annual reunion-day game.
In the first inning there was a home plate collision in which Yale's Bob James was thrown out. On the play, Crosby, the Harvard catcher, was badly injured. He remained in the game and batted in the second, then retired and was taken to New Haven Hospital where he was diagnosed with a broken rib and collapsed lung.
Crosby recovered and stayed active in sports until he reached 90, which was only a year ago. "I played and managed in a slow pitch softball league 116 nights every summer for 27 years," he proudly related.
This writer's part in the story
Upjohn left six children and his second wife, Sharon. Their memories of him are undoubtedly vivid and loving. But they don't go back as far as do those of this writer and Cliff Crosby. I was only a year behind Harold Upjohn at Yale and followed a lot of sports during that time and continuing after graduation, being a resident of New Haven. Upjohn and Crosby were among those I saw play.
Harold Upjohn's passing, and my recent interactions with Cliff Crosby, have made me feel a part of this story.
Former college basketball players who died in 2020 from coronavirus
March 22 Alexis Demby, 34, Caldwell
March 23 Lee Green, 48, St. John's
March 23 David Edwards, 48, Georgetown and Texas A&M
March 24 Jonathan Duck, 50, Iona
March 24 Harold Upjohn, 91, Yale
March 29 Arnold Obey, 73, Wagner
March 29 Dwight Jones, 73, Tennessee State
March 31 Harvey Sheff, 59, Yeshiva
April 1 Ted Vartelas, 89, UConn
April 6 Marty Derer, 56, Rutgers-Camden
April 15 Matt Gras, 46, Siena
April 22 Ed Siegel, 87, Franklin
April 28 Charles "Duffy" Jernigan, 61, Eastern CT