Pope Francis is "super chill" according to Anthony Tolliver, who was in a group of NBA players who had an audience with the Pontiff in the Vatican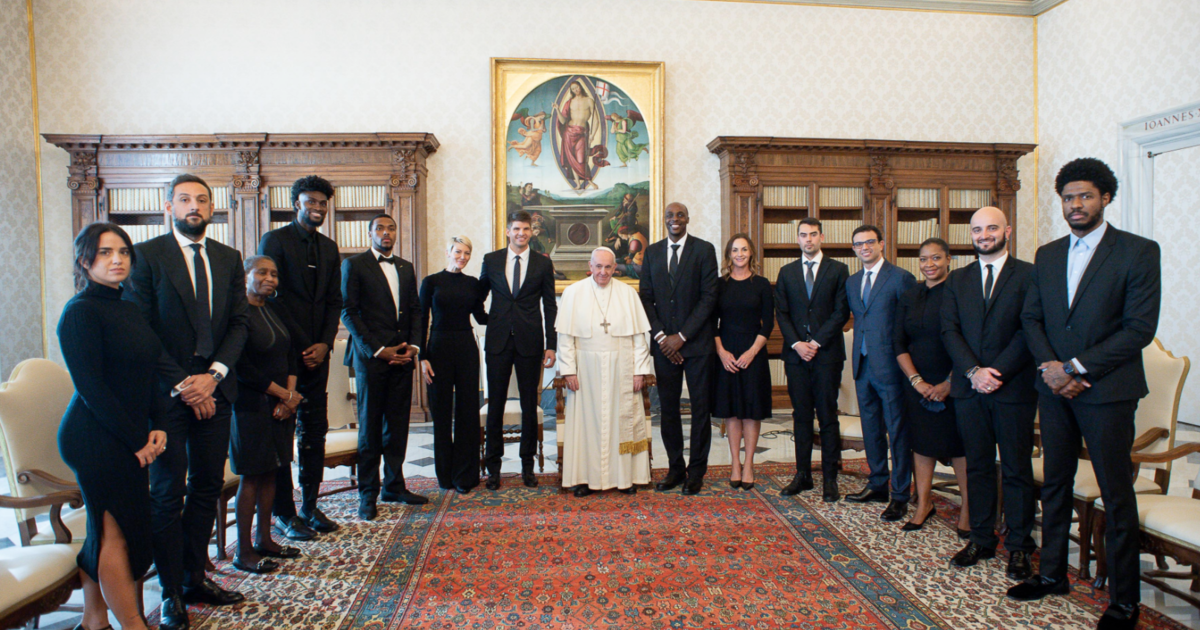 By Joel Alderman
It hardly was a typical papal audience when a delegation of five N.B.A. players and officials from the players association met privately with Pope Francis at the Vatican today (Nov. 23) to discuss their efforts toward promoting social justice and opposing economic inequality. They got to Rome after accepting an invitation on just two days' notice.
The players were Kyle Korver (Milwaukee Bucks), who at first thought it was a joke, Sterling Brown (who agreed to a free-agent deal with the Houston Rockets only a few hours before departing), Anthony Tolliver (Memphis Grizzlies). Marco Belinelli (San Antonio Spurs), and Jonathan Isaac (rehabilitating from a torn A.C.L, and is an ordained minister, Orlando Magic).
They are all active members of the players' union. They were joined by Michele Roberts, the executive director of the National Basketball Players Association, and two other union executives, Sherrie Deans and Matteo Zuretti.
30-minutes of history
The unique audience lasted 30-minutes. "I'm still not even sure if this really happened," Michelle Roberts said. The players took turns addressing the Pope and offered him a book documenting many of their community and social initiatives in the last few months, as well as jerseys, and a Black Lives Matter T-shirt.
"He (the Pope) said sport is such an opportunity to unify and he compared it to a team, where you have a common goal and you're working together, but you all use your own personalities," Korver said.
Brown and Korver had been instrumental in causing the postponement of playoff games in the bubble after the shooting of James Blake in Kenosha, Wis. Their protest also led to the haulting of games in the W.N.B.A., Major League Baseball and Major League Soccer.
A great experience
Brown said he wished the meeting with Pope Francis had lasted longer.
"Nobody gets to do this from where I'm from, barely get to do it from the United States," Brown said. "For me to be one of them, I can definitely take this and hold this and let people know I'm out here doing this to make a change, to actually get things put on other people's minds that have influence, to a degree."
Belinelli, a member of the San Antonio Spurs, was born in Italy and was able to speak in Italian to the Pope. He already was in the county prior to the meeting, but the others traveled from the United State on a chartered flight. They were tested for the virus within 72 hours before leaving for Rome and will be retested upon their return.
The pontiff, who will be 84 on Dec. 17th, sat at a distance from the group and did not wear a mask and, in a photograph, it did not appear as if the players were either. They did have them on by the time they were taking video calls later.
Pope Francis familiar with the Globetrotters
Tolliver, in addition to describing Pope Francis as "super chill," or "totally awesome" (urbandictionary.com), said, "He was actually way more relaxed than I'd ever imagined a Pope being." He said the Pope told the players he used to love watching the Harlem Globetrotters and even demonstrated a sense of humor.
"And you know, when the Pope makes a halfway joke, it's the funniest thing ever, right?" Tolliver said. "So, when I say making jokes, anything that was supposed to be remotely funny, we made sure we gave him a good laugh."