College basketball is underway despite calls to delay start of season; Rick Pitino wants "May Madness" to replace "March Madness"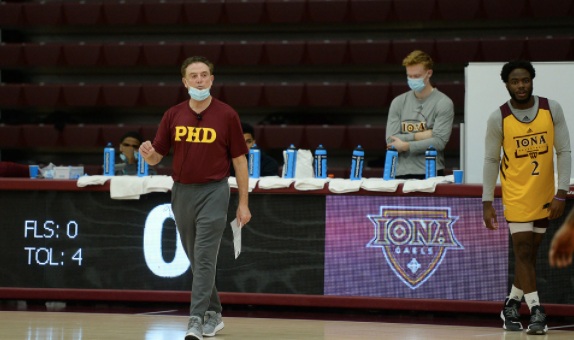 By Joel Alderman
Former Louisville coach Rick Pitino, who won a national championship before he was fired in 2018, was against the new season having stated when it did (Nov. 25). He had advised a delay until March. That would have set up a "May Madness" instead of the traditional "March Madness."
Save the Season. Move the start back. Play league schedule and have May Madness. Spiking and protocols make it impossible to play right now.

— Rick Pitino (@RealPitino) November 14, 2020
I'll say it again, to anyone who will listen, push the season back to March, and then have May Madness. Give the Vaccine a chance. In the best interest of all involved!

— Rick Pitino (@RealPitino) November 23, 2020
But his voice was not convincing enough, and the jump balls finally began.
Teams in limbo
Pitino's newest team is Iona, after coaching two years in Greece in the Euroleague. The Gaels recently announced they had a positive coronavirus case among their personnel and do not know when or if they will see action. Iona's first four contests have already been postponed or canceled.
According to @Goodman Hoops, in addition to Iona, others such as Albany, Belmont, Canisius, Citadel, Marist, Marshall, Massachusetts, Niagara, Oakland, Rider, Sacred Heart, Seton Hall, Siena, Southeastern Louisiana, Southern Illinois, Stetson, Lowell, USC Upstate and Winthrop are either in limbo or out of the mix for the season.
This week two programs canceled openers because their coaches tested positive for coronavirus. They were Scott Drew of Baylor and Rick Barnes, Arizona State. Arizona and Duke have canceled their openers. Ohio State has pulled out of a tournament in South Dakota and Southern Illinois is not going to the one in Louisville.
Pitino's idea in theory was a good one. But in practice, there would be too many obstacles. The NBA would have to change its deadlines for signing/recruiting dates, and the scheduling of venues would have to be renegotiated.
Is Pitino one to talk?
Unfortunately, Pitino may not be the ideal spokesman for the coaches. Although he won NCAA titles at Kentucky and Louisville, reaching seven Final Fours, and claiming conference titles in the Big East, SEC, and ACC, he has some blots on his resume. His accomplishments at Louisville were vacated after several violations were uncovered, leading to his firing.
However, those indiscretions do not mean he couldn't make some valid points.
In the end of course, money talks.