Dee Rowe, who had covid-19, was a coaching icon, but his talents as a college player were ignored by most of the media when he died at 91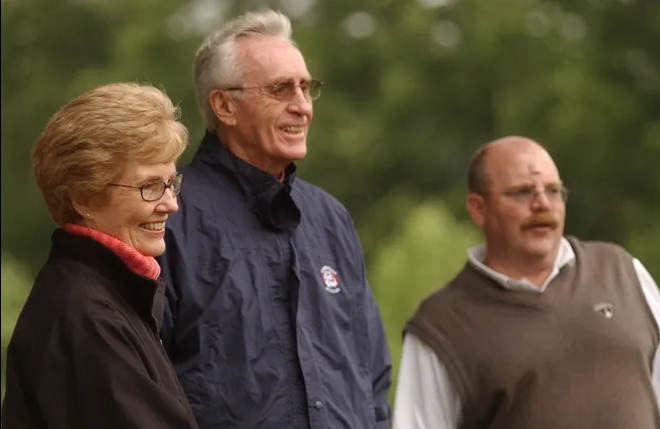 By Joel Alderman
Dee Rowe, former basketball coach at the University of Connecticut, died at his home on Jan. 10th. His son, Donald Jr., told the New York Times that he had coronavirus, on top of non-Hodgkin's lymphoma. He would have been 92 in ten days this Jan. 20th.
It is not just because he was a mentor of the game that we pay tribute here. Rowe was also a starter on his Middlebury College team and becomes one of all too many former collegiate hoopsters to be struck down wholly or in part by the virus. We are therefore adding him to our list of those victims.
He was not a star, but a starter at Middlebury in 1951-1952, when the team went 11-11. It was the first time since 1936 that the Panthers reached .500. He averaged a shade under nine points a game.
Rowe against Vermont
Simply known as Don Rowe, he was second high scorer for Middlebury with 12 points when it upset Vermont, 50-48, on Feb. 14, 1952. (Dee was a childhood nickname, but the press at that time still referred to him by his given name). The coach was Ulysses (better known as Tony) Lupien, who had played baseball at Harvard and with four major league teams starting with the Boston Red Sox. It was Lupien's first of five seasons coaching at Middlebury, where his teams compiled an overall record of 60-49.
The final college basketball game Rowe played, and it may have been his best, was also against Vermont. He had a career-high 16 points, 14 in the first half, although his team lost the road game 66—64.
Of that contest The Burlington Free Press wrote:
"With big Don Rowe not only uncorking but hitting on a whistling one-hander from near center-court, Middlebury forged into a 15 – 14 first quarter lead and a 28 to 23 halftime bulge. Rowe's zone busting sizzlers were good for 14 of the Panthers' 28 points.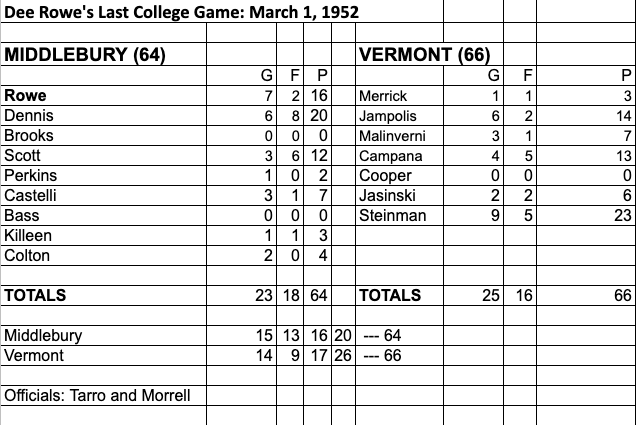 Played and later coached at Worcester Academy
When he was in the third grade his gym teacher was Buster Sheary, who later coached at Holy Cross. Before college he attended Worcester Academy in his hometown and played basketball and baseball there. Dee was the basketball captain his last two years. Today the school's basketball court bears his name.
After graduating from Middlebury and earning a master's degree from Boston University, he returned to the Academy and was its basketball and baseball coach, and athletics director. In 13 years, his teams won nine New England Prep School hoop championships.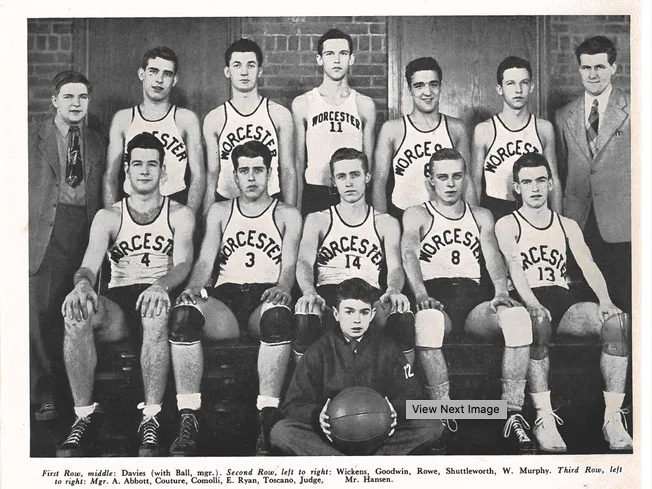 From the beginning
Donald Earle Rowe was born in Worcester, Mass., on Jan. 20, 1929. His father, Minott Rowe, was an executive with an insurance company. His mother was the former Arlene Harrington.
His coaching career at UConn, that started in 1969, replacing Burr Carlson, was relatively brief. It lasted eight seasons, only two of which were under a .500 winning percentage. His Huskies compiled a 120-88 record, including appearances in the NCAA sweet sixteen in 1976 and twice in the NIT. He had only two losing campaigns. He served as an assistant coach of the 1980 U.S. Olympic team but, after several exhibition games, the Americans withdrew for political reasons.
After coaching he was offered the job as athletics director at his alma mater Middlebury, but he was committed to Connecticut. He began another sports-related career at Storrs, becoming the fund-raiser for campus athletic facilities.
"He was very passionate and was a great salesman. At UConn, he sold from the heart," his son told the NY Times.
He raised nearly $7 million to build the Gampel Pavilion, home of the Huskies mens' and womens' teams, and the volleyball team, which is just a women's sport at UConn.
Although he retired in 1991, he remained as a special adviser and helped to raise money to build the Werth Family Champions Center, where the hoop teams practice.
But in his heart, he was always a coach and according to Geno Auriemma "he never stopped trying to get me to play the 2-3 zone and run the stack offense. "I never got around to the stack offense," Geno recalled, "but we once won a game late by going to the 2-3 and I never heard the end of it."
In addition to his son, Rowe is survived by six daughters, Donna, Cindy, Karen, Lisa, Julie, and Jennifer. 17 grandchildren; and two great-grandchildren. His wife, Virginia (Bradford) Rowe, died in 2018.
A special bond with Bob Cousy
For several years he and pro basketball Hall of Famer Bob Cousy played golf together at Pleasant Valley Country Club in Sutton, Mass. While the Cooz coached Boston College, he recruited several of Rowe's WA players.
For the last several years Cousy has attended the Worcester Academy's Scholarship Golf Tournament and the dinner that followed. Rowe would speak at those events, and Cousy said he captured everyone's attention.
"He was a great speaker," he remembers, "and he did it conversationally. It was like you were sitting in his living room. He would call out to all the alumni that were there. He was beloved. He had (the) great respect of the Worcester Academy and UConn alumni."
Cousy said he last spoke to Rowe on the phone the weekend after Thanksgiving. "He has been a contributor all his life. Basketball gave him a vehicle to do his magic."
Lives lost of former college basketball players diagnosed with coronavirus
March 22, 2020 Alexis Demby, 34, Caldwell
March 23, 2020 Lee Green, 48, St. John's
March 23, 2020 David Edwards, 48, Georgetown and Texas A&M
March 24, 2020 Jonathan Duck, 50, Iona
March 24, 2020 Harold Upjohn, 91, Yale
March 29, 2020 Arnold Obey, 73, Wagner
March 29, 2020 Dwight Jones, 73, Tennessee State
March 31, 2020 Harvey Sheff, 59, Yeshiva
April 1, 2020 Ted Vartelas, 89, Univ. of Connecticut
April 6, 2020 Marty Derer, 56, Rutgers-Camden
April 15, 2020 Matt Gras, 46, Siena
April 22, 2020 Ed Siegel, 87, Franklin
April 28, 2020 Charles "Duffy" Jernigan, 61, Eastern CT
Aug. 27, 2020 Dominic Ferrara, 80, Univ. of Bridgeport
Sept. 5, 2020 David "Smokey" Gaines, 80, LeMoyne-Owen College
Dec. 10, 2020 Donald "Dee" Rowe, 91, Middlebury