When Jack Ferguson died from coronavirus, a college he attended may have been the first to suffer the loss of two of its basketball players in the pandemic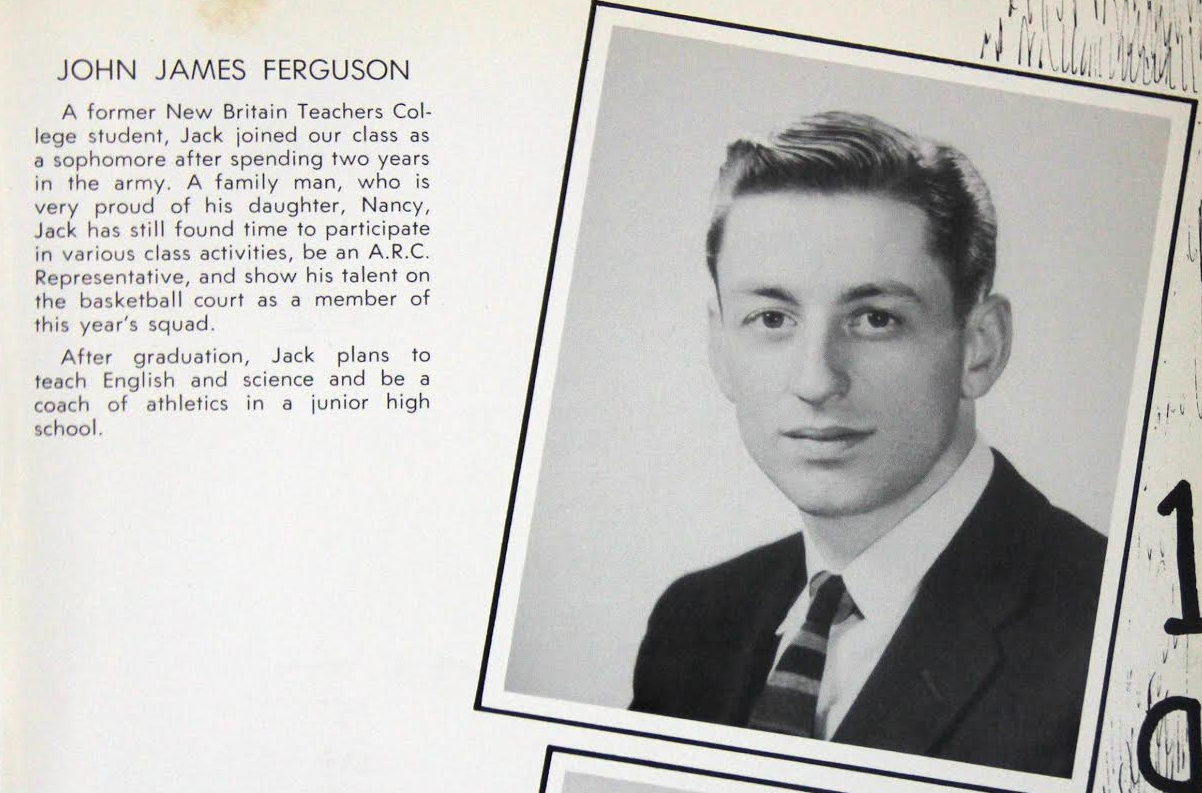 By: Joel Alderman
Writing what has become a growing list of tributes (now 19) to former college basketball players who died in the coronavirus pandemic, we have now come across an institution that has lost not one but two such athletes. It is Eastern Connecticut State University, but back when Jack Ferguson was a student in the late 1950s it was known as Willimantic State Teachers College.
It had dropped the word "Teachers" in 1959 and was simply Willimantic State College when Charles "Duffy" Jernigan played there in 1977-78. Last April he was the first from that school to be a victim of Covid-19. A month later (May 22, 2020). it was Ferguson, from the same college under its previous name, who met a similar fate. He was 87.
We have now counted four from the state of Connecticut. In addition to Ferguson and Jernigan, Matt Gras (Siena) and Ted Vartelas (UConn) are on the tragic list. The last three named were also the subjects of articles on Roundballdaily.com.
Ferguson was not just a basketball player, but a very good one. His obituary states that he "grew up with a basketball in his hands." He was from Long Island City, NY, and in his youth received the MVP award from the Long Island Press League. He played the game with Bob Cousy, who was living in St. Albans, Queens. Playing alongside or opposite Cousy, he perfected an effective 3-point shot.
He first attended Central Connecticut State University, then after serving two years in the U.S. army continued his education at Willimantic, graduating in 1958.
Played in college under Frank Geissler
He played hoops as a senior at Willimantic when the Warriors' coach was the venerable Frank Geissler, who also was an administrator. Geissler died at 93 in 2009. At Willimantic, Ferguson had two teammates, George Dargati and Frank Johndrow, who are in their college Hall of Fame along with coach Geissler.
Ferguson's final college game
Jack tossed in 20 points as Willimantic defeated Rhode Island College of Education, now a part of the Univ. of Rhode Island, 83-74. It was its season finale and Ferguson's last game as a collegian.
The box score:
He continued his studies and earned a master's and sixth year degree in guidance and administration at the University of Hartford.
A career in education
Making Connecticut hIs home, Ferguson became an educator for 30 years in the Wethersfield school system, where he first taught math and then was appointed principal of the new Highcrest School in 1969. Eight years later he took the same position at Charles Wright school and then Hanmer school from which he ultimately retired.
Married 65 years and took up tennis
He met his future wife, Jane, at Central Connecticut State Univ. before he went into the service. They were married for 65 years, leaving two daughters. Nancy and Linda, a granddaughter, and a great-granddaughter. He took up tennis and was a fixture at Pine Acres Swim Club where he was also captain of the Wethersfield Country Club golf group, where he played for many years.
In addition to a big extended family, Jack is missed by the many friends he made at the Pine Acres Swim Club and the Wethersfield Country Club.
Lives lost of former college basketball players diagnosed with coronavirus
March 22, 2020 Alexis Demby, 34, Caldwell
March 23, 2020 Lee Green, 48, St. John's
March 23, 2020 David Edwards, 48, Georgetown and Texas A&M
March 24, 2020 Jonathan Duck, 50, Iona
March 24, 2020 Harold Upjohn, 91, Yale
March 29, 2020 Arnold Obey, 73, Wagner
March 29, 2020 Dwight Jones, 73, Tennessee State
March 31, 2020 Harvey Sheff, 59, Yeshiva
April 1, 2020 Ted Vartelas, 89, Univ. of Connecticut
April 6, 2020 Marty Derer, 56, Rutgers-Camden
April 15, 2020 Matt Gras, 46, Siena;
April 22, 2020 Ed Siegel, 87, Franklin
April 28, 2020 Charles "Duffy" Jernigan, 61, *Willimantic State
May 22, 2020 Ted Vartelas, 89, Univ. of Conn.
May 22, 2020 John ("Jack") Ferguson, *Willimantic State
Aug. 22, 2020 Dominic Ferrara, 80, Univ. of Bridgeport
June 3, 2020 Craig Drezek, 49, Eastern Conn.
Sept. 5, 2020 David "Smokey" Gaines, 80, LeMoyne-Owen College
Dec. 10, 2020 Donald "Dee" Rowe, 91, Middlebury
*now Eastern Connecticut State College