Before Anthony Fauci became a doctor, he grew up as a sports junkie and was captain of the Regis High School basketball team
By: Joel Alderman
He is the leading figure in America's fight against coronavirus.
He is the director of the National Institute of Allergy and Infectious Diseases.
He began in 1984 when Ronald Regan held office.
He later answered to presidents George H. W. Bush. Bill Clinton, George W. Bush, Barack Obama, Donald Trump, and now Joseph Biden.
He has been an outspoken member of the White House Coronavirus Task Force, contradicting more optimistic views of then-President Trump.
He is still going strong after reaching 80 years of age on Dec. 24, 2020.
He is known to the world as Dr. Anthony Fauci.
So why is RoundballDaily.com, a publication of mostly stories concerning basketball, publishing this one about a distinguished physician?
Answer: Because this story is ALSO about basketball.
Tony Fauch to his young friends
Growing up in the Bensonhurst neighborhood of Brooklyn, NY, where such notables as Sandy Koufax, Larry King, Buddy Hackett, and Robert Merrill were born and raised, he was known by his peers not as Anthony Fauci but simply as Tony Fauch. He was the little kid who was active in sports almost daily from morning to night at Dyker Heights Park on 86th St. He also played CYO hoops and baseball and was a Little Leaguer. As a teenager, he was captain of the 1957-1958 Regis High School basketball team.
Yes, the good doctor of today is the same person described above, only his priorities have changed.
Early years
He was raised in the Catholic tradition, receiving his first communion at age 7 and confirmation when he was 12.
Bensonhurst was a working-class Brooklyn neighborhood mostly of Italians and Jews in the 1950s. Because the family church, St. Bernadette, had not yet opened its school, Tony went to Our Lady of Guadalupe elementary school, which closed in 2019. There he was taught by Dominican Sisters and was first in his class, in the meanwhile becoming streetwise.
The family business, the Fauci Pharmacy, was on 13th Avenue at the corner of 83rd St. Anthony's father, Stephen, was the pharmacist and described himself as a druggist on a 1940 census questionnaire. His mother, Eugenia, and sister, Denise, were cashiers and salespeople. Anthony was the delivery boy from the time he could ride a bike.
Denise, three years older than Dr. Fauci, went to St. John's University. She became a teacher before she stopped to raise her children. She married John (Jack) M. Scorce and last we knew they lived in Alexandrea, Va.
One of the early members of St. Bernadette recently wrote online that "long ago parishioners like me remember what the store looked like, the soda fountain that ran along the right wall, the telephone booths at the left close to the entrance, and the counter straight ahead down the center.
"Whenever my mother sent me there," she posted, "Mr. Fauci (Anthony's father) would be behind the counter, but it was a family enterprise. They lived in an apartment above the store, and if the patriarch wasn't serving you, his wife, Eugenia, or daughter, Denise, was there."
The pharmacy is gone now but the church, completed five years before Fauci was born, is still there and functioning.
From Regis to Holy Cross to Cornell Medical
In 1954, he entered Regis, a tuition-free high school on the Upper East Side of Manhattan. He was among the best in his graduating class of 1958. At Regis, it was said that to become a doctor a person would go to the College of the Holy Cross. So off he went to that respected school in Worcester, Mass.
During summers Tony worked on construction. Before his final year at Holy Cross, he labored on a crew that was building a new library at Cornell Medical College at 69th St. and York Ave. in New York City. In 1962 he became a student at that very place.
Married a nurse-colleague
Dr. Fauci met Christine Grady when she was a nurse at the NIH (National Institutes of Health) Clinical Center in 1983. They married two years later. Christine has become a prominent bioethicist specializing in clinical research.
They have three daughters. Jennifer Ellen Fauci is a 2008 alumna of Harvard. She then earned a master's from Columbia and a Ph.D. from Boston College. Jen works in psychology for a community health care system in Cambridge, Mass.
The middle daughter, Megan Elizabeth Fauci, graduated from Johns Hopkins University and, according to Facebook, is associated with a charter school organization in New Orleans.
Alison Fauci, the youngest, was captain of the Stanford University rowing team in 2014 when the Cardinal won its first Pac-12 Championship and was also named the conference Scholar Athlete of the Year. Ali is a Software Engineer for Twitter.
Anthony was deep into sports
His baseball heroes were Joe DiMaggio, Mickey Mantle, and Duke Snider. Although he favored the Yankees, his friends were all fans of the Brooklyn Dodgers, which he has said made him sort of a "sports outcast."
In Fauci's senior year, when he was captain, the Regis court season started disastrously, 1-16. For game #18 the players took a subway from Manhattan to the Bronx to reach Fordham Prep, their opponent. The Rams had easily won the first meeting a few weeks earlier by 16 points.
"Nobody gave us a chance," Regis teammate John Zeman, who had a 5.7 scoring average, told the Wall Street Journal's Ben Cohen. "Everyone figured it was going to be a blowout."
Far from it. Details are scant and several weeks of researching have not yielded even a box score. However, the result is preserved in The Regian, the school's yearbook. Regis upset Fordham Prep, 64-51. When the game ended the players ran to the locker room to celebrate and had to be called back to the court to claim the winner's trophy.
That Wall Street Journal article citing that game has been quoted in several places. It even came to the attention of former President Donald Trump. Although they certainly had their differences, Trump gave Fauci a boost during a White House briefing, when the pandemic was in its early stages.
"He won a game that was unwinnable against a great team and his whole team said, 'We can't beat this team' and he went in and they won the game," Trump said.
Averaged 10.2 per game
Fauci is pictured in The Regian wearing uniform number 4. He had a 10.2 average in 20 games, not including the Alumni game. He was third on the Raiders in scoring. Regis finished with a 4-18 mark but managed to split its final three.
Although his position was what is now known as a point guard, Tony was probably then described as a playmaker, a term which I prefer because it states what the player is supposed to do.
Here are the individual scoring statistics copied from the yearbook: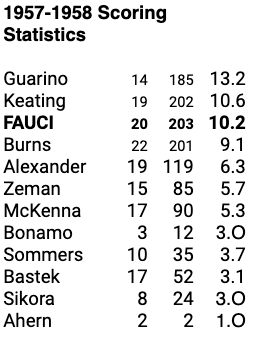 At Regis one of his classmates, Tom McCorry, would have also been on the basketball team in 1958 if it was not for an injury. McCorry became a coach, mostly an assistant, at several colleges. He described Regis in The Jesuit Review magazine as "a very high-end academic school requiring its students to take four years of Latin, four of Greek, and a couple of years of French or German."
Fauci recalled that he played when someone could play without being 6'9. "I don't think I would have any chance of playing basketball if I were in high school now." He was only 5'7″, better suited for baseball. He was the shortstop on the baseball team at Regis.
His next to final game was in late March 1958.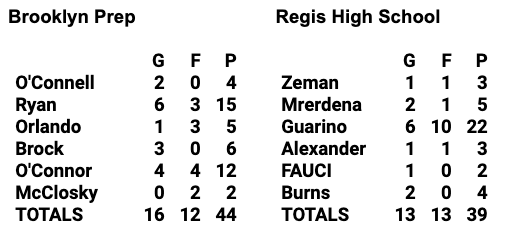 Could not match Holy Cross' player talent
"When I went to college, I continued to play a modest number of intramural sports, but due to the nature of the premedical curriculum at Holy Cross it was very difficult to be very active in sports. I did not play competitive basketball or even baseball at the college level, since they had very good teams."
When he caught up with Jack "The Shot" Foley and others who would be on the freshman team, he must have realized he had no chance to play basketball for Holy Cross. Foley would become the first Crusader ever to hit 2,000 points and ended his three-year career with 2,185. He died recently (Nov. 29, 2020) at the age of 81.
Fauci played a different kind of hoops
Fauci is still a fan of roundball and his favorite player is Stephen Curry. When he was a guest (remotely) on a Curry Instagram webcast he pointed out to the Golden State Warriors' star one of the differences between the court game of today and in his time 22 years earlier.
"The kind of jump shots that you guys put up now, very few people were doing that back then. It was not that kind of game."­­
Hanging on the wall behind Dr. Fauci during the interview was a miniature hoop, which reveals how much the game still means to him today. At the beginning of the segment Curry joked that he liked the background. The entire interview is on YouTube:
Fordham Prep had Donnie Walsh
In the 1958 Fordham Prep lineup was Donnie Walsh, who went on to play at the Univ. of North Carolina, briefly coach the Denver Nuggets, serve as general manager of the Indiana Pacers, and become president of basketball operations for the NY Knicks. He retired recently after 40 years in the NBA game.
When asked about Fauci as an opposing player Walsh admitted to Ben Cohen in the WSJ, "I don't remember this game at all. I do not remember Fauci. I would like to say, 'I remember him and he's a tough little guy, but I just don't.' . . I think his school should be really proud of him. He's articulate and smart and everybody in America has been watching him."
Walsh indirectly took much of the blame for that loss over 22 years ago. "How could we lose the game?" Walsh said. "The team was 1-16. We were better than that. I must have had a s— game."
The academic life
After the former Tony "Fauch" put his hoop aspirations aside he became Anthony Fauci again and concentrated on his premedical studies. Holy Cross' basketball loss may have been the country's gain.
At HC he earned a Bachelor of Science degree, then he graduated first in his class at Cornell University Medical College, now Weill Cornell Medicine. Despite those academic credentials Dr. Fauchi still loves the court game. Why else would he have that miniature hoop hanging on a wall in his office?
"A very impressive guy" to Bob Cousy
Fauci graduated from Holy Cross in 1962 twelve years after Bob Cousy. The two ex-Crusaders were introduced to each other several years ago at a dental association dinner where Fauci was the guest speaker. He was invited by Ken Haggerty, president of the association, who was co-captain of HC's NCAA championship team in 1947, when Cousy was a freshman reserve.
Cousy, now 91, is very gratified that Fauci is "finally getting discovered though it took a pandemic for it to happen. He was a very impressive guy and then I followed his career," said the Cooz.
They met up a few more times at Holy Cross alumni functions. Fauci and Cousy have both been given a Presidential Medal of Freedom, Fauci from George W. Bush in 1950 and Cousy from Donald Trump in 2019.
Praised by basketball players, past and present
John Zeman, (Regis teammate) "(Fauci) takes charge of the situation — he directs his teammates, he creates plays and he's the one who, at the end of the game (when) it's going to be close, you want him to have the ball."
Bob Burns, another teammate: "He was ready to drive through whoever was in his way."
Tom McCorry: "He worked hard, and he was very unselfish—kind of the way he shows now. . . Everybody looked up to him."
Stephen Curry: "He is the GOAT" (Greatest of All Time).
Steve Kerr: "Great awareness, excellent communicator, smart decision-maker."
Mike Krzyzewski: "America's point guard."
Bob Cousy: "He's my hero."
A bobblehead tribute
This man is so famous and admired that he is one of the few, or perhaps only medical doctor to have a bobblehead doll in his likeness. The manufacturer quickly sold out of the first batch and had to follow up with another run.
He even has a fan club with about 5,000 members, and there was a Dr. Fauci Topps baseball card that quickly sold out.
His first baseball pitch was a WP
We will not hold it against him, but when Dr. Fauci threw the ceremonial first pitch at the delayed opening of the 2020 baseball season prior to the Yankees-Nationals game, it did not go as hoped. He took the mound in Washington D.C., apparently lost control of the ball, and heaved it short of home plate and toward first base. According to ESPN, it was clocked at only 17 mph on the radar gun.
His wild pitch led him to joke that, having been a shortstop in his youth, he thought he should throw to first base. Since then, he has been more on target.
Here's a picture of him on the mound:
Good natured comments were then posted, such as:
"Technically his job is to make sure nobody catches anything." (Mike Rabkin)
"It's called the COVID curveball. Avoiding home plate by 6 feet." (GMU86)
Dr. Fauci's first pitch was just trying to social distance from home plate."
'Fauci you'
Even social media has gotten into the Dr. Fauci craze. An expression is starting to gain popularity, "Fauci-ing." When an "Axios on HBO" interviewer asked if he had ever heard it, he said no and wondered what it meant.
It is "Ending a relationship if the other person is not serious enough about social distancing and other precautions that Dr. Fauci has advised."
The term was coined by the dating app Plenty of Fish (pof.com). When he heard the meaning he laughed and joked to the Interviewer,
"I'm gonna Fauci you."
Then and now
Anthony Stephen Fauci was born Dec. 24, 1940, in Brooklyn NY. He married Christine Grady in 1985, a nurse and now chief of the department of bioethics with the National Institutes of Health. They have three successful daughters, Jennifer, Megan, and Alison. His father, Stephen Fauci, the pharmacist, died in 1985, twenty years after his mother, Eugenia. They were each born in New York.
The coronavirus is a much tougher opponent for Dr. Fauci than Fordham Prep was for the team he captained at Regis. He said to Mike Krzyzewski on the Duke coach's radio program, "we've got to play a full-court press. I mean, we can't let them get the ball on the ground. We've just got to be all over them."
Dr. Anthony Fauci is meeting the challenge now, just as he did in 1958 on the basketball court, when he and his teammates at Regis High School overcame the odds that were heavily staked against them.
Credits
Information and photos derived from the following sources:
wsj.com
marketwatch.com
thesportsontap.com
ESPN.com
jci.org/articles/view/33692/figure/6
https://www.americamagazine.org (The Jesuit Review)
Indystar.com
The Daily California Sports Blog
National Bobblehead Hall of Fame and Museum