Craig Drezek, a Connecticut educator, after being a basketball star in high school and college, was only 49 when coronavirus took his life
By Joel Alderman
Craig Drezek, who died of covid-19 last June, was a prominent Connecticut educator, who previously established a basketball legacy at Maloney High School in Meriden (1989) and at what was then Teikyo Post University in Waterbury. He played college ball for the Eagles, who were affiliated with Teikyo University in Tokyo, Japan. In four seasons he made 1,445 points. His free throw percentage of .857 in the 1991-1992 season, is a school record.
After being seen at Yale-New Haven Hospital for severe back pain early last year he was sent home, but shortly after readmitted on May 9th. Less than a month later, on June 3, 2020, he died at age 49. This article is another in our series paying tribute to those who played basketball in their younger days and have passed away from the coronavirus.
He was the father of five children, son Caden and daughters Alexandra, Sydnie, Kiley and Colbie. He also leaves his wife, Jamie-Lyn Holly Drezek.
Born and educated in Connecticut
Craig was born in New Haven CT, on Feb. 5, 1971, and was brought up in nearby Meriden. He was one of two sons of Patricia Ricca Drezek and Roger J. Drezek. His father died when he was in college.
He graduated from Teikyo Post in 1993 with a 3.8 GPA and an accounting degree. Soon after he was hired by his favorite team, the New York Knickerbockers, not as a player but as an accountant.
"It was a dream job for him, and it wasn't too shabby for me, either being a college kid and having your brother say, 'Jump on the train and you can go to the Knicks game,' or 'There's a concert tonight.'" said his brother Christopher.
He was with the New York organization about two years when he came to realize that his heart was not in it. (Lori Riley, the Hartford Courant)
He raised money for the gym he called "our house"
Deborah Taylor is the director of guidance at Sacred Heart. "He was a mover and a shaker," she said. "He (Drezek) cared about kids and he cared about people. He raised the funds to build our gym, which was a dream we never thought would materialize. We used to use Kennedy High as our home gym, and we didn't like that very much. It was nice to have our own gym.
"'Our house'" he would call it." (Lori Riley, Hartford Courant)
High school basketball
At Maloney he played four seasons, and in 1989 was given honorable mention in Class LL by the Connecticut High School Coaches Association. By then he stood 6-5.
He averaged 22.4 points per game for the Spartans his senior year and was high scorer most of the time. In one game against New Britain High School (Feb 17, 1989) he scored 13 of his team's first 19 points. The opposing coach, Ken Skoglund said "Not only does he have a good body, which he uses to go to the basket hard, but he also is a very intelligent player. He knows when to pass, when to take it to the hole and he knows how to use his body." (Meriden Record-Journal)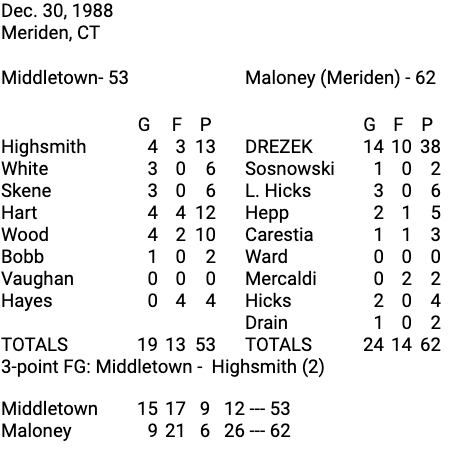 His high total was on Dec. 30, 1988 when he tallied 38 leading Maloney past Middletown 62-58. He did it with 14 field goals, 10 of 11 from the line, and 13 rebounds.
His final high school game was in the opening round of the CIAC (Connecticut Interscholastic Athletic Conference) tournament on his home court. He tallied 31 points, although in a losing cause, on 11 baskets and 9 fouls.
"Dreyzek, under unflagging determination in the low post, kept Maloney in contention for more than half the game. Drezek spun, bullied, and upfaked his way to a game-best 31 points including 19 in the first half." (Bob Morrissette, Meriden Record-Journal)
He was co-captain of Maloney, which finished 15-5 his senior year under coach Howie Hewitt. Here is the box score of his final game in high school:
Matt Sosnowski, upon learning of Drezek's untimely passing, posted "I had the opportunity to play on the same little league team with Craig in Meriden back in the late 70s. We won a city series title together. What fun times back then. We then ended up being captains together on the 1989 Maloney High School basketball team. Drez was a tireless worker when it came to the game of basketball. He worked hard day in and day out to get the most out of his game, which resulted in him becoming one of the best post players in MHS history."
Others besides Sosnowski who played alongside Drezek his final year in high school were Joe Belcourt, Mike Carestia, Rod Davis, Jabbar Drain, Josh Hartman, Chris Hepp, Chris Hicks, Lamont Hicks, and Kerry Ward,
College was next
He then attended Teikyo Post University, not to be confused with C.W. Post or LIU Post of Long Island. He earned a bachelor's degree in accounting and compiled a 3.7 GPA.
Drezek continued to play basketball on the college level at the NAIA (National Association of Intercollegiate Athletics) school. He graduated in 1993 as its all-time leading scorer and was inducted into the school's Hall of Fame in 2002.
He finished his college court career in the NAIA Division II District 31 championship game. After beating Bloomfield at home in the semi-finals, Teikyo Post went on to face Caldwell (NJ) on the neutral floor of Nyack (NY) College. Craig had 12 points and Frank Langston led with 23, but Teikyo Post lost in overtime, 79-71, failing to reach the national tournament in Napa, Idaho. His team ended with a 17-12 mark, its highest number of victories.
In addition to Langston, some of the other members of Teikyo Post basketball that year were Robert Barrett, Toure Diggs, Sean Fitzgerald, Darrell Haley, Joel Miller, Chris Praude, Anthony Price, Darren Rolfe, Tony Santos, and Paul Sullivan.
In 2004 Teikyo Post became independent and from then on known simply as Post University, which it is today.
Drezek earned his master's degree and Administrative Certification in Education from Sacred Heart University in Fairfield and his 6th Year in Executive Leadership certificate from the University of Connecticut.
Left the Knicks job and became an educator
After only a few years of balancing the books for the Knicks, he left MSG to pursue a teaching career at Sacred Heart High School in Waterbury. Not long after he became its principal, then president.
From there, he went up the ladder, first as principal of Derby High School and then Wamogo Regional High School in Litchfield. He was principal from 2006 to 2008 and the school's superintendent from 2008 to 2011, during which he was soon promoted to superintendent of Region 6, being one of the youngest superintendents in the state.
Craig then took on the executive directorship of Highville Charter School in New Haven.
In September 2018, he joined Goodwin University (East Hartford) as superintendent of magnet schools and dean of early college programs and educational partnerships.
A friend who goes back to boyhood
One of his close boyhood friends was Patrick Good. They met on the Little League fields in Meriden in 1978. They had stayed in touch with each other, most recently during Drezek's travels between Goodwin University and his home in Seymour. (Sean Krofssik, Meriden Record-Journal)
"I used to give Drez a hard time because his wife was a better basketball player than he was," Good said with a laugh. "She played at Seymour and at Post as well. She is a pretty legendary player."
Good recalled that Drezek's "kindness and generosity were his two best attributes. We always had that Meriden connection. He would always ask me about his friends here and wanted to stay connected."
Much of their conversations were about Drezek's five children.
"He was incredibly proud of them," Good said. "He was a caring father. More than anything, he was passionate about his kids. That's his legacy, how much he loved his wife and kids. That's what got him going." (Sean Krofssik, Meriden Record-Journal)
His brother also made a career in education
Christopher Drezek, who now lives in South Windsor, is the Enfield school superintendent. He was going down another path before his brother called to notify him of a teaching opening at Sacred Heart several years ago. He filled that position for a few years before becoming an administrator at St. Paul-Bristol.
Meriden School Superintendent Mark Benigni said in a statement. "This is such an awful tragedy. Craig was well-known and so respected in the Meriden community and across the state. We lost a great champion for kids.