Bournemouth's return to Premier League means chance to write another chapter in incredible underdog story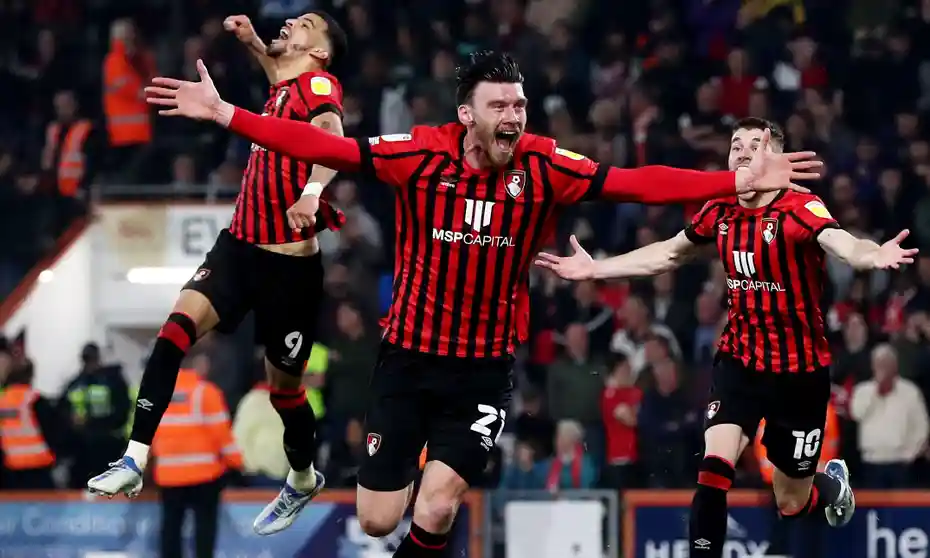 Having just secured promotion to the Premier League for the second time in its 123-year history, AFC Bournemouth appears primed to write another chapter in its remarkable underdog story.
And what a story it's been.
Bournemouth, a club in the south coast city most known for its beaches, had never ascended higher than the second tier of English football before its first promotion to the Premier League in 2015.
But what's astounding is how they got there– having made their ascent to the top tier almost immediately after reaching the club's nadir, nearly falling out of the Football League altogether.
Bournemouth was near-bankrupt in 2008, having racked up debts of more than £ 4 million. The club, which was then in League One, went into administration, meaning that accountants would take over its finances and ensure that debts were paid before incurring any new ones.
It needed a real infusion of cash to stay afloat, and as administrator Gerald Krasner remarked at the time:
"If it wasn't for the recent funding from chairman Jeff Mostyn the club wouldn't have made it past last Sunday."
Bournemouth was docked 10 points by the Football League, and was eventually relegated to League Two for the 2008-09 season. It would have been a hard enough climb back to relevance from there, but even before the season began, things got much worse.
The Football League threatened to block Bournemouth's participation in League Two that season due to its ongoing insolvency, and eventually docked them 17 points, which put their future in major jeopardy. Relegation would have meant falling to non-league status and abject obscurity.
The Cherries were 10 points adrift at the bottom of League Two when they let go of manager Jimmy Quinn, and brought in a 31-year-old former player named Eddie Howe as caretaker manager. Howe was the youngest manager in the Football League at the time, but his hire was a masterstroke that immediately changed the fortunes of the beleaguered club.
Howe's brilliant tactical mind, motivational skill and attacking football philosophy turned the team around, and not just in League Two. He led the Cherries to safety, cementing their status by defeating Grimsby Town, 2-1, on the penultimate night of the season in 2009. The very next season, Howe dragged Bournemouth to a second-place finish and promotion back into League One.
That would have been remarkable enough on its own, but after a brief stint at Burnley, Howe returned to Bournemouth in 2013 to guide the Cherries out of an early-season League One relegation battle and into the Championship, a level the club hadn't reached since 1990.
Bournemouth finished 10th in the Championship in 2014, the highest it had ever finished in the Football League. Then, they ascended even higher, storming to a shocking Championship title and their first-ever promotion to the Premier League.
It didn't stop there, as Bournemouth made itself at home among the country's elite. The Cherries avoided relegation in their first two seasons and then shifted to another gear once again, rising to as high as sixth in the table after 12 games in 2019, and spanked Chelsea 4-0 in February of that season, which just might be the proudest moment in club history.
Bournemouth had tremendous attacking talent, most importantly in striker Callum Wilson (now of Newcastle) and Joshua King (Watford).
They might have kept rolling right along had they not been decimated by injuries in the pandemic-altered 2020 season, when they finally stumbled and were relegated on the final day of the campaign.
Howe left the club following its relegation, and he's now leading Newcastle to a resurgence, though that's stained by the club's despicable new Saudi Arabian ownership.
Bournemouth, meanwhile, has bounced back again, led by energetic former Fulham manager Scott Parker. The team fell apart down the stretch of the Championship season in 2021, but this year earned automatic promotion following a second-place finish in what was Parker's first season.
So, can this underdog club shove aside some of its peers and hang around in this ultra-competitive division once again?
It won't be easy.
Bournemouth boasts some talented players, including striker Dominic Solanke (who finished second in the Championship with 29 goals last season) and midfielder Phillip Billing, but the squad doesn't have as much depth as it had in past Premier League years.
The club will have to make some smart financial decisions in order to stave off relegation in year one, and will have to continue to make the right moves like it did last time in order to stay in the league.
With the EPL's smallest stadium (11,000 capacity) and not much in the way of merchandise revenue compared to the big clubs, Bournemouth has to do everything right. They've got small-club rivals like Brentford and yo-yo clubs like Fulham to contend with, not to mention the big-money outfits that have become perennial competitors.
If the club splashes some cash in order to bolster its squad this summer, it'll have a chance of staying up in soccer's version of the Hunger Games.
If not, it's still in a good position to compete for years to come.
Either way, it's already been one hell of a ride.