Louisiana Tech's Kenneth Lofton Jr. impresses in Day 1 of NBA Draft Combine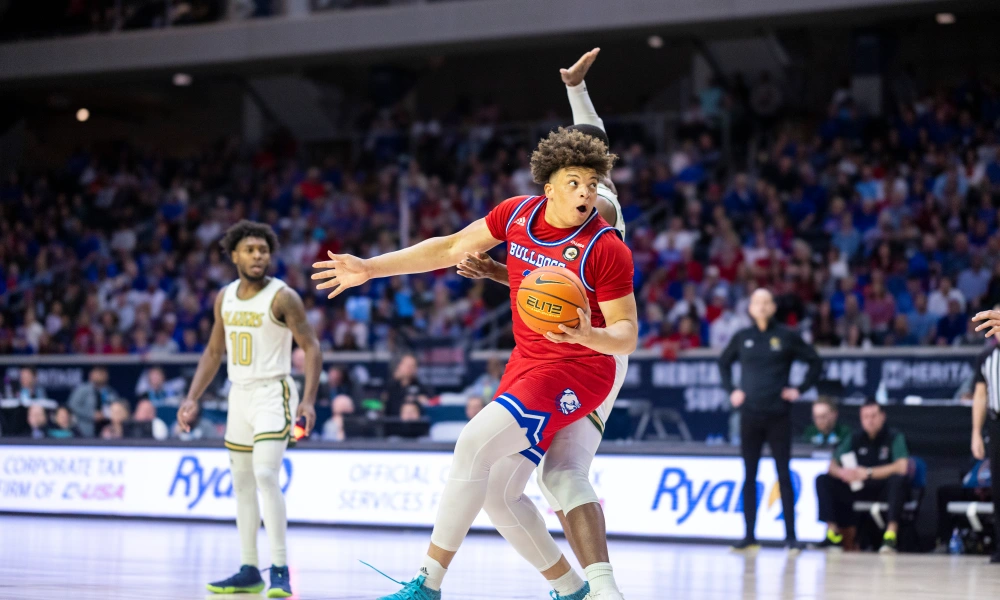 Take one look at him, and you can tell he's not that Kenny Lofton's son. (Sorry, I hope that wasn't mean. You know, it's just– he's not the skinniest dude at the NBA Draft Combine).
But watch him for a little longer, and you'll realize why Kenneth Lofton Jr. earned his invite to the NBA Draft Combine in Chicago.
The bruising 6-7, 275-pound forward is the latest in an ever-growing succession of rebounding mavens from Louisiana Tech, following in the footsteps of Karl Malone and Paul Millsap.
He's not the son of former Cleveland Indians star (and Arizona point guard) Kenny Lofton, but he has made a name for himself– and after Day 1 of the Combine, a few more basketball fans should know about him, too.
If you happened to catch one of Louisiana Tech's games on TV over the past two seasons, you might have been asking yourself: How did this dude who looks like he should be a fullback make a Division 1  basketball roster?
Lofton is bulky and carries some extra weight in the middle, but don't let that fool you– he can really ball.
The sophomore was named First Team All-Conference USA last season, averaging 16.5 points, 10.5 rebounds and 2.8 assists and leading Louisiana Tech to a 24-10 record. He also shot 53.9% from the field and ranked 10th in the country in total rebounds and double-doubles with 17.
You might look at his pudgy frame and think, this guy has no shot to make the NBA, but there he was on Day 1 of the Combine, dropping 13 points on 6-of-10 shooting, grabbing 3 boards and coming up with 3 steals against the best competition amateur basketball has to offer.
"I just showed 'em a little bit of everything," Lofton said after his performance. "I can attack the slot, I can shoot the 3."
Asked about a play when he grabbed a rebound and threw down over defenders from a standing position underneath the basket, Lofton teased ESPN analyst Corey Alexander.
"I got bounce like that. Corey don't believe me, I can dunk," he said with a laugh.
Lofton was invited to the Combine after shining in the NBA G League Elite Camp. He's not currently projected to be drafted on many of the mock draft sites, but it wouldn't be a surprise to see him earning his way onto an NBA roster after spending some time in the G League or even overseas next season.
Lofton announced his decision to sign with an agent and stay in the draft on May 23, meaning he no longer has the option to return to school– but he won't need it, anyway.
Despite his build, the son of a former United States Army officer and postal worker will earn the chance to make a living playing basketball.
In other words, he's made a name for himself.