The rise, fall, and rise again of the Cleveland Cavaliers: How they built a winner in the post-LeBron James era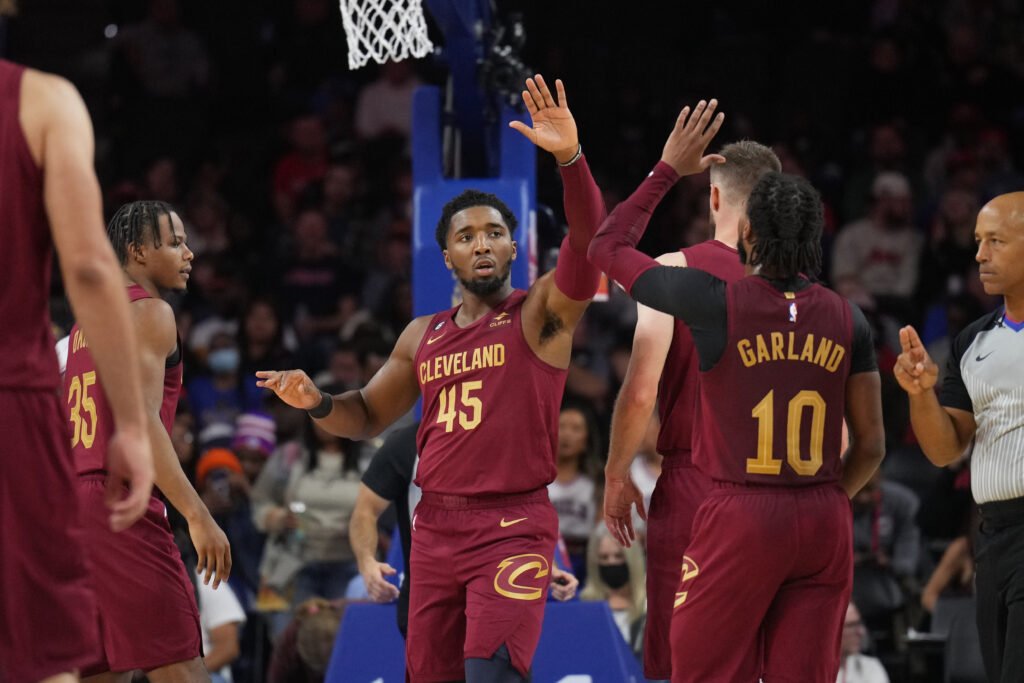 By: Dylan McCaffrey
Seven years ago the Cleveland Cavaliers put on one of the most entertaining performances in history in the 2016 NBA Finals, thanks in no small part to the efforts of Akron native LeBron James. The trio of James, Kyrie Irving, and Kevin Love brought glory to a city that hadn't seen a professional sports team win a title in 52 years.
Just two years later, it all fell apart. Irving was dealt to the Celtics, James left the team in dramatic fashion (again) and the long-time general manager David Griffith departed the franchise due to some friction with ownership.
Kevin Love was stranded on a veritable who's-who roster of journeymen, role players, and unpolished young guys. Ownership was looking down the barrel of a long-winded rebuild. A sight that had become all too familiar, with little hope of James making another return to save their skin.
After being name-dropped as a potential mover in every trade deadline since 2018, Love is still commuting to the same old arena on 1 Center Court in Cleveland. Now Rocket Mortgage Field House is rockin' like it was in the Cavs' contending years – without a need for one of the greatest players of all time.
More than halfway through the current season, the Cavaliers are 37-22, with a slightly better win percentage than the 2017 Finals team.
The Cavs look phenomenal. They have the second-best defensive rating in the league, just behind the Memphis Grizzlies. They have wins against legitimate contenders, like the Boston Celtics, and the Milwaukee Bucks.
So what flipped the script for this team that looked dead in the water only two years ago?
We could start with the blockbuster move which put Donovan Mitchell in the jersey he donned before putting up 71 points in a single game (against the Bulls on Jan. 2). Or the draft pick that turned out to be All-Star guard Darius Garland, the leader of their offense.
But nah.
Let's start with James Harden.
He never appeared in Cleveland, except as an opposing player, maybe at one of the 67 nightclubs populating the city. His aggressive push out of Houston to Brooklyn in January 2021 created a scenario where the Cavs could jump into a three-team trade and become a landing spot for Jarrett Allen.
That wasn't the first part of their rebuild, but it was their most pivotal move. Allen is a dependable double-double machine, anchoring their staunch defense at just 24 years old.
He frontlines the defense alongside their most recent draft pick, Evan Mobley. The sophomore Mobley showed a defensive ceiling that could make him a force to be reckoned with, and an ability to score efficiently inside.
The draft picks made by Mike Gansey, who took over as general manager in 2017, have been extremely successful. Garland, as mentioned before, is a bona-fide stud with shades of Damian Lillard and flashes of brilliance that become more apparent with each game.
While their 2020 draft pick, Isaac Okoro, hasn't panned out as the impactful starter they had hoped for a 5th overall pick, he's still playing important minutes and making a mark on defense.
Then comes the trades that have allowed Cleveland to enjoy such success.
They traded a first round pick for Caris LeVert last February. Now, the versatile wing is part of many of their best lineups, including their most frequent one.
C. LeVert – D. Mitchell – J. Allen – D. Garland – E. Mobley
Another name on that list, Donovan Mitchell, has vaulted himself into MVP conversation for his play this season. Management showed mettle in acquiring Mitchell, a player cast in doubt after repeated playoff failure during his time in Utah.
They leveraged much of their future in the move, sending three unprotected first round picks and two pick swaps to the Jazz, plus some young developing players.
So far the move is paying off and the Cavaliers are just a game back from the 3rd seed in the East. As a young team, they have the hunger to prove themselves every night, and a yearning to win big for the first time in their careers.
Kevin Love is still there, the old guard of the team, the last remnant of a past glory that this young team hopes to recapture as they battle for a high-seeded berth in a stacked Eastern Conference.