NCAA Tournament Cinderellas Fairleigh Dickinson, St. Peter's define North Jersey fearlessness
There's something about North Jersey.
If you know, you know.
There's something about those city blocks built on that swampland, the streets packed with cars and communities bustling and buzzing in the outsized shadow of New York City.
If you grew up there, you're built for big moments. Pressure doesn't get to you, because it's all around you. Worrying about what people think? Nah. There's too many people around for that.
It might be a cliche, but so what. You wanna make it in that city shadow? You've gotta be tough. Thick-skinned. Hard-nosed. Fearless.
That's exactly what NCAA Tournament Cinderella Fairleigh Dickinson is, and part of the reason why on Friday they became the second 16-seed to topple a 1. It's exactly what 15-seed Saint Peter's was last year.
What do those two incredibly unlikely Cinderellas have in common? Well, outside of the fact that they both beat Purdue?
They're both in North Jersey, 25 minutes from each other, and even less to the big city. FDU is in Teaneck, Saint Peter's in Jersey City, both schools playing in gyms that look like high school facilities, both taking advantage of the overlooked, under-recruited local talent.
And there's a lot of it. New York City has long been known as the basketball Mecca, for a variety of reasons. The sheer size of the population, the fact that there's a basketball hoop on every block and every corner, the fact that it's a cold-weather city, the fact that there's more access to the sport than football and baseball. It's also a cultural thing, made famous by Rucker Park and so much more.
New York City has long been known as the basketball Mecca, and there's no doubt that it is. The largest city in the country, a cold-weather city, the Rucker Park culture, the fact that basketball is more accessible to everyone than football and baseball– there are so many factors that make it unique.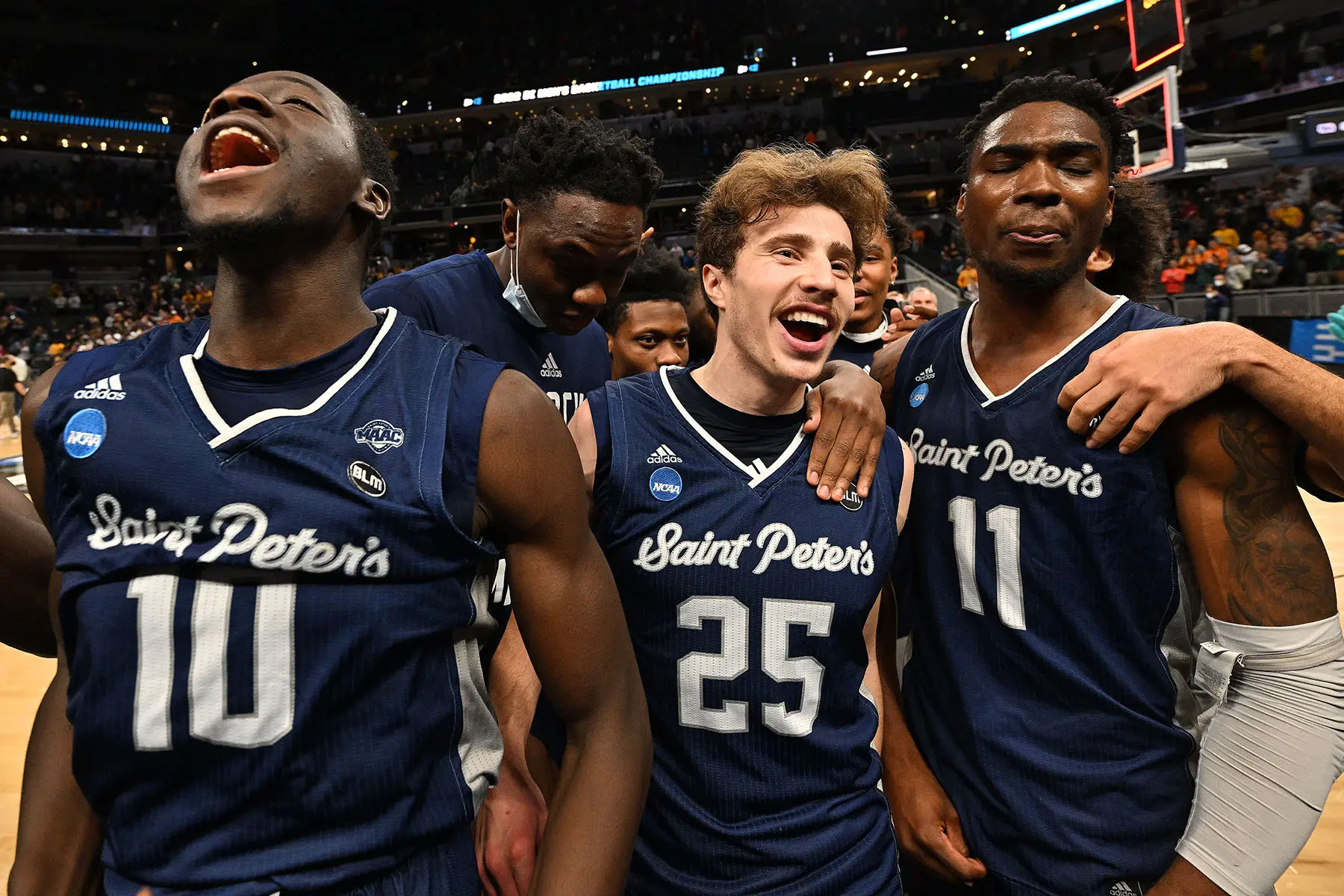 There are good players all over the city, and in its suburbs including Jersey, those players are hard-nosed, determined and fearless no matter their size, height or AAU pedigree.
Of course, the FDU and Saint Peter's upsets are about more than just the NYC attitude. New York and New Jersey have been this way presumably since the Dutch gave them up, and before last March, neither school had ever won a game in the NCAA Tournament.
There are a number of factors at play. Talent at high-major schools isn't what it once was. Players always leave early when they've got a shot to get to the NBA. The best ones can play in the G League now, or in Overtime Elite, or overseas. The transfer portal means rosters are constantly changing, continuity isn't a thing anymore, and high-major teams are typically younger on average than their mid-major and low-major counterparts. Add to that the fact that there are more talented players everywhere nowadays, people have more access to training and knowledge, and players see each other on AAU circuits long before they meet in the Big Dance.
There's also the nerves involved with being the favorite, with everything to lose, and the natural fearlessness of the underdog, with everything to gain. There's social media scrutiny which is relentless and never turns off, and the knowledge that you'll be a nationwide meme if you mess up on this stage. Plus, this has been done before. 15-seeds are winning more, 16s have now won twice. Teams like Saint Peter's and FDU know they can compete with the big guys.
Still.
Is it a coincidence that that little area of New Jersey has had the two biggest March Madness cinderellas in the last two years?
Is it a coincidence that the players who live in that pressure cooker understand the fearless mentality that plays so well in the tournament?
They're not going to get caught off guard, or caught up on the big stage.
They're comfortable, no matter what they're doing.
North Jersey is an attitude, and it's a winning one.
It's cool that all that is being reflected on the court.