Get to know your 2018 NBA Draft Lottery Picks: Kentucky's Kevin Knox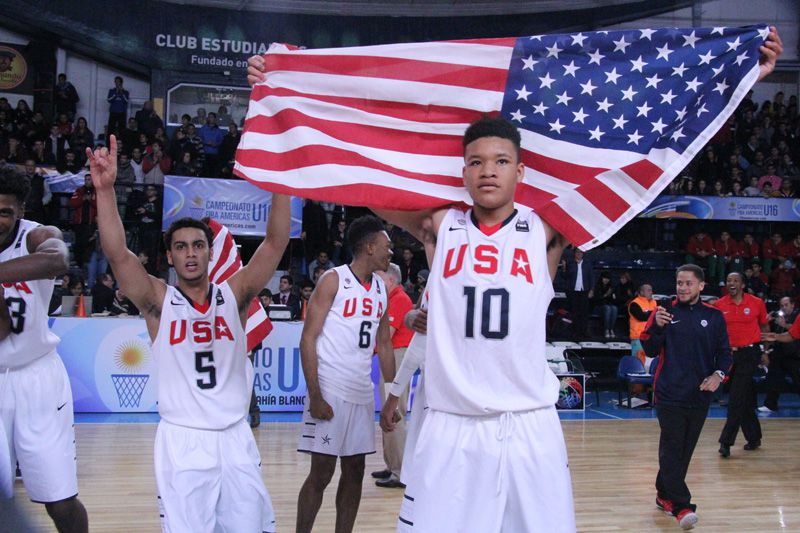 In just a few months, the college basketball season will tip off, and for some fans, it'll be like the first day of college itself. You're excited, jittery even, but you have no idea who anyone is, and you're real scared.
Luckily in this age of technology, incoming freshmen have Facebook. And college hoops fans have Roundball Daily. Get to know the best players of the upcoming season (and in all likelihood the 2018 NBA lottery picks) with our helpful series.
Get to know: Wendell Carter Jr. , DeAndre Ayton, Collin Sexton,  Robert Williams, Marvin Bagley, Michael Porter Jr., Tremont Waters, Mohamed Bamba
Kevin Knox
Height/Weight: 6-9, 210 pounds
School: Kentucky
Class: Freshman
This kid is a lock, automatic NBA player because he's a skilled guard with tremendous length. Knox has awesome athleticism, throws down some of the fiercest dunks you'll see in a high school gym, and to top it off, he's got a reliable jump shot. Seriously, look at some of these highlights and tell me you're not immediately impressed. Fast-forward to the 2:30 mark, and the kid takes off from the free throw line:
The Tampa native is very long—with a 7-foot wingspan and 8-11 standing reach, according to NBADraft.net. He's got athletic greatness in his genes, as his father Kevin Sr., was a wide receiver on Florida State's 1994 national title team, and played in the NFL with the Arizona Cardinals.
Knox Jr. was on his way to becoming an elite quarterback prospect, but he just wouldn't stop growing. He was 6-4 as a 13-year-old, at 6-9 now, he's probably already outgrown the position. Too tall to play quarterback. Nice problem to have, huh?
"At the end of the day, it's about physical dimensions," Knox Sr. told SB Nation. "Peyton Manning is 6'6. Cam Newton is 6'5. You don't have too many 6'8 QBs. He's still 16 years old. He'll probably be 6'10 with a size 19 or 20 shoe. That doesn't necessarily equate to a quarterback in the NFL, but those dimensions do translate to a possible NBA player."
Though he's great at attacking the basket and running in transition, and has the jumper to make him a capable wing in the league, he could end up being a 4 in the NBA. John Calipari will have to figure out how to best utilize him, but we're not worried about that. This kid's ceiling is sky-high.