Ivy Roundup: Amaker wins 400th; Yale ends weekend in first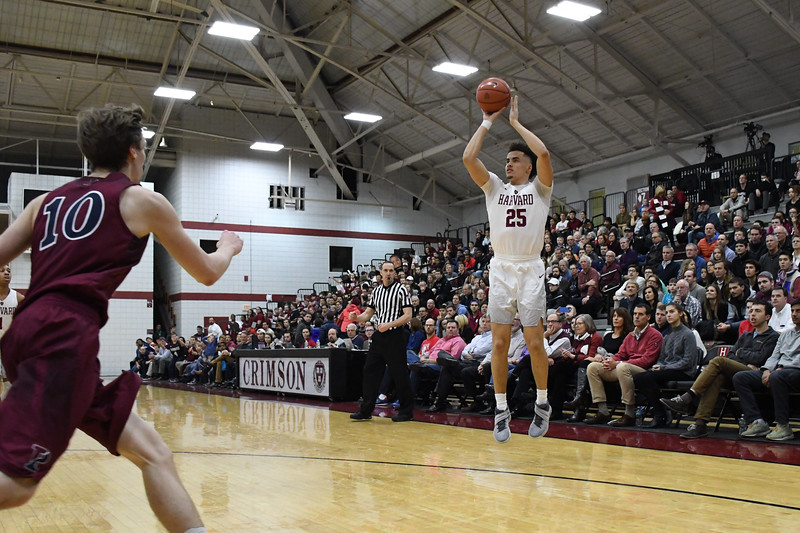 By Joel Alderman
Harvard (6-2, 13-8 overall) – 75, Pennsylvania (3-5, 15-9 overall) – 68 (overtime)
Tommy Amaker won the 400th game of his three-team coaching career Saturday when Harvard (13-8, 6-2 Ivy) went into overtime to defeat Pennsylvania (15-9, 3-5 Ivy) in the Palestra, 75-68. Bryce Aiken tied the game with a pair of 3-pointers, the first with a minute left and then again when 5.6 seconds remained in regulation. Penn still could have won but Devon Goodman missed a 10-foot floater. The OT was all Harvard, which began it on a 10-2 run.
A possible strategic mistake was made by Penn just before the overtime by not fouling Aiken when the Quakers were up by three. Coach Steve Donahue said that they had to be "very careful not to get hit with an intentional foul. We talked about it, but we just didn't execute it the right way."
Aiken led with 25 points. Justin Bassey had 19 and 11 rebounds for Harvard. Penn's AJ Brodeur (23) and Goodman (22) led the both teams.
Penn played its second straight overtime game after defeating Dartmouth the night before. Harvard won despite 19 turnovers and remained in second place behind Yale.
Yale (7-1, 17-4 overall) – 98, Cornell (5-3, 13-11 overall) – 92
Off the bench was no problem for Paul Atkinson, a 6-10 sophomore from West Palm Beach, Fla., who equaled his career high 23 points and grabbed 10 rebounds as Yale (17-4, 7-1 Ivy) swept its two game road trip in New York State with a 98-92 victory over Cornell (13-11, 5-3 Ivy. The loss disappointed a near capacity crowd of 3,614 at Newman Arena.
Atkinson, who leads the Ivy League in field goal percentage, connected on 9-of-13, as his running Bulldogs had 18 points on fast breaks and scored 54 in the paint. Miye Oni finished with 20 for Yale, his fourth straight with at least that many.
Yale has won its last five and 13 of 14 overall. Coach James Jones called it "another really good team win. We had to battle all night long. Brian Earl has done a great job with the Cornell team. They play to their strengths."
The Big Red scored the first eight points from the start, but Yale came back with 12 of the next 15 to take the lead. It was almost the same story in the second half when Cornell led 57-51 but Yale followed with an 18-5 run and then never trailed.
Yale leads the Ivy League just past the midway point. An ominous note for other teams was sounded after the game when Atkinson said, "We're feeling really good, but I don't think we've played our best game yet."
Princeton (5-3, 13-8) – 69 Dartmouth (2-6, 11 – 13) – 68 (overtime)
Princeton halted its three-game losing streak, but it required another of what are becoming common overtime sessions in the Ivy League. The Tigers (5-3, 13-8) defeated Dartmouth (5-11, 11-13) 69-68 and moved into a third place tie with Cornell, which lost to Yale.
For hard luck Dartmouth it was its second overtime loss in as many nights.
Richmond Aririguzoh (18) with 7-for-9 from the floor and Myles Stephens (17) gave the Tigers a four point lead, before James Foye's layup brought the Big Green's deficit to two with 45.5 seconds left in OT. A foul shot by Aririguzoh upped it to three. Dartmouth's Chris Knight made it a one-point game with a put back of a missed 3-ball, and Princeton ran out the last three seconds.
Brendan Barry of Dartmouth topped all with 26.
Brown (3-5, 15-9 overall) – 65, Columbia (1-7, 6-16 overall) – 63
The last place Columbia Lions, mired in a losing streak that has now reached six, continued to play well but were still defeated, this time by Brown, 65-63, at Levien Gym in New York.
Columbia closed to 64-63 on a pair of free throws by Gabe Stefanini with 0:06 remaining before Chris Sullivan made 1 of 2 free throws for the Bears. Stefanini's potential 3-point winner missed at the buzzer.
Tamenang Choh had 22 points for Brown, including 12 for 14 from the foul line. Stefani led Columbia with 16 points and eight rebounds.