Ivy Roundup: Harvard stages comeback to edge Princeton; Yale hangs on to first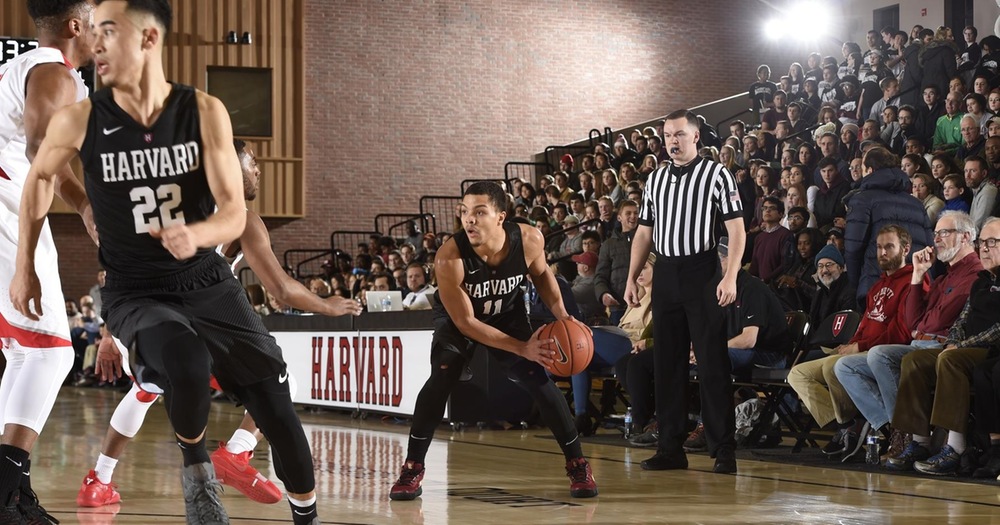 By Joel Alderman
Harvard (4-2, 11-8) – 78, Princeton (4-2, 12-7) – 69
Harvard (12-8, 5-2 Ivy) had another come-from-behind victory, winning at Princeton, 78-69, after trailing by six points with a little under eight minutes remaining. That's when Bryce Aiken went to work, as the junior hit on a four point play on a corner three and a foul shot, to cut the deficit from six to four. He then scored his team's next nine points as Harvard went from six down to 10 ahead, and a 70-60 lead.
All told, Aiken had 18 of Harvard's final 28 points. He overcame the partial loss of Chris Lewis, who had only 18 minutes of playing time, and then fouled out with nine points.
Aiken's exploits came exactly a week after his 44 point output in the triple overtime win against Columbia.
Devin Canady, who played in Princeton's third straight loss since being reinstated from a disciplinary suspension, added 15, which sent him over 1,500 points in his career. Though Canady is playing again, he still must appear in court for a related incident.
Harvard remained tied with Cornell, one game behind first place Yale, and Princeton fell from second to fourth.
Yale (6-1, 16-4 overall) – 70, Columbia (1-6, 6-15 overall) – 64
Yale seemingly had things well in hand, leading by 18 points in the second half. But a furious rally by Columbia saw the Lions come all the way back to tie the score when Gabe Stefanini hit two free throws with 2:52 left.
Then Alex Copeland made a pair of clutch baskets in and Trey Phills (15) put in two foul shots with six seconds left and Yale edged the Lions 70-64 at Levien Gym in New York.
Copeland had 20 points, one more than Miye Oni who put in 19 and blocked five shots. Columbia's Quinton Adlesh scored 19 of his 23 points in the second half, when the Lions made their huge comeback.
Yale (6-1, 16-4 overall) continues to lead the Ivy League, ahead of Harvard and Cornell, both winners this night and each at 5-2. The Bulldogs, however, are still being plagued by turnovers. They had 18, which Columbia (1-6, 6-15 overall) converted into 22 points.
The Bulldogs have won four straight games and 12 of their last 13.
Cornell (5-2, 13-10 overall) – 70, Brown (2-5, 14-9 overall) – 66 (overtime)
Cornell (13-10, 5-2, 13-10 overall), after a great road weekend winning at Dartmouth and Harvard, returned home to Newman Arena and continued its roll, going to overtime in a 70-66 win over Brown. The Big Red scored the first seven points in the extra session, and then held on to remain tied with Harvard in second place. The Bears fell to 2-5, 14-9 overall).
Sophomore Jommy Boeheim (21 points), Josh Warren (18) and Matt Morgan (15) produced most of Cornell's points. Brown had a 13 point lead and was still in front 31-27 at the break.
Obi Okolie had 15 for Brown, but its usual scoring threat, Desmond Cambridge, only 10 points on 3-of-12 including 2-of-10 from deep.
The game was tied three times in the final three minutes of regulation. Brown would likely have won, but Cambridge's attempt missed.
Trailing by two, Brown rebounded a missed foul shot with five seconds left, but quickly turned it over.
Pennsylvania (3-4, 15-8 overall) – 82, Dartmouth (2-4, 11-12) – 79 (overtime)
In one of two overtime games Friday night, Pennsylvania playing in the Palestra for the first time in a stretch of 27 days, beat Dartmouth, 82-79. There were 22 lead changes. Junior forward AJ Brodeur led the Quakers scoring a career-high 36 points.
Dartmouth ended the first half on an 11-0 run and went to the intermission leading 42-37. This was built up to 50-39 in the second.
The Big Green snagged a late one-point lead with 59 seconds remaining before Brodeur sunk a free throw to even the score. The Quakers had a chance to win as time expired, but Brodeur couldn't get his contested shot to fall.
With just 1:05 left in OT, and Penn leading by one, Dartmouth's Knight missed what could have been a game-winning lay up with 0.6 seconds remaining.