Mike Krzyzewski's decision to retire leads us to research his basketball life before becoming coach at Duke
By Joel Alderman
Now that Duke University's iconic basketball coach, Mike Krzyzewski, has decided to retire after the coming season, the nation's sports media are getting set to enjoy a new perk. It could save them the trouble of consulting their files to write or utter his name correctly.
Quick now, how many of you readers who are not of Polish heritage can spell his name? Probably less than half.
I have been writing about sports for more years than most of you who see these pieces on RoundballDaily.com have been around, and I still need to search my computer to be sure of the letters and in which order. I have found that the best way to solve the problem is to type it once, press "C" for copy, then click Ctrl plus V for "paste" whenever I have to use it.
Either that or just type "Coach K."
He had to spell it at his first Duke press conference
When he was introduced after taking the job at Duke, he felt he was so little known that, without being asked, he spelled out his name for the reporters. Maybe he still should, although the spelling is the same as it ever was – K-R-Z-Y-Z-E-W-S-K-I.
Assuming the writers had mastered the letters the next hurdle was how does one pronounce a name with two silent Z's, so that it comes out as if it were written Sh-shef-ski? Where did the the first and second s, the h, and the f come from? Not his birth certificate. Probably from his ancestors in Poland, although Mike was born in Chicago.
It even took a long time for young Mike to master how to spell and pronounce. When the family visited relatives on the other side of Chicago his uncle would ask him what his name was.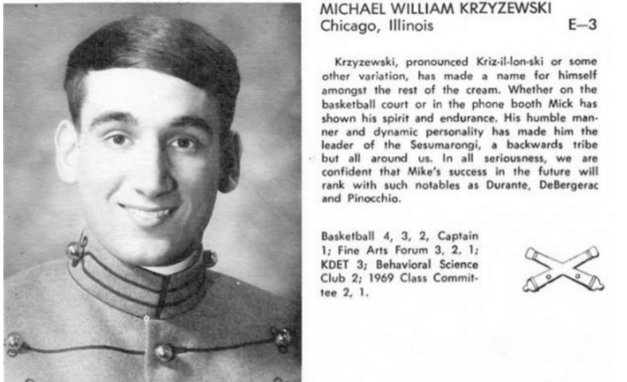 Teased about his name while a West Point cadet
This name problem goes back before Duke, and to when he was a West Point cadet. I uncovered a 1969 Class book, in which the editors facetiously treated his moniker this way:
"MICHAEL WILLIAM KRZYZEWSKI
"Chicago, Illinois
"Krzyzewski, pronounced Kriz-il-lon-ski or some other variation, has made a name for himself amongst the rest of his cream. Whether on the basketball court or in the phone booth Mick has shown his spirit and endurance. His humble manner and dynamic personality have made him the leader of the Sesumarongi, a backward tribe but all around us. In all seriousness, we are confident that Mike's success in the future will rank with such notables as Durante, De Bergerac and Pinocchio," an obvious and rather unkind reference to the size of their noses. (bleacherreport.com/articles/1847210-yearbook)
Just to satisfy any curiosity there is no such tribe as the Sesumarongi. In another example of attempted college humor, that word is ignoramuses written backward.
"Coach K" may be the solution
I suspect the nickname Coach K came about because the spelling of Krzyzewski is just too hard to remember. It is also difficult to recall all the numbers he has compiled, such as:
74 – age
5 – NCAA tournament titles (second only to John Wooden 10).
12 – Final Four appearances
27 – ACC titles (season and tournaments)
3 – Naismith College Coach of the Year
5 – ACC Coach of the Year
78 – winning percentage of his teams (1,097-302)
24 – consecutive NCAA Tournament appearances from 1996 to 2019
3 – coached U.S. Olympic gold medalists
2 – coached U.S. World Cup winners
Before joining Duke, Krzyzewski was a playmaker, now called point guard, for Army under coach Bobby Knight from 1966-69, serving as captain in his final season. They made it to the National Invitation Tournament (NIT) and finished fourth.
An earlier article relevant again
Six years ago, I wrote a story on the defunct website SportzEdge about Duke and Yale and the close relationship those institutions have with each other academically. The article also referred to little-known segments of Krzyzewski's life when he played and then coached at West Point. As a mentor the Cadets, as they were called then, were 73-59 (.553) over five seasons with an NIT birth and a first-round exit in 1978.
After he graduated from West Point he served as an officer in the army for six years during which he played a lot of hoops for service teams. When he was discharged he started his coaching career as an assistant for one year under his former college coach Bobby Knight at Indiana, where he was a graduate student. He dropped out of Indiana then took for one season over at the military academy.
In the course of researching for my original article I discovered that during his coaching term at West Point his teams played against Yale three times, winning two and losing the third. But I wanted to go back well before that and find out if he ever faced the Bulldogs on the court.
He played in three games against Yale
He did so three times. In 1967 he made the deciding foul shot in a one-point win. Yale and Army were in the four-team Triangle Classic at Raleigh, N.C. After both lost their first games, they were paired against each other for third place.
Krzyzewski sank a free throw in the final minute and a half to enable Army to edge the Bulldogs 50-49. The game was close throughout and Yale, coached, by Joe Vancisin, later a member of the National Collegiate Basketball Hall of Fame, led 20-19 at halftime.
Vancisin died last March at the age of 98.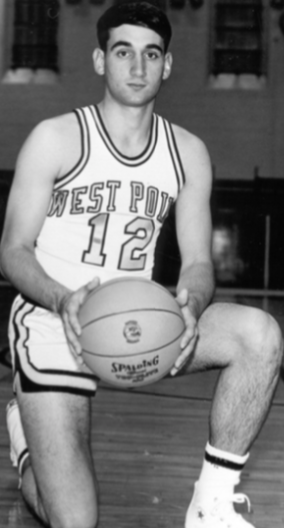 With 0:58 left Army had a 49-47 edge. Krzyzewski was on the line for a one and one. He connected on the first but missed the second. Then Yale's Ed Goldstone, of Woodbridge, a Yale suburb, "fired from the corner and it was 50-49 with 40 seconds remaining (News and Observer, Raleigh, N C). Yale then intercepted a pass with 29 seconds showing, but lost the ball when it went out of bounds. The Cadets ran out the final 16 seconds for the victory as Cadet Krzyzewski's free throw held up. It left Army with a 7-3 record and Yale fell to 6-3.
It would be nice for this story to be able to write that Krzyzewski was Army's high scorer, but it did not happen that way. He was not a shotmaker and averaged only 6.2 a game. The Cadets were led by center Steve Hunt with 21 points and Bill Schutsky, a guard, who hit for 19. Krzyzewski only had five, but the last point was the big one that decided the winner.
Lost in the shuffle is who coached Duke before Krzyzewski
Bill Foster had left Army to mentor at South Carolina and later coached Northeastern. He died at 86 in 2016.
Coach K was forced to vacate the bench during the 1994-95 season after he had surgery to repair a ruptured disk in his back, with Duke ultimately failing to make the NCAA Tournament. Assistant Pete Gaudet took over for the remainder of the season. However, the Blue Devils were back in the Big Dance the following year and set off his string of 24 straight NCAA Tournament appearances, which included three more championships.
He is the second big-name coach to decide this year to step down. The other is North Carolina's Roy Williams, 70, who has put in 48 years in coaching.
Jon Scheyer is to be next headman
Jon Scheyer has been hired as the next Duke coach. He joins a long list of Coach K's former Duke players or assistants who are now head honchos, Alphabetically, they are Tommy Amaker (Harvard), Kenny Blakeney (Howard), Mike Brey (Notre Dame), Jeff Capel (Pittsburgh), Chris Collins (Northwestern), Johnny Dawkins (Central Florida), Bobby Hurley (Arizona State), Nate James (Austin Peay), Greg Paulus (Niagara), Mike Schrage (Elon) and Quin Snyder (Utah Jazz). Several other former assistants and staffers are currently college basketball assistant coaches or serving in NBA front offices.
No more spelling problems
For some, the most important thing about this story is that Mike Krzyzewski, the Duke coach is retiring following the upcoming college basketball season, and will give the media a welcome reprieve from having to spell and pronounce his name.